Personalizing your employee portal NavBar Menu
This February, updates were made to the employee portal and navigation bar menu to improve user experience, and the NavBar menu is now sorted alphabetically. The HCM layout did not change, resulting in two separate NavBar menu layouts for HCM users. Listening to your feedback, we have details on how HCM users can update their portal NavBar menu organization to match the one in HCM.
This page serves as a short step-by-step of how to update your personal Navigation Bar so that the HCM portal appears in the same format. These easy steps are designed to give users the option to adjust the NavBar in their employee portal to whichever format best suits their preferences.
Step 1: In the upper-right corner of your employee portal, select the three horizontal lines, opening a drop-down menu as shown below. Select the NavBar cog circled in red.

Step 2: When the menu opens, the Menu Order is set to Alphabetical. To change it, press the Standard option.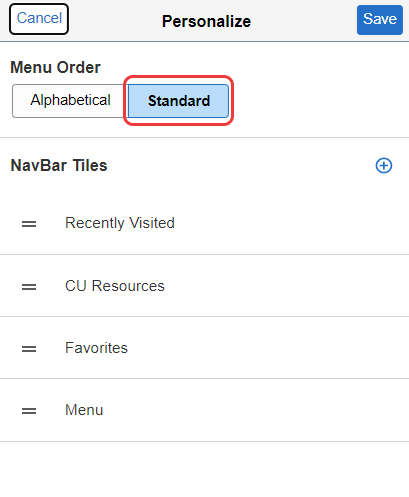 Step 3: Press the blue Save button in the upper right of this menu.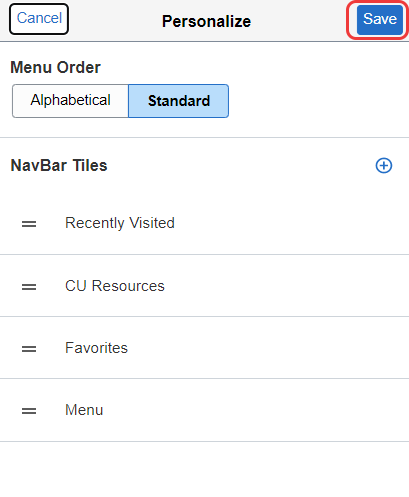 Step 4: Your NavBar: Menu will now match the order options in HCM.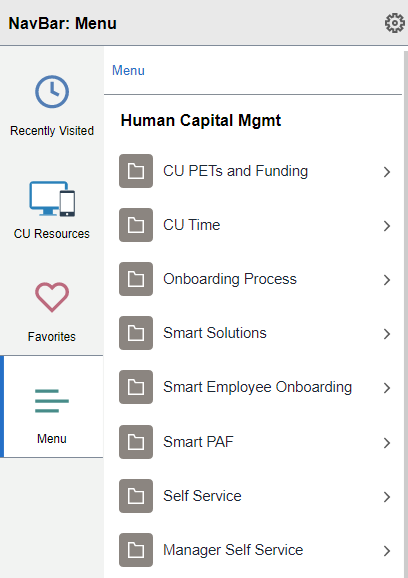 To switch the menu back to Alphabetical, simply follow these same steps once more to make your change.