Alert Info Box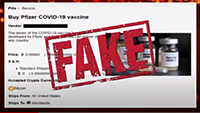 Don't buy COVID-19 vaccines through online ads
Law enforcement agencies are warning about fake ads and fake or stolen vaccines. View the video to learn more.
IRS warns university students and staff of impersonation email scam
The Internal Revenue Service warned of an ongoing IRS-impersonation scam that appears to primarily target educational institutions, including students and staff who have ".edu" email addresses.
Read more
<! -- // row inner -->