Alert Info Box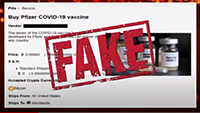 Don't buy COVID-19 vaccines through online ads
Law enforcement agencies are warning about fake ads and fake or stolen vaccines. View the video to learn more.
Unemployment fraud scheme: What you need to know
The Colorado Department of Labor and Employment (CDLE) has seen a rise in fraudulent unemployment claims attempting to exploit the overall increase unemployment insurance claims associated with COVID-19.
Read more
<! -- // row inner -->