Complete the Tuition Assistance Benefit Form
1) Log into the employee portal.
2) Select the NavBar icon in the top right corner of the portal.
3) Select CU Resources.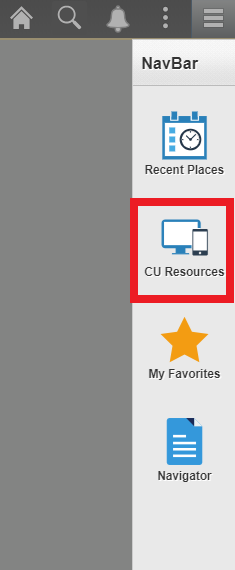 4) Select Forms.
5) Select Tuition Assistance Benefit Form located underneath Career Advancement.

Who can use this form?
This form can be used for employee and dependent Tuition Waiver submissions on all campuses. Because the form is in the employee portal, employees must submit the form on their dependent's behalf.
What happens after I submit?
Once the application is submitted, you will receive an email confirmation. Employee Services will verify your eligibility. If you are eligible, we will forward your application to the appropriate campus registrar's office to determine course eligibility. You will be notified by the registrar's office whether your courses are approved or denied. If your courses have been denied, you may drop the classes via your portal or the registrar's office. If your courses have been approved, your application is sent to the bursar's office for waiver of tuition. All changes will be reflected in the portal.