You must either enroll in or waive your offered benefits within 31 days of your hire date.
If you do not take action, you will be automatically enrolled in the following:
| | | |
| --- | --- | --- |
| Medical Plans | Coverage | Cost |
| CU Health Plan - High Deductible | Employee Only | $0/month |
| Dental Plans | Coverage | Cost |
| CU Health Plan - Essential Dental | Employee Only | $0/month |
CU's plans will act as your primary health coverage to any other health care plan you may already have. If you do not want this coverage, simply waive it.
How to enroll using the employee portal
You can easily waive or enroll in your benefits by using the benefits enrollment tool in your employee portal. As a new hire, your elections will remain effective for the remainder of the plan year (July 1– June 30).
Step 1: Log in to the portal.
Access your campus portal at my.cu.edu, select your campus, and enter your username and password. You may also find campus-specific assistance with your user ID and password.

Step 2: Find the Benefits & Wellness menu
Once you have logged in to the portal, select the CU Resources tab. (If you do not see a CU Resources tab, it is your homepage.)
On your homepage, select the Benefits & Wellness tile.
Select Benefits Enrollment.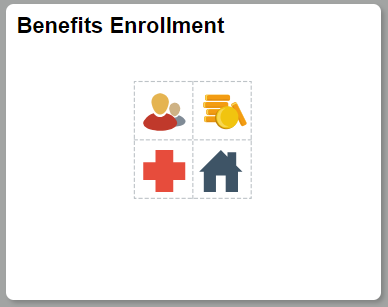 Step 3: Click Select to begin

Step 4: Choose your plans
All benefits plans for which you are eligible will be listed. On each tile, click the Review link to see your options, enroll, change or waive benefits plans.
Please note: If you are adding a dependent, you will be asked to authenticate your identity.
Step 5: Click the Submit button
Review the page and verify that you have made all of your benefits selections.
To complete your enrollment, click the green Submit Enrollment button in the upper right corner of the page. A message will appear that all benefit choices have been successfully submitted to the Benefits department.

Step 6: Review your benefits
Once you submit your enrollment, you may review your selections through the portal's Benefits Summary on the next business day.
To access your Benefits Summary: Select the Benefits and Wellness tile on your homepage and then select Benefits Summary.
To view your new elections, enter the effective date of your benefits enrollment (ex. 2/1/2020) in the date field and press the Refresh button.