Subscribers and Subscriber Status
Marketing Cloud subscribers can have multiple statuses that aren't viewable in Salesforce. Each of these can impact their ability to receive communications - even transactional ones. If one of your contacts is not receiving emails as expected, Marketing Cloud subscriber status might be to blame.
Viewing a Marketing Cloud Subscriber
1. To view a subscriber's status in Marketing Cloud, navigate to the parent business unit (University of Colorado System Enterprise Org). Once there, click the Subscribers menu and then select All Subscribers.
2. On the All Subscribers screen, click Search. You'll have two options by which to search for a subscriber: email address or subscriber key (Salesforce Contact 18 ID). We recommend searching by Subscriber Key.
3. When your results appear, you should see one subscriber associated with the subscriber key that you used to search.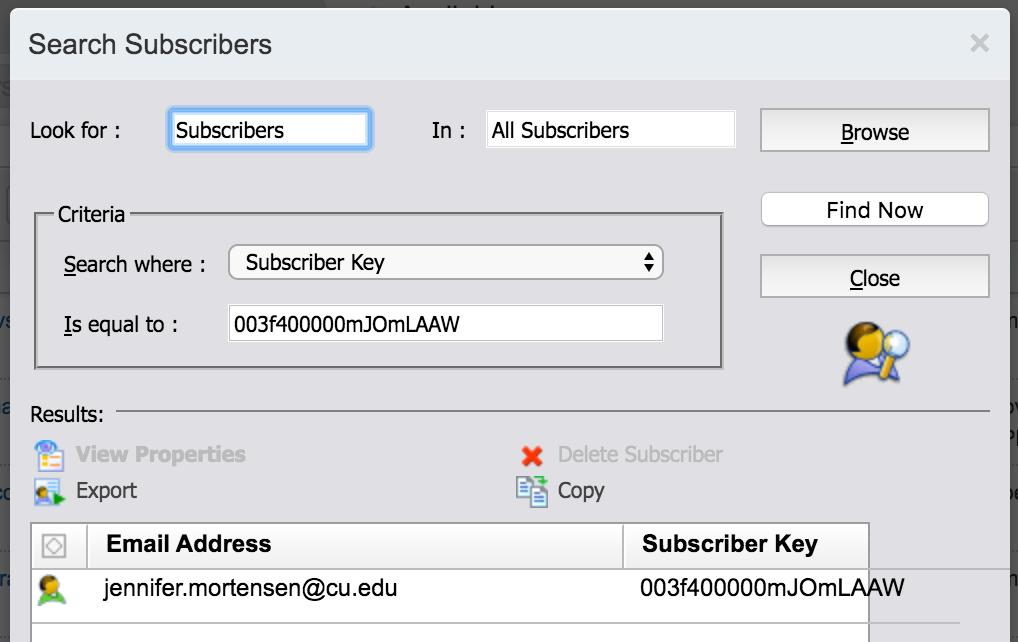 Subscriber Status
The subscriber status in Marketing Cloud is indicated by the shirt color of the icon to the left of the subscriber's email address (a green shirt in the example above). The available statuses in Marketing Cloud are as follows:
Green shirt: able to receive emails with no issues
Yellow shirt: unable to receive emails due to bounced sends
Red shirt: unable to receive emails due to an unsubscribe
Gray shirt: deactivated due to repeated bounces
Changing Subscriber Status
If you need to change the status of a Marketing Cloud subscriber, submit a TaskRay to the System team.