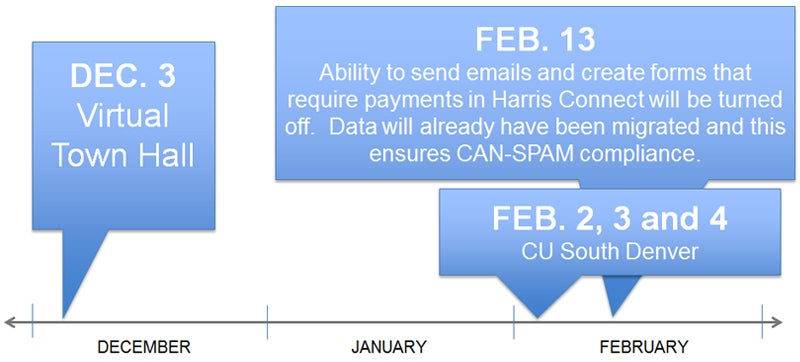 Preliminary Schedule
NOTE: Schedule may change as requirements change and details will be added accordingly. However, overall goal is to deploy and have all users trained by October 2015.
| Date | Description | Details | More Information |
| --- | --- | --- | --- |
| Dec. 8 - 12, 2014 | Discovery, on-site | CU's eComm implementation partner ACF Solutions will be in Denver for five days to become more familiar with our needs and systems, which will define the eComm implementation plan. Discovery sessions will be held throughout the week at the CU System offices at 1800 Grant St. | Schedule |
| Jan. 5 - 12 | ACF and CU define requirements | ACF Solutions and CU will review the information gathered during the Discovery week to define requirements. A requirements document will be available by January 12, 2015. | |
| Feb. 25 | Virtual Town Hall | Project Update: open to all eComm users and stakeholders. Email Kim at kim.egan@cu.edu to receive a calendar invitation. | |
| Jan. - Feb. | Design | ACF Solutions will use requirements to design implementation. A design document will be available by Feb. 1, 2015. | |
| Jan. - March | Build | ACF Solutions will work in close partnership with CU to build the custom eComm solution. This includes data migration and integration as well as development for ExactTarget, roundCause Events and the online community. | |
| April 28 | Second Virtual Town Hall | Your eComm team will provide a project update, give you a peek at the alumni online community, discuss upcoming training and review Harris sunsetting milestones. | |
| June 23- 25 (Tues.-Thur.) | User Acceptance Testing (UAT) | The eComm Super User group will test the eComm solution and provide feedback. ACF Solutions will modify accordingly.​ | Visit the 'Who's Involved' tab for a complete list of Super Users |
| July 9 | Third Virtual Town Hall | Your eComm team will provide a project update, discuss upcoming training, review Harris sunsetting milestones and answer attendees questions. | |
| Sep. 28 | Super Users migrate to production | Super Users will gain access to the Salesforce/Marketing Cloud production environment | Visit the 'Who's Involved' tab for a complete list of Super Users |
| Dec. 3 | Fourth Virtual Town Hall | Your eComm team will provide a project status update and announce details for Salesforce training, eCommference. | Town Hall PowerPoint |
| Jan. 11 (week of) | All User Training | Training of eComm users set for January 2015 | |
| Jan. 11 (week of) | Cutoff date for sending emails via Harris | Users can still login to Harris Connect but will NOT be able to send a communications. Event registration and membership forms will still be functional. | Archiving content in Harris |
| Feb. 2016 | Harris sunsets | Users can no longer login to Harris Connect | |
If you would like a specific power point presentation, please email Kim at kim.egan@cu.edu.
We have selected a group of vendors to replace Harris Connect for the university's eComm program. Salesforce will be our new constituent relationship management (CRM) database. ACF Solutions will provide the professional services to help build the custom eComm environment. Marketing Cloud (formerly known as ExactTarget) will be our email marketing tool.
Leadership Team
Project Sponsor: Ken McConnellogue, Vice President Communication, Office of the President University Relations
Project Manager: Kim Egan, Electronic Communication Director, Office of the President University Relations
Milap Sharma, Director of Application Development, University Information Services (UIS)
Nalini Kaplan, CRM Director, CU-Boulder Office of Information Technology (OIT)
Jason Hunter, Director of Technical Projects Office of Performance Improvement (OPI)
eComm Campus Program Managers
CU System: Melanie Jones
CU Colorado Springs: Megan Gallegos
CU Denver | Anschutz Medical Campus: Nonie Wainwright
CU-Boulder: Erin Frazier, Tom Needy and Rachel Vaccariello
Advancement: Matt Roush
Discovery Week
Alexis Kelley
Amanda Ulrey
Cathy Beuten
Chirag Joshi
Dave Kohnke
Dennis Lindvedt
Erin Frazier
Heather Cuff
Jack Strober
Jack Vertovec
Jason Armbruster
Jason Hunter
Jay Dedrick
Jennifer Hane
Joanna Iturbe
Joe Tinucci
Jon Arnold
Joy French
Julann Andresen
Julie Mullin
Karen Ichiba
Karen Klimczak
Ken McConnellogue
Kim Egan
Lisa Carr
Matt Duncan
Matthew Kaskavitch
Megan Gallegos
Melanie Jones
Melissa Cech
Michele McKinney
Milap Sharma
Molly Doyle
Nalini Kaplan
Nischal Dangol

Peter Burke
Philip Denman
Rachel Vacceriello
RyAnne Scott
Sharon Grant
Steve Tapp
Tom Needy
Travis Chillemi
Valerie Skillern
Super User Group
This group will be part of the User Acceptance Testing (UAT) portion of development and will receive classroom-style training directly from the vendor.
CU System
Lisa Carr
Kim Egan
Melanie Jones
Michele McKinney
RyAnne Scott
Valerie Skillern
Advancement
Matt Roush
CU-Boulder
Melissa Cech
Nischal Dangol
Matt Duncan
Crystal Eilerman
Erin Frazier
Caro Henauw
Joanna Iturbe
Laura Kriho
Teagan Lochner
Sarah Martens
Tom Needy
Mirinda Scott
Greg Swenson
Rachel Vaccariello
CU Denver
Julia Cummings
Monica Cutler
Chad Reiling
Rebecca Ward
CU Anschutz Medical Campus
Stephanie Aguinaldo
Heather Cluff
Amanda Gonzales
Michael Miller
Nonie Wainwright
Stephen Tapp
CU Colorado Springs
Jennifer Hane
Megan Gallegos
We want to hear from you.
Go here to document desired functionality.
Go here to submit a question or comment.
Kim Egan
Director, Electronic Communication
University Relations, Office of the President
kim.egan@cu.edu
(303) 828-8886