Post in Salesforce Chatter
Follow these simple steps to post in Chatter while controlling who sees your post.
Login to Salesforce
Navigate to the Chatter tab
Select the group with whom you want to share your Chatter Post, listed on the left*

eComm specialists should select MECs to ensure all MECs will automatically have visibility

Use @ symbol followed by the user name to send a direct message
Click Share
NOTE *Failure to pick a group will share post visibility with all users.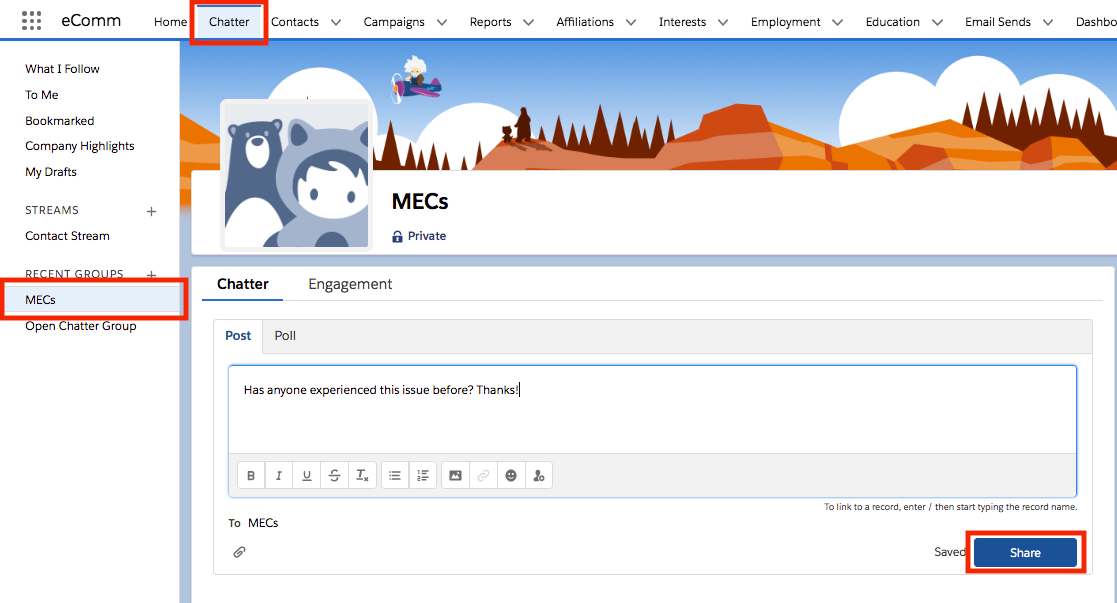 eComm Specialist Chatter Groups
eComm specialists have the option to have a Chatter group to communicate with the users they support.
System Team Reponsibilities

The System team will help create the Chatter group initially, add all existing users and continuelly add new users each month.

eComm Specialist Responsibilities

The eComm specialist will manage and monitor the Chatter group content. This might include:

a campus specific notification or session invitation
available content relevant to your users
addressing a common question
encouraging users to brainstorm together

To kick-off, ensure users know how to:
These Chatter Groups are not to replace the Marketing Cloud/Salesforce and Cvent Chatter groups with all users, managed by the system office.