MEC Weekly Digest | December 16, 2019
Cvent Integration Update and Reminder
Update: The COE is continuing to work with Cvent to resolve a few remaining Cvent integration issues related to registration status. We will keep you updated as work progresses.

There is still an issue with primary registrants marked as no show with their guests appearing as registered. The expected results for primary registrants and guests should be:

Primary Registrant = Attended; Guest = Attended
Primary Registrant = No Show; Guest = No Show
Primary Registrant = Canceled; Guest = Canceled

There are completed events with Campaign Members with a status of Registered. We would expect these to be marked as No Show.

Reminder - Action Needed: When reviewing and approving Cvent events, be sure that any integration information linking to CRM01 is deleted. The Salesforce integration fields in Cvent should be empty based on the new, automatic integration with CRM03.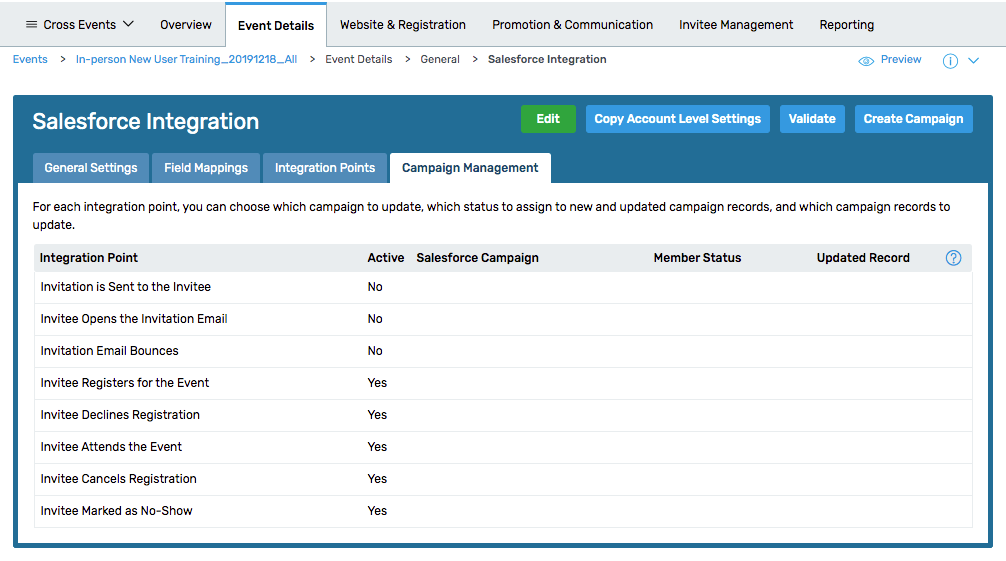 Marketing Cloud Discover Reporting
Update: As mentioned in the November 4 Weekly Digest, Melanie Jones determined that Discover Reporting was not enabled in MC03, which is why much of the reporting functionality was not working as expected. Mel worked with SFMC to enable Discover Reporting.
Training and Documentation: Jen Mortensen learned how to use Discover Reports and created several wikis to aid MECs in utilizing this data. We will be verifying next week if Discover Reporting is an option for users as well. New Marketing Could Reporting wikis are as follows:
Ongoing TaskRay Tasks & Data Monitoring