What is a beneficiary?
A person or an organization you name to receive your life insurance policy amount in the event of your death.
Two types of beneficiaries are available:

Primary beneficiary: Receives the benefit in the event of your death.
Contingent beneficiary: Receives the benefit if the primary beneficiary(ies) are deceased.
If you do not name a beneficiary, the benefit will be paid out in accordance with group policy provisions.
Who can be a beneficiary?
One person
Two or more people
Trustee
A charity or organization
Your estate
---
Watch these videos for instructions to add a beneficiary
How to add, change or remove beneficiary(ies) from a life insurance policy
Step-by-Step
Log into your employee portal.
Select CU Resources (skip this step if CU Resources is your homepage.)
Click on the Benefits & Wellness tile.
Click on the Benefits Summary tile.
On the summary, click on the plan(s) you want to edit beneficiaries for: Employee Basic Life, Employee Optional Life and/or Employee Voluntary AD&D.
You can now complete the following actions:

Add beneficiaries
Change the percentages of current beneficiaries (the total percentage between beneficiaries must total 100 percent).
Remove a beneficiary by changing the percentage to 0 percent. Note: If you no longer wish to see this individual in your employee portal, submit the Dependent/Beneficiary Removal Form.

Click Save - changes will be effective immediately.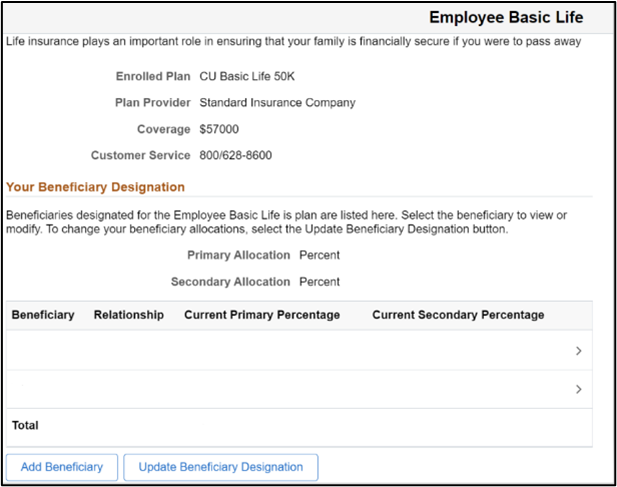 ---
How to designate a charity or organization as a beneficiary
Step-by-Step
To add a trust, charity or estate as a beneficiary, the process is the same as above. However, instead of adding a person's name, you will add the name of the trust, chairty, or estate.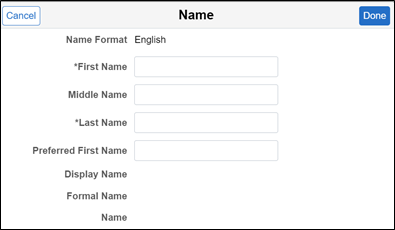 In the Personal Information section, answer the non-applicable, required question in any way, and they will be disregarded.
*Gender - Unknown
*Relationship to Employee - Select the appropriate relationship: trust, charity (other) or estate
*Marital Status - Any
*Student - Any
*Disabled - Any
*Smoker - Any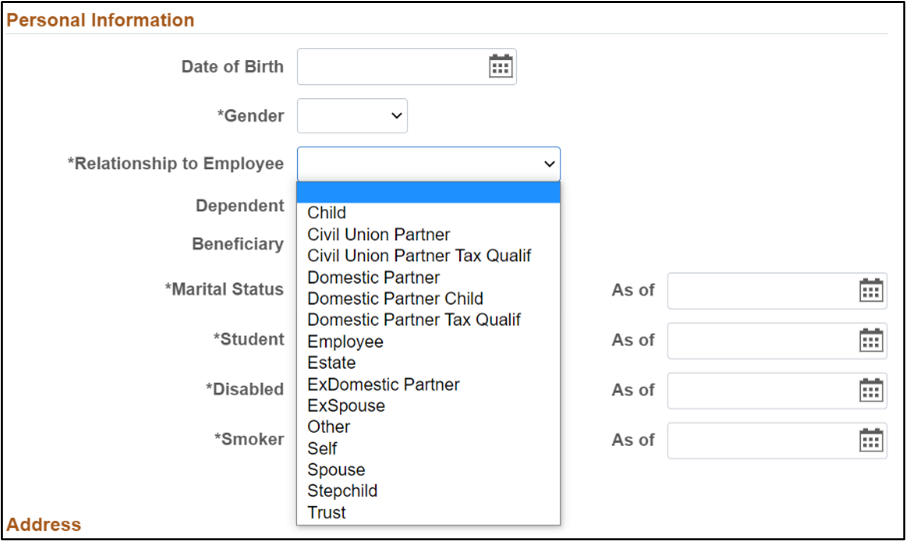 Beneficiary designation for those without portal access