New Tiles Replacing Quick Links in the CU Resources Portal
The CU Resources area of the employee portal will look different later this month, with multiple tiles replacing navigation previously offered through the Quick Links tile.
Among the changes taking place during the weekend of July 21-22:
The Quick Links tile will go away.
You'll access the systems you used to reach via Quick Links (like FIN or CU-Data) through individual tiles on the CU Resources page. Tiles will be clearly labeled with system name and an icon.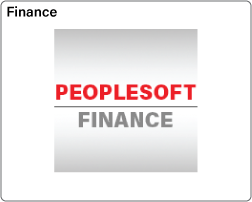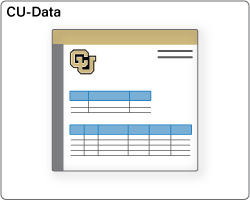 Tiles will be drag-and-drop.
You'll be able to re-order tiles (for MyLeave, FIN, CU-Data, HCM, Concur, Marketplace, etc.) to personalize your portal page.
A new CU Resources Home bar will be available in the top center of the page.
This will offer a dropdown menu to navigate to CU Resources items.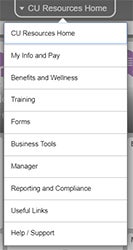 The NavBar icon on the far right of the page will look different.
The NavBar icon will change from a compass to a menu icon:

Clicking it will produce the same navigation options as before.
Questions?
Contact the FinPro Help Desk at 303.837.2161 or FinProHelp@cu.edu.