m-Fin FINANCIAL DETAIL II
We have an alternative detail report for you to try, m-Fin FINANCIAL DETAIL II. It is available now in Cognos QA. [DEC 2016 migrated to production]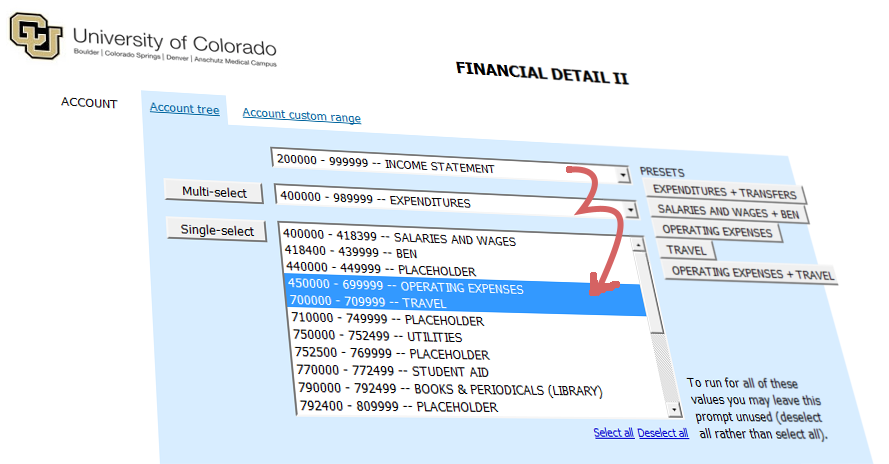 Features
Cascading account prompts. Want just OPERATING EXPENSES AND TRAVEL? Click the preset button and you are set. Want something else less commonly used? Cascade your way down, or use the account custom range prompt.
SRCE CODE prompt. Want just PET transactions? Type PET into this prompt and that's all you will get.
BAE CODE prompt. Want encumbrances but not the EN_FNA variety? Clear EN_FNA from this prompt.
PAYROLL DETAIL prompt. Want person detail for the pay actuals but summary for the pay encumbrances? Choose ACTUALS in this prompt.
CONCUR DESCRIPTION prompts. Want the Concur report description, but not the Concur expenditure or vendor descriptions? Choose just CONCUR REPORT in this set of prompts.
EXCLUDE NET ZERO EN_PO prompt. Want to suppress PO encumbrances that are just "in and out," netting to zero in your run? Select this prompt.
Features left out
There are some things that the original m-Fin FINANCIAL DETAIL does that this new report does not:
Does not page by fopps/speedtype
Does not special subtotal travel
Does not provide project attributes
If you like our new report and feel it would be worth the work for us to put missing features like these into it, let us know. We are not planning on taking the other report away, however. You'll be able to continue using it.