Why Run This Report:
To view the financial basics for multiple speedtypes, in a one-line-per-speedtype presentation.
Key Notes
Tips
Presentation can be simple or complex, depending on the extra columns added to the output
SpeedType and FY Actuals are the only "delivered" columns, everything else is "extra"
Subtotal and Sort options help corral SpeedTypes into logical groups
Deficits in Available Balance are highlighted red
Related reports

Project One-Liner, Project SpeedType One-Liner in the Project Reports folder
SpeedType Summary in the Finance folder
FAQs
Q: Which report columns are most useful for each type of Fund?
A: Depending on whether a fund is cash-based or budget-based, you may find different Extras useful.
For cash-based funds (Funds 2X, 34, 7X):
Include FY Begin Cash, Budget, To Date Actuals, Encumbrances, Cash, and Available Balance.
For a Fund 34, also include the Gift Expense Purpose.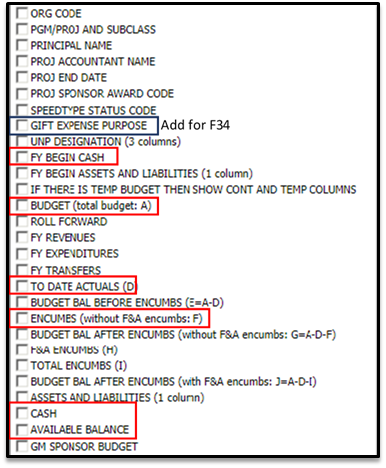 For budget-based funds (Funds 10, 30, 31, 33):
Include Continuing and Temporary Budget columns, Budget, To Date Actuals, Encumbrances, Budget Balance after Encumbrances, and Available Balance.
For Fund 30, also include F&A Encumbrances.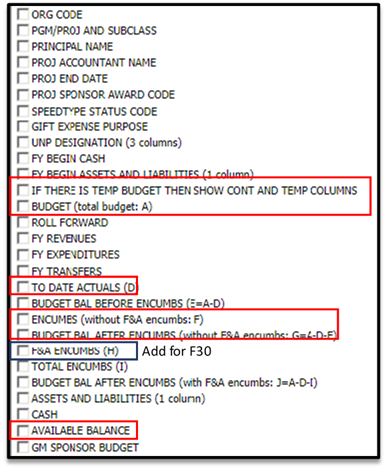 Q: Why is the balance on the SpeedType One-Liner sometimes different than what shows up on the Operating Summary?
A: The Operating Summary includes the Available Balance calculation. If you want this calculation on the SpeedType One-liner, select Available Balance from the Extras menu.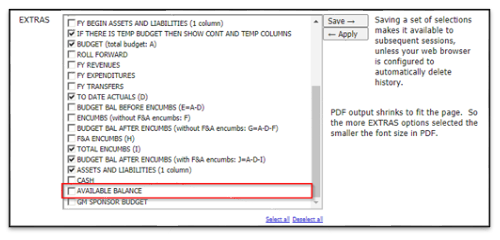 Have a question or feedback?