Summary
CU Boulder's Visual Arts Complex photography lab serves about 150 students per semester. An initiative to mitigate the lab's environmental impact and improve student experience has succeeded on both fronts. The new approach re-engineered darkroom processes by modifying the types of chemicals used and installing regulators on faucets. The results: reduced administrative time, reduced chemical costs and water usage, reduced generation of hazardous waste, and reduced student time spent in darkroom processing.
Submission Highlights
Team Information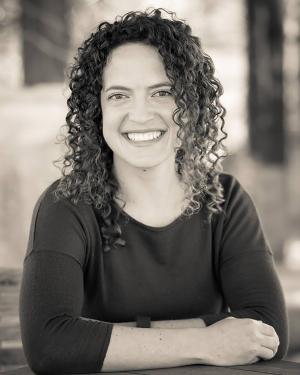 Pictured Above:
Mariana Vieira, Laboratory Coordinator II
University of Colorado Boulder
Description
The photography lab in the Visual Arts Complex in the Boulder campus supports around 150 students per semester. The environmental impact of the lab consists of two main areas:
Water usage: To safely remove chemicals, students wash materials in running water for 10-20 minutes.
Generation of hazardous waste: All of the chemistry used in the lab is recycled through EH&S. The chemistry typically was disposed of daily, generating hazardous waste daily.
The lab implemented several solutions to reduce its environmental impact.
Invest in modern chemistry: Instead of buying small quantities of chemistry by different manufacturers, the lab now purchases bulk chemicals. The chemicals are designed to work together, reducing processing times. The result: the wash cycle for film was reduced from 20 to 5 minutes.
Re-Use: Staff was trained to test the chemicals for "exhaustion." Chemical working solutions have a life span, and if not exhausted, can be reused producing the same results.
Install flow regulators on sinks: Students often turn faucets to run at maximum flow, resulting in unnecessary water waste. Flow regulators limit the water flow, reducing water waste.
How does this benefit the University?
Administrative efficiency: Ordering bulk chemistry in large quantities twice a semester instead of making multiple small purchases every few weeks reduces administrative work across departments processing purchases.
Fewer orders saves the University shipping costs and reduces carbon footprint by decreasing number of shipments.
Processing times for students is reduced, moving students through the lab quicker and more efficiently.
Water savings: by using modern chemistry, film and paper wash times were reduced by 50% and 150% respectively per student. Each container of 20 liter bulk chemical reduces the waste generated by smaller containers, reducing plastic waste generated by the photo lab.
Reduced generation of hazardous waste: by re-using chemistry until exhausted, the lab generates less hazardous waste that needs to be collected and processed.
When analyzing the per-liter cost of chemistry, the new, modern chemicals save the University $30/liter.
Implementation/Future Plans
The project was implemented in Spring of 2019.
File Attachment