The University of Colorado and the Office of University Controller (OUC) are pleased to offer the 2013 Annual Financial Report. In an effort to increase the transparency and accessibilty of our financial reports, the 2013 Annual Financial Report has been produced in HTML. Benefits to this format include:
Improved searchability and accessibility
Mobile and tablet-friendly design
Elimination of printing costs
Addition of color graphs
Easier access to related notes and other information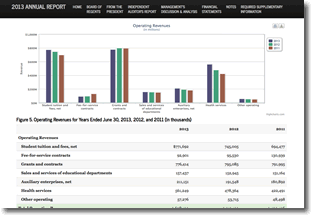 View the 2013 Annual Report in HTML →
Prefer to have a more traditional format? We still have a PDF version.
Previous Annual Financial Reports
FY 2012
FY 2011
Annual Financial Report
Supplementals
Form 990-T