CU Boulder Groundbreaking Ceremony
The Colorado Office of Economic Development and International Trade Aerospace and Defense Industry Champion Jay Lindell attended the groundbreaking ceremony for the University of Colorado Boulder's new aerospace engineering building on October 26. The new building is scheduled to open in the summer of 2019.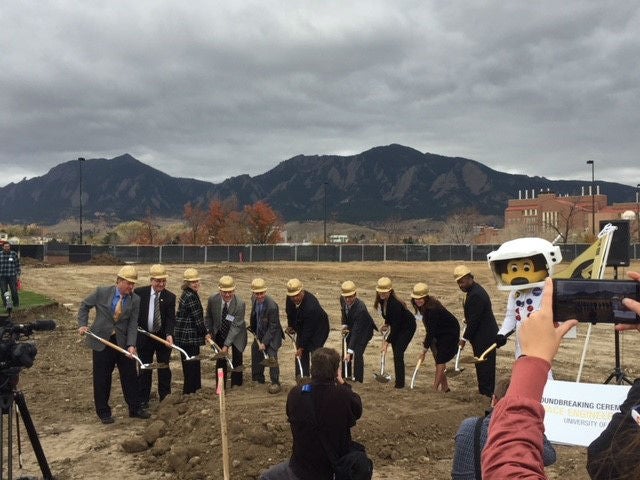 Office of Government Relations
State Legislators Attend CU Football Game
Representatives Paul Lundeen (R-Monument) and Cole Wist (R-Centennial) attended the November 11th University of Colorado Boulder football game. They were joined by Regents Jack Kroll, Heidi Ganahl and Sue Sharkey on the field.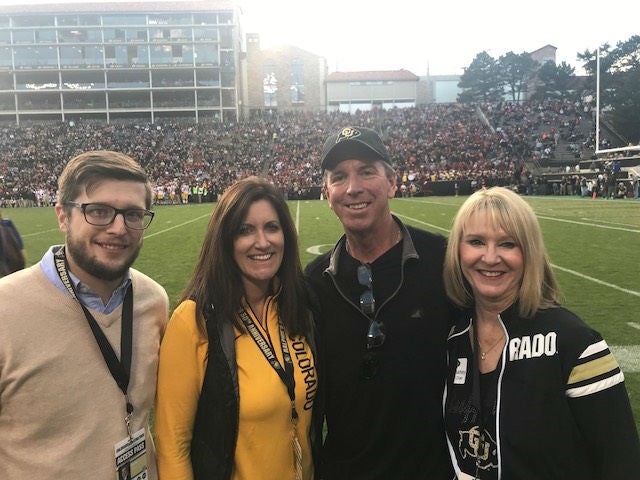 Office of Government Relations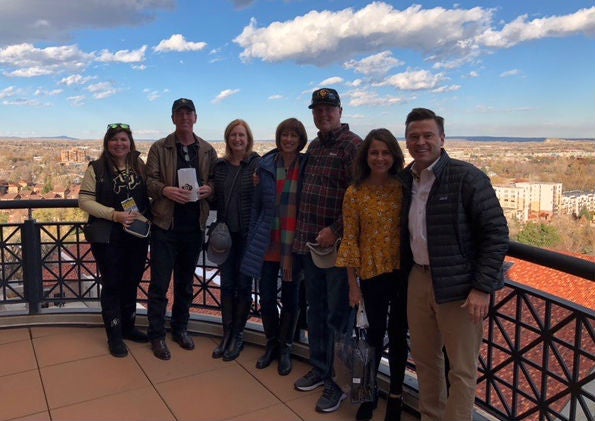 Office of Government Relations
State Legislator Chris Hansen Participates in CU Denver Commencement Ceremony
On December 16, Representative Chris Hansen (D-Denver) joined CU Denver Chancellor Dorothy Horrell and President Bruce Benson at the CU Denver commencement ceremony.
Office of Government Relations
Congressman Polis Participates in Calls on HEA Reauthorization
In December, CU leadership including CU Boulder Chancellor Philip DiStefano, CU Boulder Provost Russell Moore, UCCS Chancellor Venkat Reddy, CU Denver Provost Roderick Nairn, and CU Denver Dean of the School of Education and Human Development Rebecca Kantor participated in a call with Congressman Jared Polis to discuss proposed changes to the Higher Education Act The Promoting Real Opportunity, Success, and Prosperity through Education Reform (PROSPER) Act (H.R. 4508).
Additionally, Congressman Polis held a 30 minute Student Tele-Town Hall on December 6, with students to provide an overview of the proposed changes to HEA and how these changes would impact students.
PhD Alum Madalyn Kern on the Hill
Madalyn Kern, a Ph.D. alum from CU Boulder, attended several visits with congressional offices in Washington, DC. She spoke with staff from the offices of Senator Cory Gardner and Michael Bennet, as well as Congressmen Mike Coffman and Doug Lamborn. She also met with Senate Commerce Committee Majority and Minority Staff, as well as Congressmen Ed Perlmutter and Jared Polis. The visits coincided with Madalyn's participation in the inaugural University Innovation and Entrepreneurship Showcase co-hosted by AAU and APLU, on November 13 and 14. Her startup, ReForm, Inc., is focused on developing a new prosthetic socket device which is more adaptable and accessible to amputees in the U.S. and in the world's developing nations.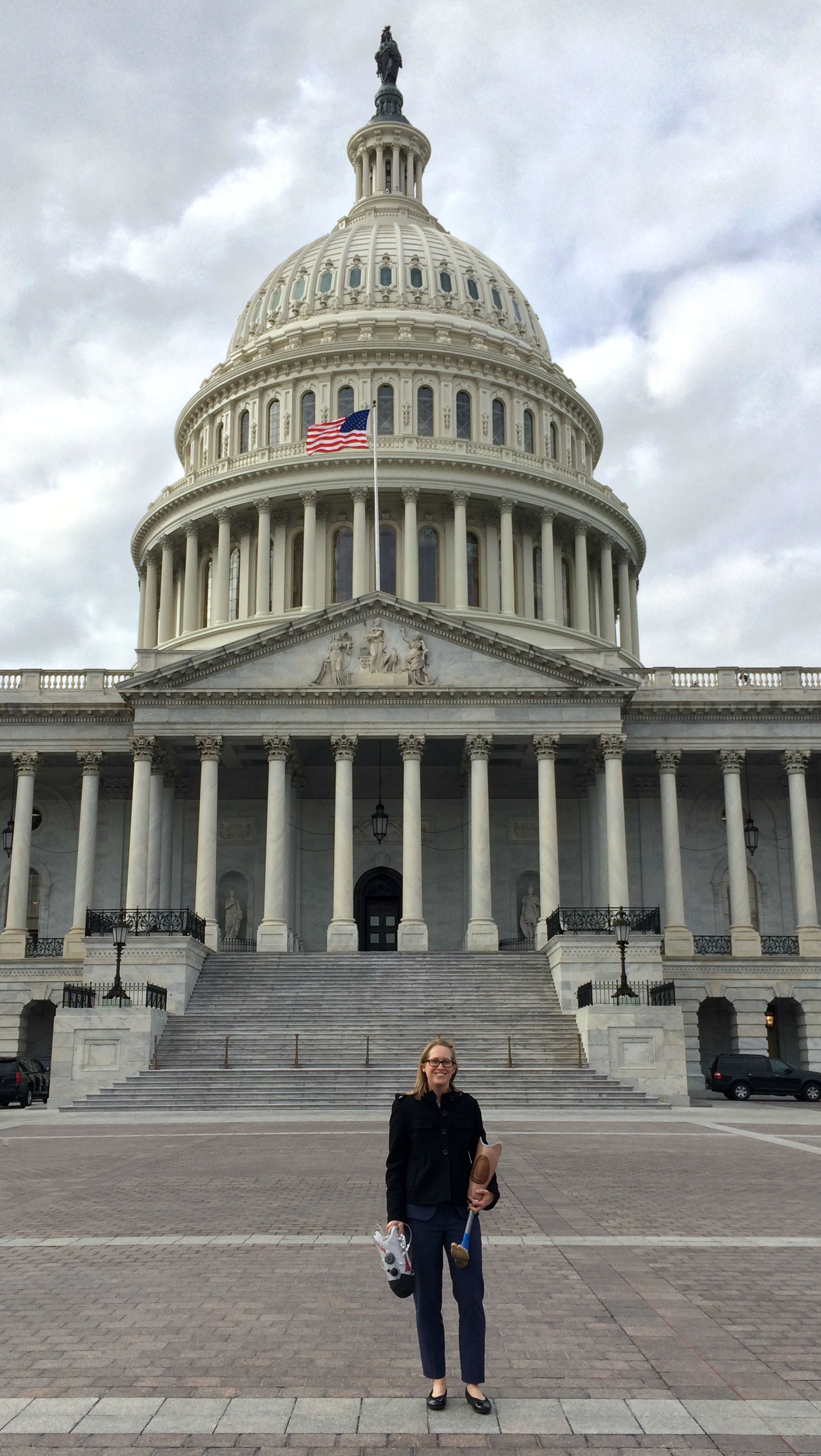 Office of Government Relations
Rocky Mountain Data Center Grand Opening
The Rocky Mountain Research Data Center Institute of Behavioral Science at CU Boulder held its Grand Opening celebration on September 28. CU Boulder Vice Chancellor for Research and Innovation Terri Fiez and Director of CU Boulder's Institute of Behavioral Science (IBS) Myron Gutmann hosted the event. The RMRDC is a Federal Statistical Data Center housed at IBS and represents a consortium of institutional partners including all four CU campuses, plus Colorado State University, University of Wyoming, University of Denver, Colorado School of Mines, the Colorado State Government, and others. It is a secure research site where researchers conduct statistical analyses on nonpublic data collected by the U.S. Census Bureau and other statistical agencies. Staff from the Office of Senator Bennet attended the ribbon cutting ceremony. Learn more about the RMRDC here.
Athletic Directors on the Hill
On September 26, CU Athletic Director Rick George and Colorado State University Athletic Director Joe Parker met with Senators Bennet and Gardner as well as Congressmen Polis and Perlmutter. The purpose of the meetings was to provide updates on their respective athletic departments.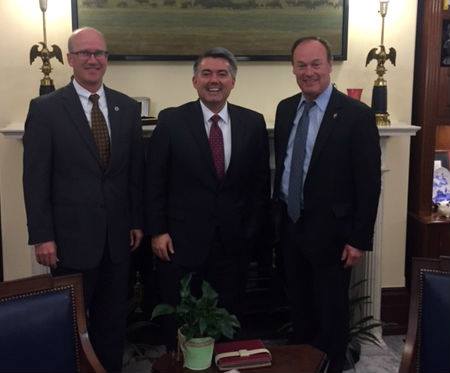 Office of Government Relations
SVC Kelly Fox Participates in Congressional Briefing Panel
On September 26, CU Boulder Senior Vice Chancellor and Chief Financial Officer Kelly Fox met with Congressman Polis to discuss student debt and CU Boulder's tuition guarantee. While in D.C., Fox also participated in a congressional briefing panel held by the National Association of College and University Business Officers (NACUBO).
Chan Joins Panel on North Korea with Congressman Polis
CU Boulder Political Science Professor, Steve Chan, participated in a digital roundtable on Facebook hosted by Congressman Jared Polis. A recorded version of the October 25 conversation is available here.
NSO Testimony to House Science Subcommittees
On September 28, Dr. Claire Rafferty, Head of Education and Outreach at the National Solar Observatory (NSO), along with senior scientist Matt Penn, testified at a congressional hearing on the solar eclipse. Penn is the Principal Investigator for the Citizen CATE project, which collected images of the August 21 total solar eclipse from citizen scientists across the U.S. Watch the hearing here.
MD5 National Security Technology Accelerator Launch
Leaders from Colorado's security, technology, veteran, and academic communities gathered at the Idea Forge Commons on September 29 to participate in a conversation about the future of defense innovation in Colorado. Staff from the offices of Senator Gardner and Representatives Polis, Perlmutter, and Coffman attended the event.
ECHO Colorado Director Visits Washington, D.C.
Dr. John "Fred" Thomas visited the Hill to discuss ECHO Colorado and the ECHO Act. Dr. Thomas is the executive director of the Extension for Community Health Outcomes (ECHO), a unique platform for health professionals to share knowledge and experience using technology. Dr. Thomas met with staff from the offices of Colorado Senators Michael Bennet and Cory Gardner, as well as Representatives Mike Coffman, Doug Lamborn, Ken Buck, Diana DeGette, Jared Polis, and Scott Tipton. He also met with staff for Senator Orrin Hatch (R-Utah), the sponsor for S.2873, ECHO Act. This legislation requires studies and reports on using technology-enabled collaborative learning and capacity building models to improve programs of the Department of Health and Human Services. Finally, Dr. Thomas met with the U.S. Department of Health and Human Services.
UCCS Co-Sponsors 2017 National Cyber Symposium
The 2017 National Cyber Symposium, sponsored by the National Cybersecurity Center in partnership with UCCS and Exponential Impact, a Colorado Springs tech accelerator company, was held at the Broadmoor in Colorado Springs. The symposium had several prominent speakers from the world of cyber security. The kickoff evening featured Governor John Hickenlooper and retired General David Petraeus, former director of the Central Intelligence Agency.

UCCS Chancellor Venkat Reddy outlined an agreement with Cisco to assist in designing a strategic plan for a Cybersecurity Workforce Development Center in conjunction with the National Cybersecurity Center. Cisco representatives will work with UCCS faculty to develop capabilities for the development of curriculum and training of people to work in cybersecurity, joint research opportunities and student internships. Read more about the plan in the UCCS Communique.
Office of Government Relations