CU Advocacy Day at the Capitol
This year's annual CU Advocacy Day at the Capitol presented by the Office of Government Relations and the CU Advocates program was held January 26. The program showcased student success stories and research achievements while also highlighting state budget challenges and the university's legislative priorities. CU-Boulder's MAVEN mission to study the atmosphere of Mars was spotlighted with faculty and students in CU's aerospace programs. Participants also learned about the success of CU's system wide Pre-Collegiate Development Program, which serves primarily first-generation Hispanic students around the state. More than 100 advocates and guests participated in the program, including CU President Bruce Benson, CU Regents and CU Denver Chancellor Dorothy Horrell. Several elected officials stopped by to speak with the CU Advocates and guests, such as Senators Jessie Ulibarri (D-Denver), Rollie Heath (D-Boulder) and Representatives Jovan Melton (D-Aurora), Joe Salazar (D-Thornton), and Bob Rankin (R-Carbondale).
U.S. Senator Cory Gardner, a CU School of Law graduate, made an impromptu appearance and praised the "top-notch, pioneering research and academics of the University of Colorado." He encouraged CU Advocates to continue their engagement with government leaders. Following the event at the Capitol, legislators and advocates were invited to a special reception hosted by Marcy and Bruce Benson. Legislators in attendance included Senators Jack Tate (R-Centennial), Vicki Marble (R-Fort Collins), Matt Jones (D-Louisville), Larry Crowder (R-Alamosa), Rollie Heath (D-Boulder) and Representatives Jeni Arndt (D-Fort Collins), Terri Carver (R-Colorado Springs), Yeulin Willett (R-Grand Junction), JoAnn Windholz (R-Commerce City), Dave Young (D-Greeley), Gordon Klingenschmitt (R-Colorado Springs), Janet Buckner (D-Aurora), Bob Rankin (R-Carbondale), and Kevin Van Winkle (R-Highlands Ranch).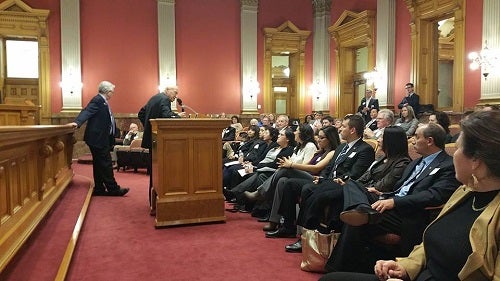 Aerospace Day at the Capitol
CU students set up a booth for Aerospace Day at the Capitol, which gives CU Aerospace students and faculty the opportunity to showcase their research and program opportunities. During the March 21st event, a CU student, wearing a space suit, was a special guest on the Senate floor.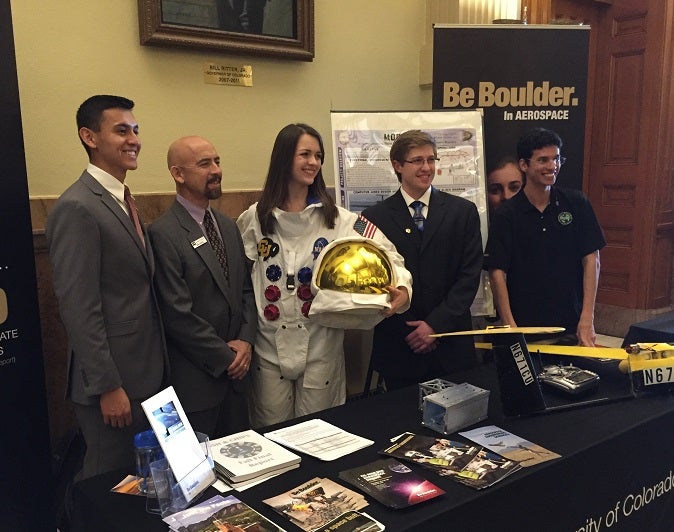 CU-CSU Joint Cancer Research Partnership Presents to Committees
Dr. Dan Theodorescu, Director of the University of Colorado Cancer Center and Dr. Rodney Page, Director of the Colorado State University Flint Animal Cancer Center presented a joint cancer research partnership to both the Joint House and Senate Agriculture Committee and the House Public Health Care & Human Services Committee.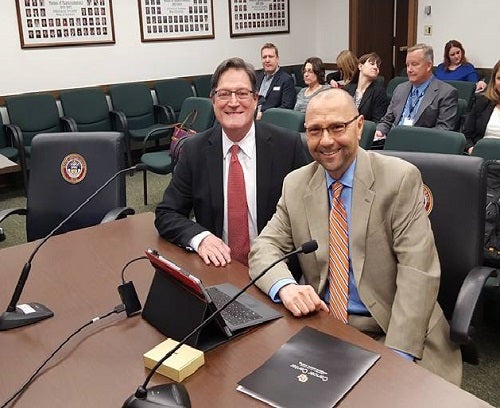 UCHealth Advanced Care Close to Home Day
The Pink Life Saver Mobile Mammography van and Mobile Stroke Treatment Unit parked at the Capitol as part of the UCHealth Advanced Care Close to Home Day. The Pink Life Saver Van is a clinic on wheels that provides breast cancer screening services to women. Legislators were encouraged to tour the electric-pink, 38-foot bus that travels to several locations in the metro Denver area each week. The skilled and compassionate UCHealth mammography professionals performed several mammograms for women.
The Mobile Stroke Treatment Unit, one of only three such units in the U.S., is a revolutionary medical service and research initiative in Colorado. The unit looks like an ambulance but is a specialized emergency department on wheels, designed to deliver expert stroke care to patients. The April 13 event was sponsored by Senator Mary Hodge (D-Brighton), and Representatives Kevin Priola (R-Henderson) and Dianne Primavera (D-Broomfield).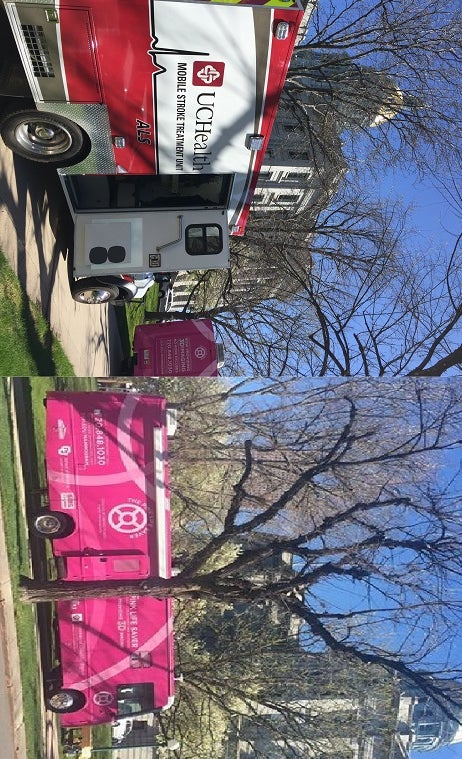 Angela Rennick, Office of Government Relations
UC Health Board Confirmations
April Jones, Steven Meyer, and Dr. Dori Biester were confirmed as new members of UC Health's Board of Directors. Also in April, the members of the UC Health Board were confirmed by the Senate on a vote of 5-0.
Governor Hickenlooper, Congressman Perlmutter Visit Colorado Space Symposium
Gov. Hickenlooper and Congressman Ed Perlmutter toured the Lockheed Martin Exhibit Hall at the Colorado Space Symposium in Colorado Springs, where the University of Colorado hosted a booth with representatives from CU-Boulder's Aerospace Engineering Sciences Department, Laboratory for Atmospheric and Space Physics (LASP), and Grand Challenge, as well as the University of Colorado Colorado Springs (UCCS) College of Engineering And Applied Science.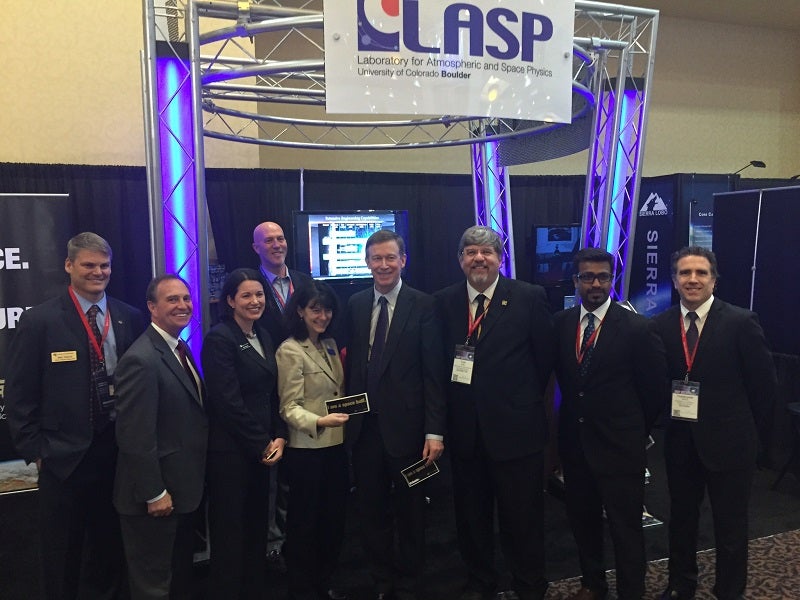 COSGC Directors Meet with Colorado Congressional Delegation
Chris Koehler and Brian Sanders, Director and Deputy Director respectively of the Colorado Space Grant Consortium (COSGC), met with science staff for all nine members of Colorado's congressional delegation. Koehler and Sanders were joined by Christy Predaina, a CU-Boulder and COSGC alum, who is still engaged in the program through mentoring and other activities. The Colorado cohort were part of the March 2 national Space Grant advocacy day on Capitol Hill, which included representatives from each of the 52 Space Grant programs. The COSGC is funded by NASA and is a statewide organization involving 20 institutions of higher education, including CU-Boulder. COSGC provides Colorado students access to space through innovative courses, real-world hands-on telescope and satellite programs, and interactive outreach programs.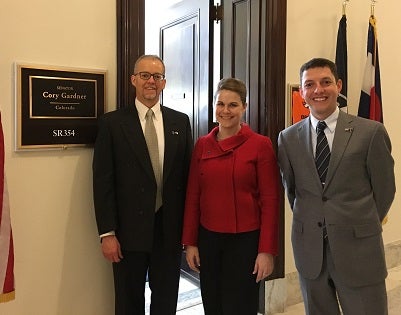 CU-Boulder LASP Director Visits DC, Moderates Panel on Space Weather
Dan Baker, Professor and Director of CU-Boulder's Laboratory for Atmospheric and Space Physics (LASP) moderated a panel discussion entitled "Space Weather: What Is It, What Can We Do About It, and Why Should You Care?" on Capitol Hill. CU-Boulder sponsored the March 31 briefing and Congressmen Ed Perlmutter and Jim Bridenstine served as honorary co-hosts. In addition to Baker, expert panelists included Harlan Spence, Professor and Director of the Institute for the Study of Earth, Oceans and Space, University of New Hampshire; Michael Ryschkewitsch, Space Exploration Sector Head, Johns Hopkins University Applied Physics Laboratory; and Cory Springer, Director of Weather and Environment, Ball Aerospace. The panel spoke to a crowd of more than 50 congressional staff and stakeholders on U.S. capacity to understand, predict and mitigate the impacts of space weather events.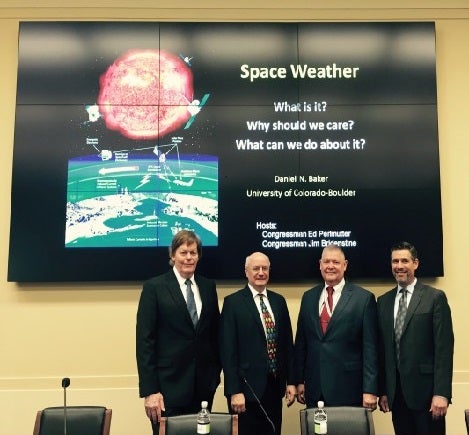 CU-Boulder Professor Presents at CNSF Reception in Washington, D.C.
CU-Boulder Professor Noah Finkelstein presented at the Coalition for National Science Funding (CNSF) 22nd annual reception in Washington, DC. The theme was "Investments in STEM Research and Education: Fueling American Innovation." Finkelstein presented on a shared CU-Boulder/Association of Public and Land-grant Universities (APLU)/UMass National Science Foundation (NSF) award to support a first-of-its-kind national network of STEM education centers. He was joined by project co-director Kacy Redd from APLU and met with NSF Director France Córdova and Assistant Director Joan Ferrini-Mundy of NSF's Education and Human Resources Directorate. Earlier in the day, Finkelstein met with the Colorado delegation and U.S. science committees to advocate for NSF.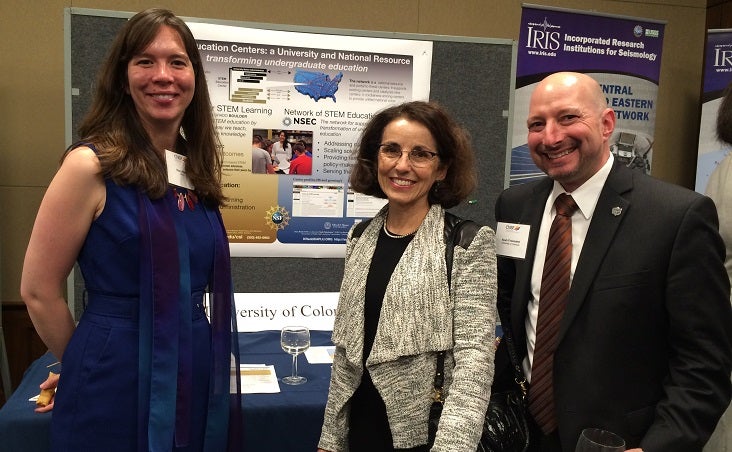 U.S. Senator Gardner Speaks at Science Coalition Headliner Breakfast
U.S. Senator Cory Gardner spoke at a "Headliner Breakfast" for The Science Coalition, a non-profit, nonpartisan group of the nation's leading research universities, including CU-Boulder. Gardner described his interest in science policy and updated the group on the Senate effort he is co-leading to reauthorize the America COMPETES Act, which governs research, engineering, and education programs at the National Science Foundation (NSF), National Institute of Standards and Technology (NIST) and Department of Education (DOE) Office of Science, as well as federal Science, Technology, Engineering, and Mathematics (STEM) programs.
Regarding that effort, Gardner said he values stakeholder input and wants to craft legislation that will build transparency, accountability and understanding. He also hopes to incorporate more stability into the grant-making process, perhaps allowing for more multi-year awards. Colorado was well-represented at the event with participants from CU-Boulder, Colorado State University, and the University Corporation for Atmospheric Research. CU-Boulder's Peter Pilewskie and Tom Sparn from the CU-Boulder Laboratory for Atmospheric and Space Physics (LASP) served as honorary hosts, introducing the Senator. While in DC, Pilewski and Sparn also met with members of the Colorado delegation to give a progress report on the Total Solar Irradiance Sensor (TSIS) program.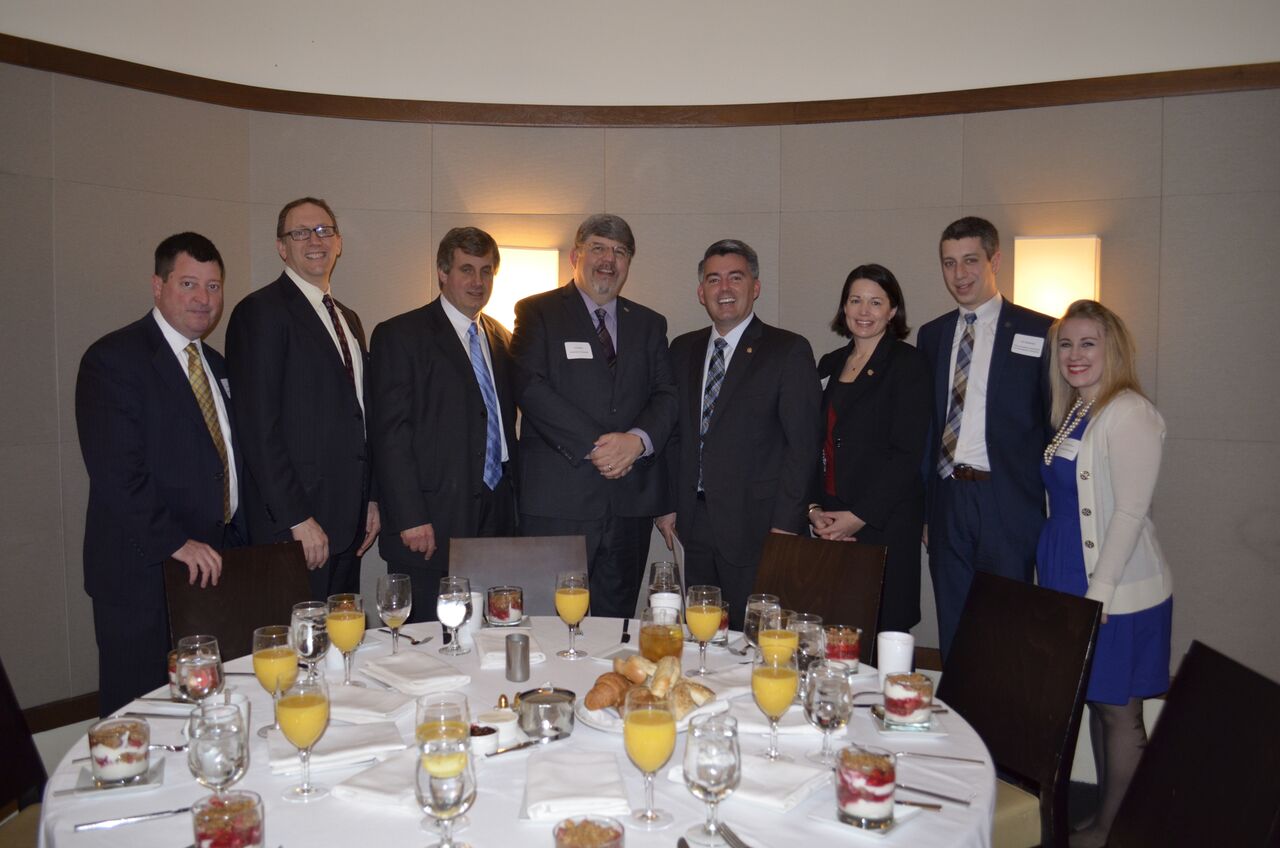 Congressman Polis Holds Roundtables at CU-Boulder with IHE Administrators, CUSG
Congressman Jared Polis visited the University Memorial Center at CU-Boulder and held two roundtables with higher education administrators and the CU-Boulder Student Government. During the first roundtable (with officials from CU-Boulder, Colorado State University, and Front Range Community College in attendance), Polis gave a brief update on the reauthorization of the Higher Education Act (HEA).

Polis related his belief that HEA reauthorization will not see significant movement until early 2017, which corroborates the Office of Government Relations' expectations for the legislation. Polis closed the roundtable by outlining his 2016 education priorities and fielding questions from attendees, which included discussions on dual-enrollment, open source textbooks, campus safety, work-study programs, and housing costs.

Following the administrator roundtable, Polis facilitated an open discussion on college affordability organized by student government.