If you like city life, but also enjoy the great outdoors, Colorado Springs is the place for you.
The city rests at the base of Pikes Peak, the inspiration for the song "America the Beautiful" and a must-see for residents and visitors alike. To reach the 14,115 foot summit, you can drive, hop on the cog railway or even hike. It's just one of dozens of area attractions, including scenic trains, museums, parks, a zoo and more.
With a mild climate and plenty of sunshine, the Springs boasts some of the state's best recreation opportunities. Major outdoor areas, notably Garden of the Gods and Palmer Park, are among the hundreds of parks and five sports complexes managed by the city's Parks, Recreation and Cultural Services department. Stunning trails crisscross more than 5,000 acres of open spaces in 48 protected areas.
The city is also known for its robust high-tech and sports industries. Home to the U.S. Air Force Academy and four military bases, Colorado Springs is steeped in military history, memorialized in the Peterson Air and Space Museum. With the Olympic Training Center and dozens of sports federations nearby, it's common to spot world-class athletes around town. 
City Overview
Population: 456,562
Median household income: $56,079
Median home value: $228,600
Median gross rent between 2011-2015: $922
Average commute: 20.8 min
Data taken from Data USA and the U.S. Census
By the Numbers
Getting Around Town
Mountain Metropolitan Transit is Colorado Springs' public transit authority, making more than 10,000 trips each day. A bike also a great way to travel; Colorado Springs features more than 90 miles of bike lanes, 118 miles of urban trails and 61 miles of unpaved mountain bike trails. Explore the surrounding area via the New Santa Fe Regional, Pikes Peak Greenway and Fountain Creek Regional Trails, which form a continuous path from Palmer Lake to Fountain.
Housing Options, Schools and Hospitals
Faculty Housing Assistance Program
Penrose-St. Francis Hospital
Memorial Hospital
Local schools guide
EXPLORE NEIGHBORING CITIES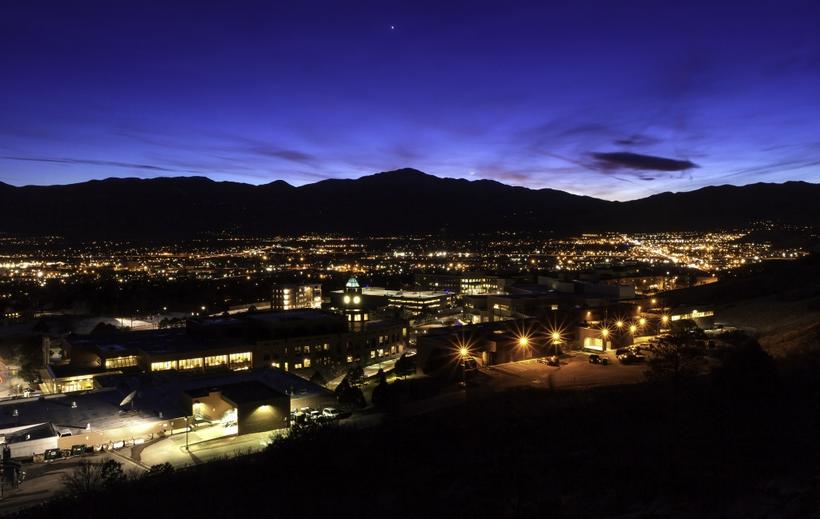 Colorado: Adventures indoors and out
Whether you're a city or outdoors person – or a mix of both – Colorado is your playground. 
With a mild climate and plenty of sunshine, Colorado residents relish their time outdoors. The numbers speak for themselves: Colorado boasts four national parks, two national recreation areas, three national historical trails, 11 national forests, 44 state parks and 323 state wildlife areas and 30 of the Rocky Mountains' highest peaks. Breathtaking ski resorts and hiking trails continue to spellbind visitors and long-time Coloradoans alike.
Colorado's urban life offers endless recreation opportunities, too. A cultural hub, Denver is home to seven professional sports teams and the Denver Performing Arts Center—the largest facility of its kind.