University of Colorado Cancer Center Names Board Room After Senator Steadman
The University of Colorado Cancer Center named its board room the "State Senator Pat Steadman Board Room" at a surprise ceremony.
Senator Steadman (D-Denver) is a Joint Budget Committee member who sponsored legislation to direct the first-ever Colorado appropriation for cancer research to the University of Colorado. CU Anschutz Medical Campus Chancellor Don Elliman introduced Dan Theodorescu, MD, PhD, Director of the University of Colorado Cancer Center, who made the announcement at the August 31 event. CU President Bruce Benson was in attendance, as were many of Steadman's friends and colleagues, including State Representative Dave Young (D-Greeley), State Senator Nancy Todd's (D-Aurora) husband Terry, and former Colorado House Speaker Mark Ferrandino.
In his remarks, Chancellor Elliman lauded the Cancer Center for attaining the "highest ever score" following the National Cancer Institute Cancer Center Support Grant competitive renewal application review this year. Since Theodorescu's arrival five years ago, the Cancer Center has risen from being unranked to its current rank of the number 22 cancer program in the country. Steadman, who lost his partner to cancer, has been a champion of cancer research at CU Anschutz Medical Campus during his tenure in the State Senate.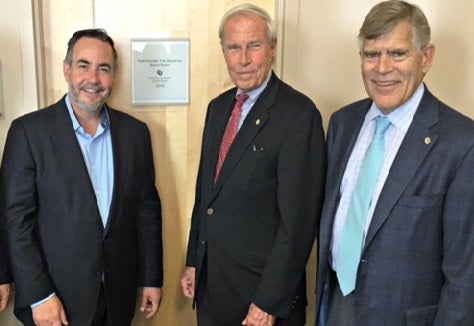 Erika Matich, Communications Manager, University of Colorado Cancer Center