UCCS Hosts Signing of HB 16-1453
HB 16-1453, Colorado Cybersecurity Initiative bill, was signed by Gov. Hickenlooper at the UCCS campus on May 20. UCCS Chancellor Pamela Shockley-Zalabak and her team (UCCS Senior Vice Chancellor Martin Wood, National Cyber Intelligence Center (NCIC) Interim Director Gen. Ed Anderson (Ret), Executive Director of University Advocacy and Partnerships Stephannie Finley, and Assistant Vice President for Federal Relations, David Sprenger) along with bill sponsors Senator Kent Lambert (R-Colorado Springs) and Representative Millie Hamner (D-Dillon) developed the bill language and rallied stakeholders in support.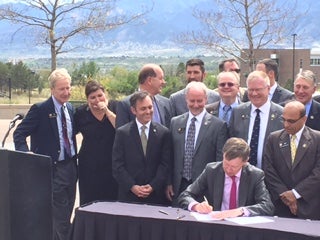 UCCS Senior Vice Chancellor for University Advancement, Martin Wood, presented to the Legislature's Aerospace and Defense Caucus about Cybersecurity on February 26th.