State Representatives in the Spotlight
State Representative Yeulin Willett (R-HD 54 Grand Junction)

Committees: House Judiciary, House State, Veterans & Military Affairs
Representative Willett comes from a family with four generations of CU graduates. He graduated from University of Colorado Boulder with B.S. in Business/ Finance and received a J.D. from the School of Law. He is an avid cyclist and outdoorsman. As a freshman legislator, he is known at the capitol as an "up and comer" and someone who can work across the aisle.
"As a CU Regent and resident of Representative Yeulin's district, I am truly amazed by his leadership and representation in his first year," said Regent Glen Gallegos (District 3). "Representative Yeulin was an ally to CU this session as he was a bipartisan sponsor on our CU start up Colorado bill HB 15-1366."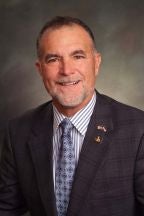 State Representative Dan Pabon (D-HD 4 Denver)
Speaker Pro Tem
Committees: House Appropriations, House Business Affairs & Labor, House Finance
Representative Pabon is a proud CU alum, with a B.A. in Engineering from the University of Colorado Boulder and a J.D. from the School of Law. As Speaker Pro Tem, Representative Pabon has been a major contributor to CU's success at the capitol, as well as a key strategist on CU budget and legislative issues and working with leadership. He works collaboratively across the aisle and carried the torch for us on HB 15-1366, in particular.