Senators Gardner and Moran (KS) Explore Innovation in Care for Veterans' Invisible Wounds at CU Anschutz Medical Campus
Senator Cory Gardner joined Kansas Senator Jerry Moran for a tour of CU Anschutz Medical Campus programs providing innovative care for veterans in August. CU President Mark Kennedy and Chancellor Don Elliman also participated. The visit began at the Marcus Institute for Brain Health (MIBH), where the group met with Executive Director James Kelly and Director of Veteran Programs, Communications, and Strategic Development Spencer Milo to learn about the physical therapy lab and the MIBH collaboration with the Department of Veterans Affairs (VA). The Marcus Institute provides a unique model of evaluation and wrap-around speciality services to veterans with mild to moderate traumatic brain injury (mTBI) regardless of their military discharge status.
The tour continued at the National Mental Health Innovation Center (NMHIC), where Founder and Executive Director Matt Vogl and Deputy Director Dr. Debbie Boeldt discussed their work with virtual reality and technology assisted meditation as methods used when assisting high need populations such as veterans in the area of mental health. The National Mental Health Innovation Center works to support innovative technology solutions to address challenges that exist in the mental healthcare system, expand the accessibility of essential services, and eliminate stigmas associated with mental health.
Senator Moran also toured the Fitzsimons Innovation Community, and learned about how early investments from the Economic Development Agency (EDA) have sparked remarkable progress in building a biosciences innovation ecosystem on the campus. Fitzsimons Innovation Community is the only organization in the Rocky Mountain West that offers specialized life sciences lab and office space with the opportunity to work alongside researchers and clinicians at a world-class medical destination.

Kelsea Pieters, Media Relations, CU Anschutz Medical Campus

Kelsea Pieters, Media Relations, CU Anschutz Medical Campus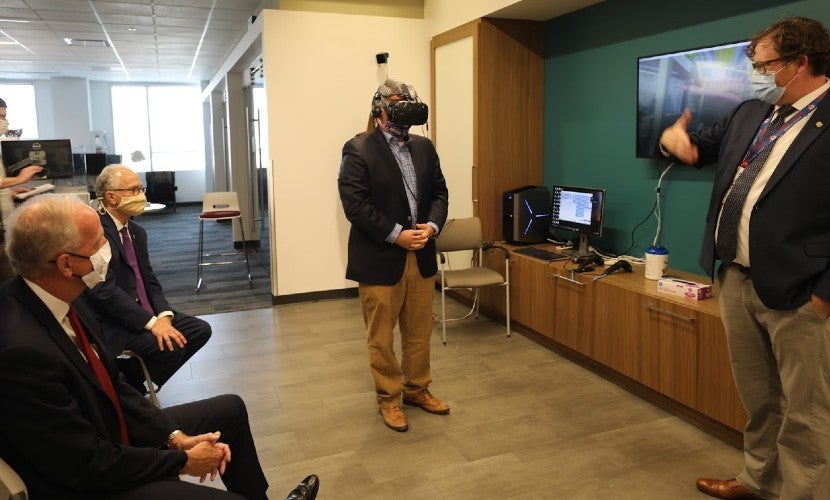 Kelsea Pieters, Media Relations, CU Anschutz Medical Campus