NIH Champions Help Celebrate Charles C. Gates Biomanufacturing Facility Grand Opening
On April 6, U.S. Senator Michael Bennet and Congressman Mike Coffman attended and made remarks at the Charles C. Gates Biomanufacturing Facility grand opening celebration. The Gates Biomanufacturing Facility is a partnership among the Gates Center for Regenerative Medicine and Stem Cell Biology, CU Anschutz Medical Campus, University of Colorado School of Medicine, Children's Hospital Colorado, University of Colorado Health, and the Gates Frontiers Fund.
During the celebration, CU President Bruce Benson and CU Anschutz Medical Campus Chancellor Don Elliman made remarks to honor the occasion. Diane Gates Wallach, daughter of Charles C. Gates and Co-Chair of the Gates Center Community Advisory Board, also spoke during the event. Also in attendance were CU Regents Steve Bosley and Linda Shoemaker, Colorado Representatives Dianne Primavera, Lois Landgraf, Janak Joshi, JoAnn Windholz, and Mayor Steve Hogan, City of Aurora.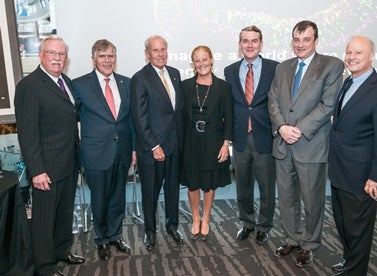 Pictured left to right: Dr. Dennis Roop, Director at the Gates Center for Regenerative Medicine and Stem Cell Biology, CU Anschutz Medical Campus Chancellor Don Elliman, CU President Bruce Benson, Diane Gates Wallach, U.S. Senator Michael Bennet, CU Anschutz Medical Campus School of Medicine Dean John J. Reilly, Jr., and Congressman Mike Coffman