2018 State Legislation
As of August 8th, all bills signed by the Governor from the 2018 state session are in effect. Please follow this link to the list of bills that affect or are of interest to the University of Colorado. If you have questions about implementation, please contact your campus legal department or Jeremy Hueth in University Counsel at jeremy.hueth@cu.edu.
CU Boulder LASP in DC
CU Boulder was represented by Dr. Thomas Berger, Director of the Space Weather Technology, Research, and Education Center (SWx-TREC) and Edgar Johansson, Manager of Strategic Initiatives at the Laboratory for Atmospheric and Space Physics (LASP), when they went to Washington, D.C. During their visit, they met with the offices of Senator Cory Gardner and Congressman Ed Perlmutter, as well as staff from the House Science, Space, and Technology Committee and the Subcommittee on Environment/Committee on Science, Space, and Technology. The purpose of the meetings was to update staff on space weather efforts and the topic of space traffic management.
CU and CSU Athletic Directors on the Hill
University of Colorado Athletic Director Rick George and Colorado State University Athletic Director Joe Parker met with staff from the offices of Senator Cory Gardner, Congressman Jared Polis, Congressman Ed Perlmutter, and Congressman Ken Buck. The meetings provided the directors an opportunity to update the delegation on their respective athletic departments and to discuss the potential impact of legalized sports betting on NCAA universities.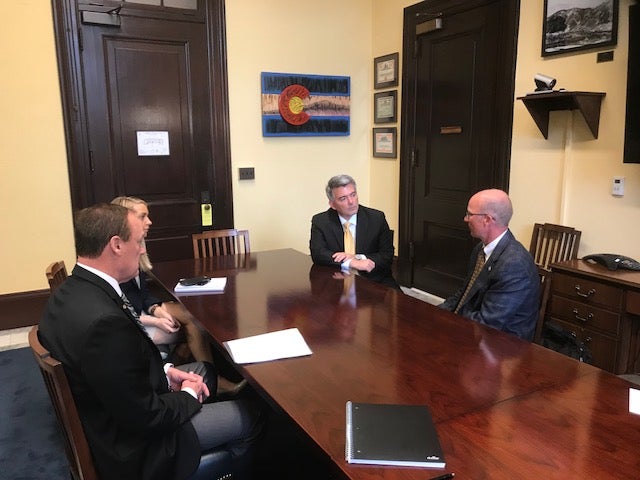 Office of Government Relations
Senator Gardner Visits UCCS Downtown
UCCS Downtown hosted Senator Gardner to address UCCS and the Pikes Peak Federal Action Coalition, or mPact, which is a collaboration of industry, business, university, and community leaders across Colorado Springs. The Senator addressed several topics, including economic development, job creation, transportation, and federal partnerships.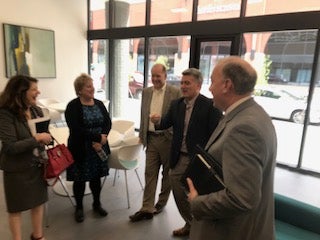 Office of Government Relations
Congressman Coffman at CU Anschutz Medical Campus
Congressman Mike Coffman met with leadership and medical experts at the CU Anschutz Medical Campus to learn more about the work being done to combat Alzheimer's disease. Chancellor Don Elliman and Dean John Reilly, Jr. welcomed Coffman to the Rocky Mountain Alzheimer's Disease Center (RMADC), where the Congressman was updated on how legislation such as the BOLD Infrastructure for Alzheimer's Act (S.2076) and the Palliative Care and Hospice Education and Training Act (PCHETA) (H.R. 1676) would impact the center. Representatives from the Colorado Alzheimer's Association and the Global Down Syndrome Foundation were also in attendance.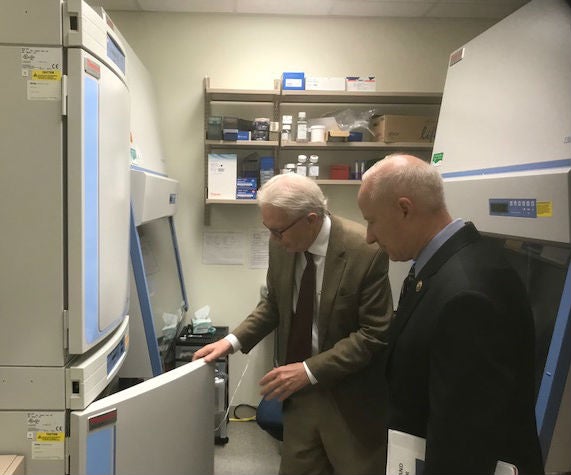 Office of Government Relations
CU Boulder Hosts Congressional Staff
In August, CU Boulder hosted numerous staffers from Colorado's congressional delegation as well staff from key congressional committees of jurisdiction (House Science, Space, and Technology Committee, Senate Commerce Committee, and Senate Appropriations Subcommittee on Commerce, Justice, Science, and Related Agencies) over issues of importance to the campus. During the visits, the staffers toured campus facilities and met with key CU Boulder research personnel.
CU Anschutz Medical Campus Hosts Senator Bennet Roundtable on Weather Change and the Health Impacts
Senator Michael Bennet met with Colorado School of Public Health Dean Jon Samet and a panel of experts to discuss changing weather and its impact on health in Colorado. The roundtable discussion was held to focus on possible solutions that could be scaled statewide or nationally. Panel members included representatives from the Colorado School of Public Health, the Denver Department of Public Health & Environment, Denver Public Health, National Jewish Health, Colorado State University, and Fiore and Sons.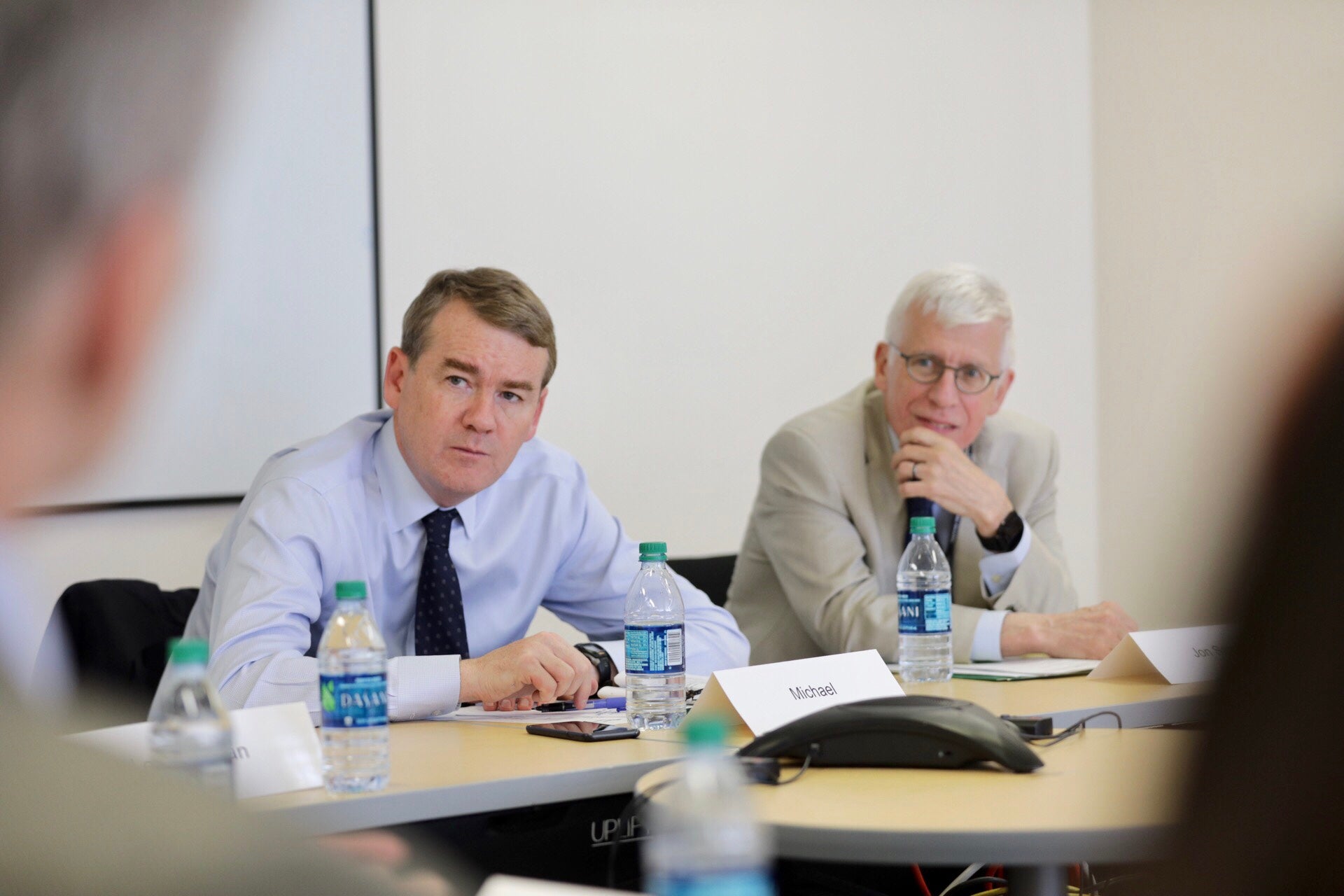 Matthew Kaskavitch, CU Anschutz Medical Campus
Senator Bennet's Office Meets with CU Denver CIBER
Constituent Advocate Tom Farrell with the office of Senator Bennet met with CU Denver's Center for International Business Education and Research (CIBER) in August to discuss international business education and the CIBER's work with student veterans through the CIBERVets program. The CIBERVets program is a collaboration between the Business School and the Office of Veteran and Military Student Services that offers students opportunities to gain knowledge and understanding in international business.
Congresswoman DeGette Tours CU Anschutz Medical Campus
Congresswoman Diana DeGette toured the CU Anschutz Medical Campus earlier this year to learn more about several major initiatives currently underway. On July 5, DeGette visited the Barbara Davis Center, which provides state of the art care to children and adults with Type 1 diabetes. Executive Director Marian Rewers, MD, PhD, along with Peter Gottlieb, MD; Satish Garg, MD, MBBS, DM; and Hal Joseph, PA/CDE; gave the Congresswoman a tour of their facility and updated her on their latest research. DeGette then met with a panel of experts at the Center for Women's Heath Research to discuss a multitude of issues that can affect women's health. Dean of the School of Medicine, John Reilly, Jr. joined Judith Regensteiner, PhD, Director of the Center; Nan Oudet, Program Manger; Anne Kercsmar, Business Services Senior Professional; Jennifer Engleby, Deputy Director; and Petter Bjornstad, MD. at this productive and informative roundtable.
The campus tour continued with a meeting at the Colorado Consortium for Prescription Drug Abuse Prevention, where the Congresswoman was given an update on Colorado's work to prevent opioid abuse, including the state's use of funds provided by the Congresswoman's 21st Century Cures Act. Participants included CU Anschutz Medical Campus Chancellor Don Elliman; Robert Valuck, PhD, Consortium Director; Gina Olberding, MA, Operations Manager; Whit Oyler, MPH(c), Strategic Planning Coordinator; Mike Davidson, BA, Communications Professional; Jennifer Place, MA, LPC, LAC, Program Manager; Tyler Pane, Program Manager; and Jose Esquibel with the Colorado Office of the Attorney General.
The day-long tour concluded with a stop at the Colorado Clinical & Translational Sciences Institute(CCTSI), where the Congresswoman was given a tour of the Outpatient Clinical and Translational Research Center (CTRC) and participated in a Q&A session regarding cannabis clinical research trials. Participants included Tim Lockie, MS, MBA, Administrative Director; Alison Lakin, RN, LLB, LLM, PhD, Associate Vice Chancellor for Regulatory Compliance; Wendy Meyer, Director of Communications & Marketing; Tom Campbell, MD, PhD; Wendy M. Kohrt, PhD; Ed Hoffenberg, MD; Sam Wang, MD; Maureen Leehey, MD; and Jacci Bainbridge, PharmD, FCCP.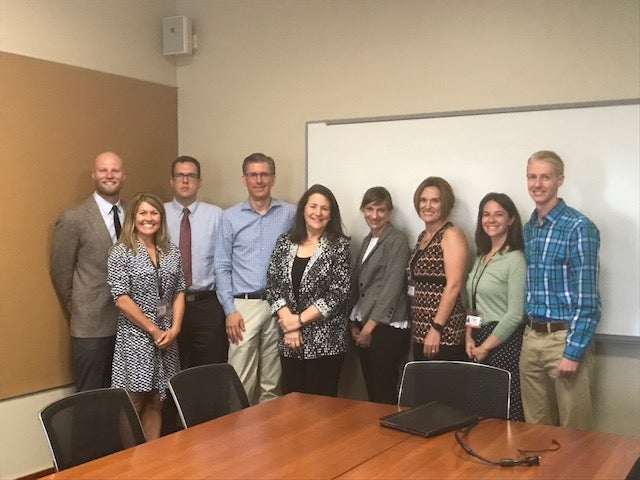 Office of Government Relations
Congress Completes Work on Five Spending Bills, Boosts NIH and Other Research Agencies
For the first time in 22 years, Congress completed work on a Labor-HHS-Education Appropriations Bill before the beginning of the new federal fiscal year – boosting the National Institutes of Health's budget by $2 billion in the process. Congress sent five of the 12 annual spending bills for FY 2019 to the President's desk before the start of the new fiscal year – including the Defense, Energy & Water and Military Construction-VA spending bills – all of which contain programs that support the work of CU faculty. The bills also contained a continuing resolution to maintain the current levels of funding through December 7th for all agencies not included in the five appropriations bills that were signed into law. The Commerce-Justice-Science appropriations bill, which funds NSF, NASA, NOAA and the National Institutes for Standards and Technology (NIST) will have to wait for Congress' return after the election – as will a number of other appropriations bills.
With the addition of $2 billion in new funding for NIH in FY 2019 (a 5.4% increase), Congress has now added $9 billion to NIH's annual budget since FY 2016. Over that time NIH's base budget has increased from $30.3 billion to $39.1 billion – a 29% increase over four years. On an inflation-adjusted basis, these steady, sustained increases have restored much of NIH's purchasing power, which had been diminished significantly by inflation during a decade of flat funding and sequestration prior to FY 2016.
The FY 2019 funding bills also included a 12% increase for DOD basic science research and a $100 boost to the maximum Pell Grant award. The Department of Energy's Office of Science, Office of Energy Efficiency and Renewable Energy, and ARPA-E all saw increases to research funding as did the Department of Veterans Affair's Office of Research and Development.