CU College of Nursing Sheridan Health Services Expansion Ribbon Cutting
Sue Birch, Executive Director of the Colorado Department of Health Care Policy and Financing along with State Representative Susan Lontine (D-Littleton) and local Congressional staff joined the CU Denver College of Nursing and community partners for the Sheridan Health Services ribbon cutting ceremony in August.
Sheridan Health Services is a 501(c)(3) federally-qualified nurse-managed primary care clinic operated by the University of Colorado's College of Nursing to meet the needs of Sheridan's low income population. The ceremony celebrated a grant from the Colorado Health Foundation that allows the Center to triple in size – ultimately accommodating up to 15,000 patient visits per year when it reaches full capacity. Sheridan Health Services is a clinic focused on a patient-centered medical home philosophy and a variety of services to encompass all of a patient's needs.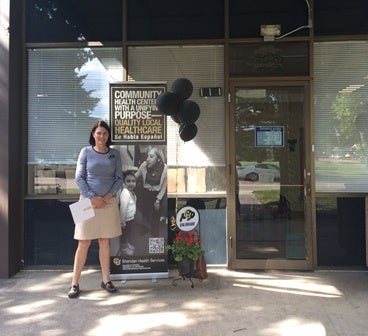 Representative Susan Lontine (D-Denver) attended the ceremony.