CU-Boulder Researchers Advocate for NSF Support on Capitol Hill
On April 29, Kathleen Tierney, Ph.D., Director of the Natural Hazards Center and Professor of Sociology in the CU-Boulder Institute of Behavioral Science, and Nnenia Campbell, Research Assistant at the Natural Hazards Center, visited Washington, D.C. to participate in the 21st Annual Coalition for National Science Funding (CNSF) Reception and Exhibition. The event featured 37 presentations on NSF-funded research by universities and scientific associations. They presented on their research, "A Clearinghouse for Natural Hazards Research Applications," which is funded by the National Science Foundation (NSF) Directorate for Engineering. During the reception, Tierney and Campbell made important agency connections, including Director France Córdova, as well as staff from NASA and the Department of Energy.
During their visit, they met with science staff from the offices of U.S. Senators Michael Bennet and Cory Gardner and Congressmen Jared Polis and Ed Perlmutter to discuss their research.
Frances Draper, Vice Chancellor for Strategic Relations at CU-Boulder and Stein Sture, CU-Boulder Vice Chancellor for Research, played key sponsorship roles in this exciting D.C. visit.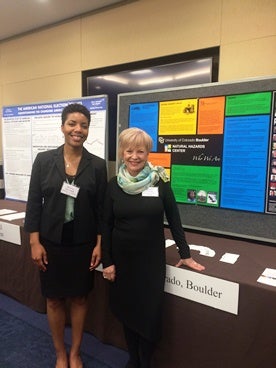 Nnenia Campbell and Kathleen Tierney, Ph.D. at the CNSF Exhibit