CO Senators Bennet and Hickenlooper Join CU and UCHealth Leadership for Online COVID-19 Briefings
Early this year, Senators Michael Bennet and John Hickenlooper virtually joined leadership from University of Colorado, UCHealth, and CU Anschutz Medical Campus to learn more about the state of vaccinations, patient care, and infection rates of COVID-19 in the state of Colorado.
In January, Hickenlooper attended a virtual gathering which included CU President Mark Kennedy, Regents Sue Sharkey, Ilana Spiegel, Nolbert Chavez, and Jack Kroll, and CU Anschutz Medical Campus Don Elliman. Dr. Richard Zane, UCHealth Chief Innovation Officer and Chair of the Department of Emergency Medicine at the CU School of Medicine provided an overview of vaccine distribution. Dean of the Colorado Public School of Health Dr. Jonathan Samet presented the spread at that time of SARS-CoV-2 in Colorado and preventative public health measures. Finally, Dr. Michelle Barron, Senior Medical Director of Infection Prevention and Control at UCHealth discussed the evolving state of COVID-19 patient care.
Also included in the discussion were CU Anschutz Medical Campus Vice Chancellor for Health Affairs and CU School of Medicine Dean John Reilly, Jr., UCHealth Vice President for Government & Regulatory Affairs Chantell Taylor, CU Vice President of Budget and Chief Financial Officer Todd Saliman. President and CEO of University of Colorado Hospital Christopher Gessner, CU Anschutz Medical Campus Vice Chancellor of Marketing and Communications Kathy Green, UCHeath Vice President of Communications Dan Weaver and CU Denver and CU Anschutz Medical Campus Vice President of Research Thomas Flaig were also in attendance.
In March, Bennet was briefed on the progress of vaccine distribution by Dr. Zane and the spread of SARS-CoV-2 in Colorado and the impact of virus mutations by Dr. Samet. President Kennedy and Chancellor Elliman also joined this virtual briefing. Dean John Reilly, Chantell Taylor, and Todd Saliman were also included.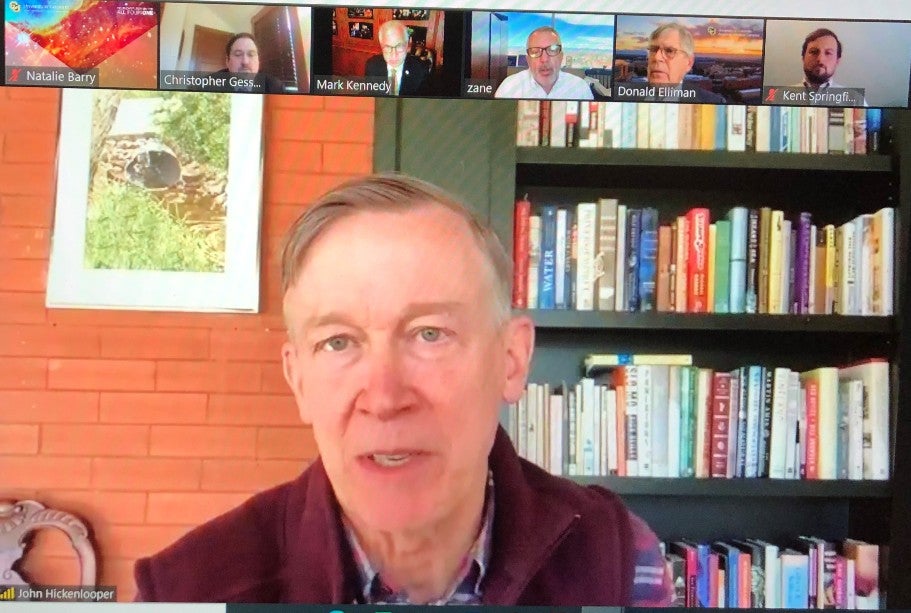 Office of Government Relations