CU Innovations Director Presents to House Committee
Kim Muller, Managing Director of CU Innovations (Anschutz Medical Campus), presented "Unlocking the Promise of Science and Technology" to a very engaged House Business Affairs and Labor Committee on January 18.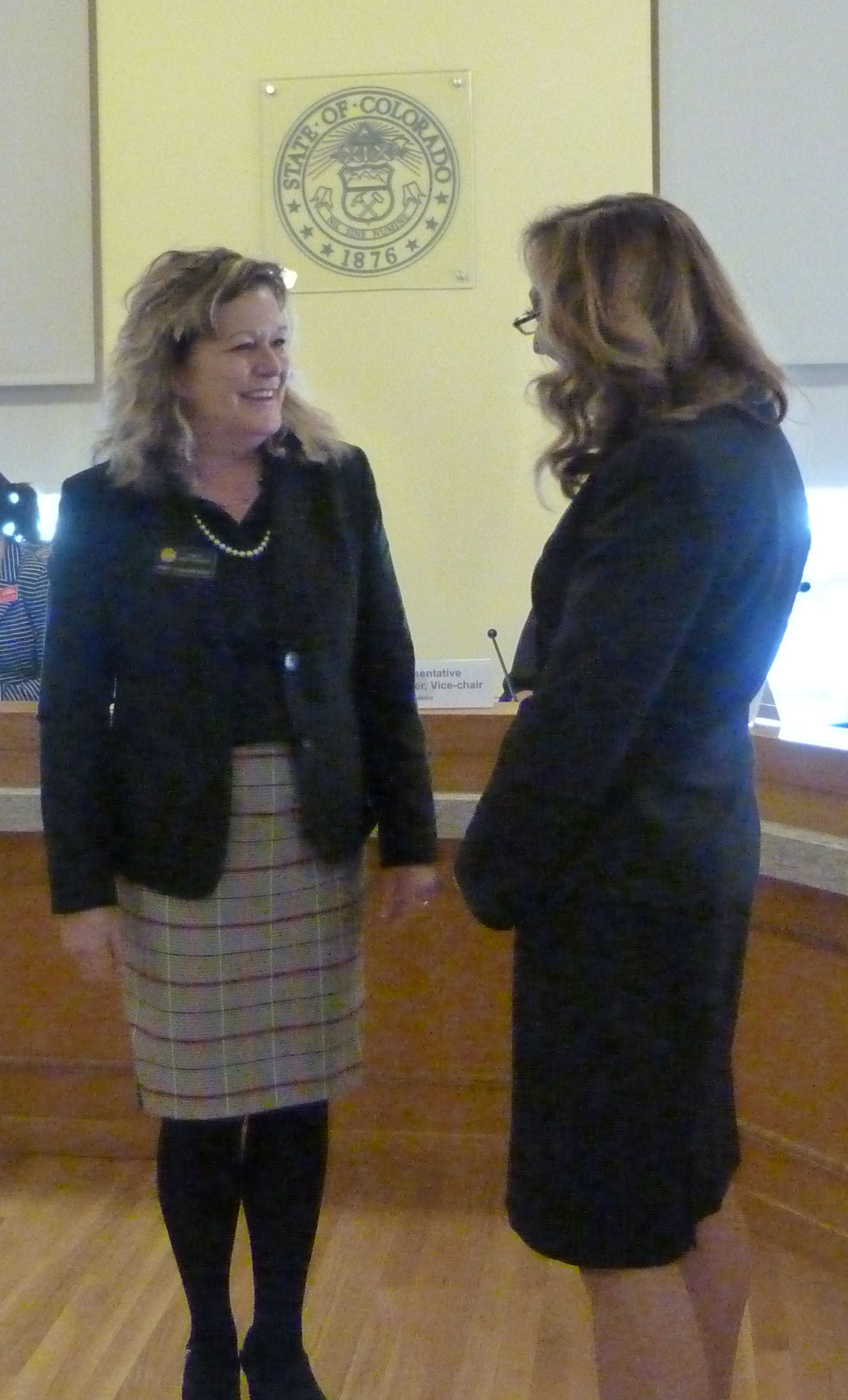 Office of Government Relations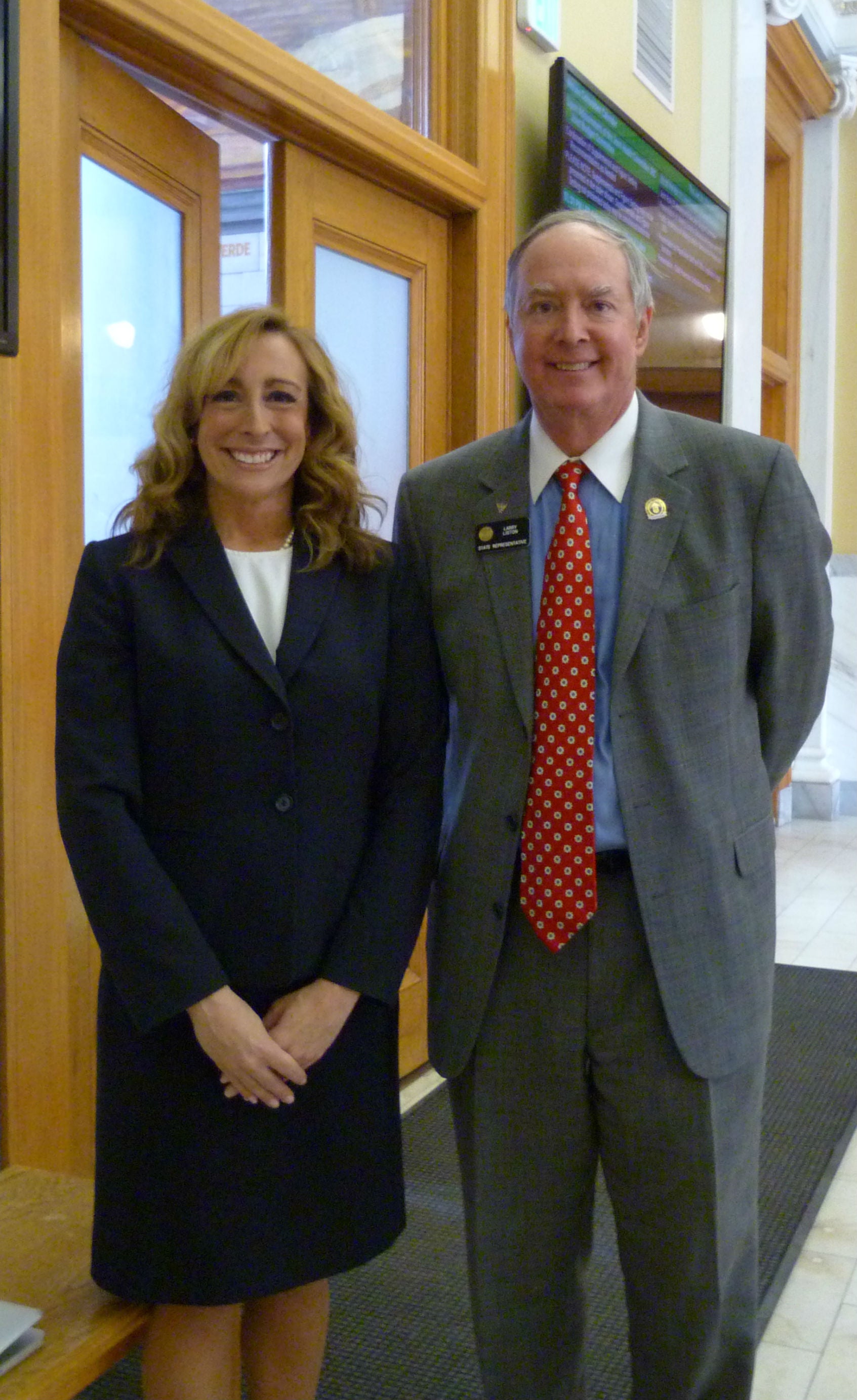 Office of Government Relations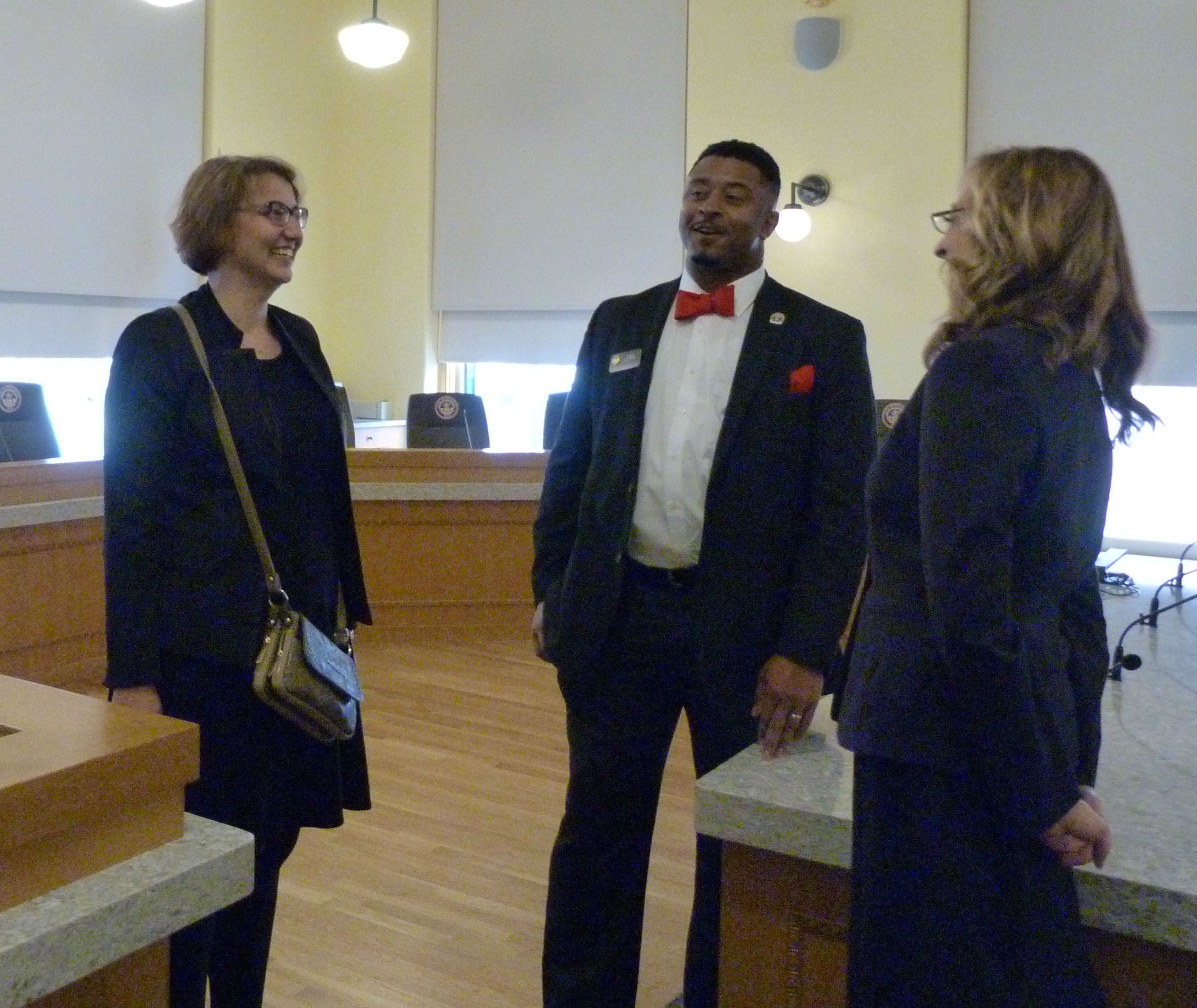 Office of Government Relations
CU School of Medicine Rural Track Students Present to House Committee
CU School of Medicine (SOM) Rural Track Students visited the Capitol where they presented to the House Agriculture, Livestock and Natural Resources Committee and had an engaging lunch with several legislators. Representative Jeni Arndt (D-Fort Collins) invited them to the House floor for a picture during the January 22 event.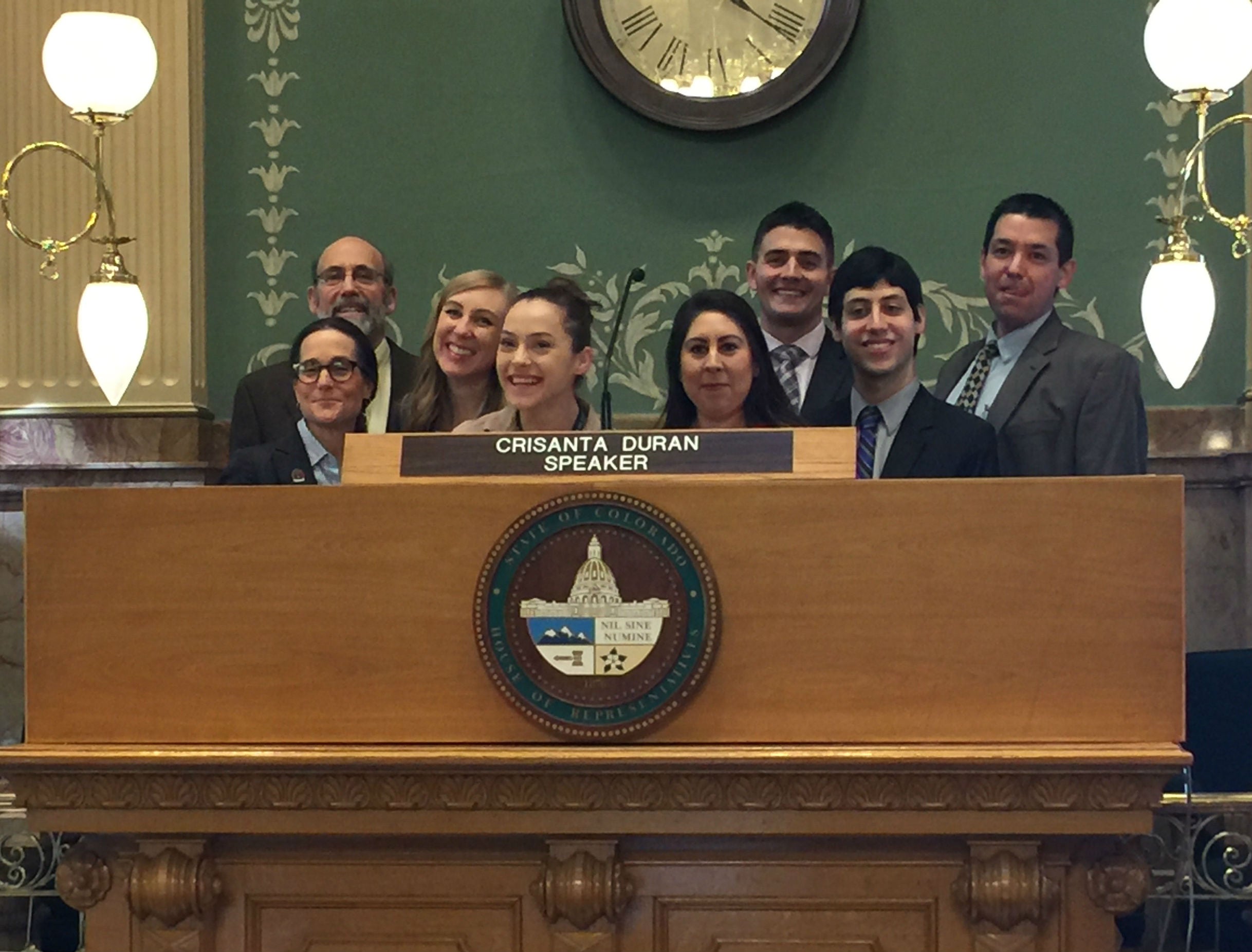 Office of Government Relations
CU Excellence in Leadership Program Visits Capitol
CU faculty and staff from the Excellence in Leadership Program spent the day at the Capitol. They heard from Rep. Hooton, Sen. Hill, Rep. Rankin, Joyce Rankin and Regent Ganahl during their February 16 visit.
Office of Government Relations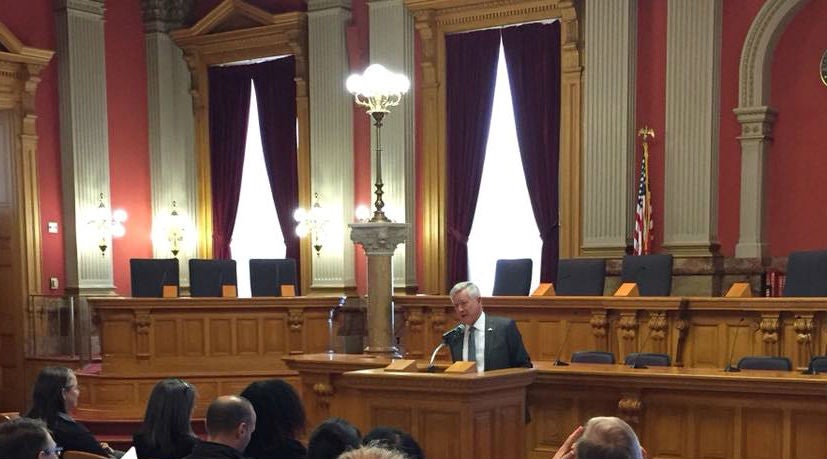 Office of Government Relations
Aerospace Day at the Capitol
Representatives Paul Rosenthal (D-Denver) and Chris Hansen (D-Denver) stopped by to speak with students as part of Aerospace Day at the Capitol. The March 19 event gave CU Aerospace students the opportunity to showcase their research and program opportunities.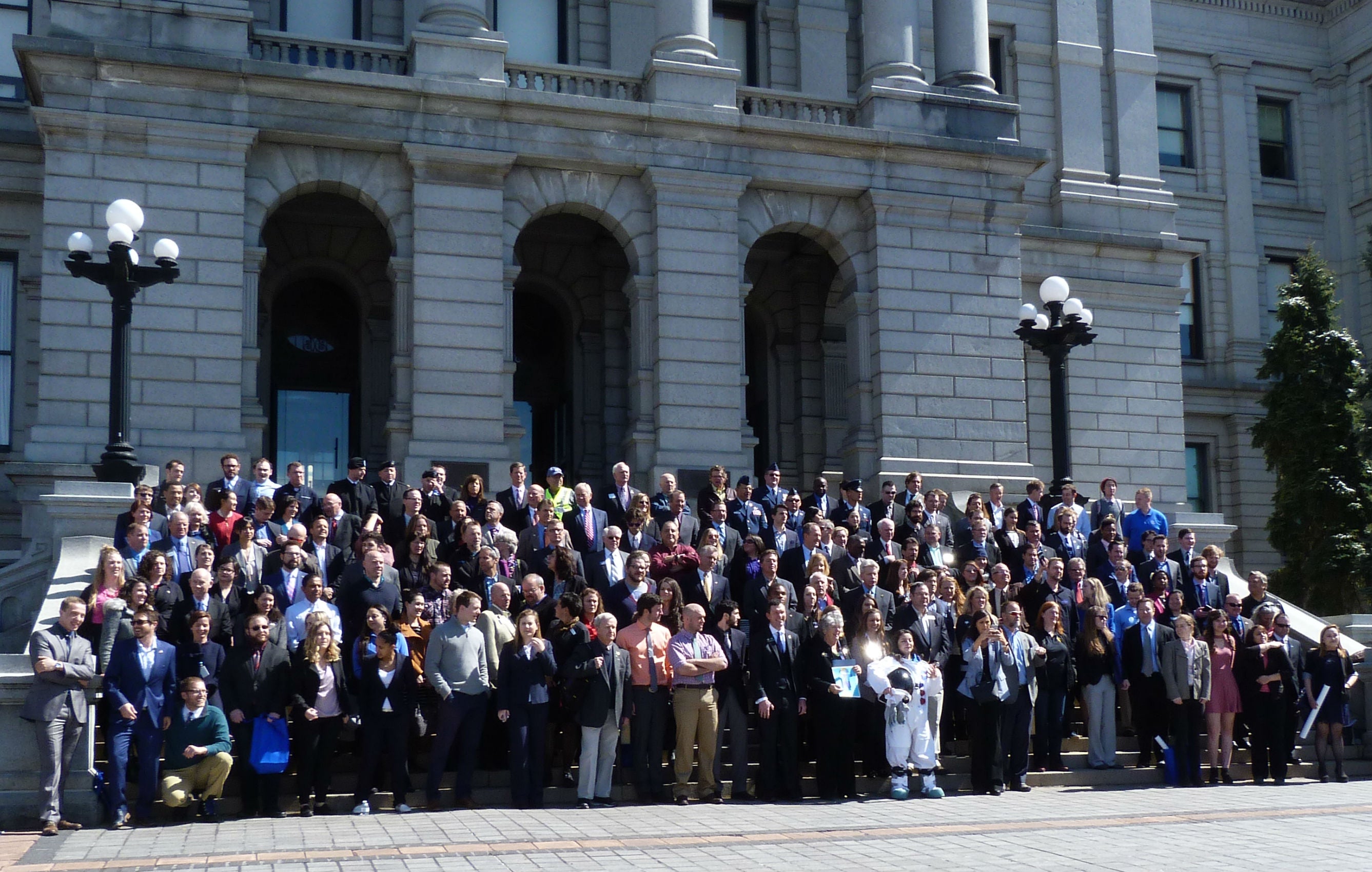 Office of Government Relations
Office of Government Relations
CU Boulder VCR Fiez in DC
CU Boulder's Vice Chancellor for Research and Innovation, Terri Fiez, met with several Colorado congressional offices in Washington, DC to discuss prospects for a national quantum initiative, CU Boulder's role in increasing collaboration across Colorado universities, and to express support for student research opportunities, including NSF's Graduate Research Fellowship program. Fiez also met with leadership at the National Institute of Standards and Technology (NIST) and the National Science Foundation (NSF) during her April 11 visit.

 VCR Fiez returned to Washington the following week to attend the Unleashing American Innovation Symposium, where NIST Director Walter Copan announced the agency's new Return on Investment Initiative and NSF Director France Córdova announced the NSF's new Convergence Accelerators pilot program.
Cooperative Institute Directors on Capitol Hill
Dr. Waleed Abdalati, Director of the Cooperative Institute for Research in Environmental Sciences (CIRES), led a group of Cooperative Institute (CI) Directors to meet with a number of key congressional offices to highlight the critical role of CIs within NOAA's research and scientific workforce portfolio. As part of the April 4 and 5 visits, the CI Directors underscored the importance of ensuring robust investments in NOAA's Office of Oceanic and Atmospheric Research, which supports the 16 CIs throughout the country.
Congressman Coffman Participates in Women's Healthcare Roundtable at CU Anschutz Medical Campus
Congressman Mike Coffman participated in a roundtable hosted by the Center for Women's Health Research (CWHR) at the CU Anschutz Medical Campus. Coffman discussed important issues related to women's health research and cardiovascular disease with Michael Bristow, M.D., Ph.D., Founder, President & CEO of ARCA Biopharma; Whitney Bell Haggard, Vice President for Health Strategies at the American Heart Association; Rusty Montgomery, Ph.D., Director of Research at miRagen Therapeutics, Inc.; Dr. Judy Regensteiner, CWHR Director; and Dr. Jane Reusch, CWHR Associate Director.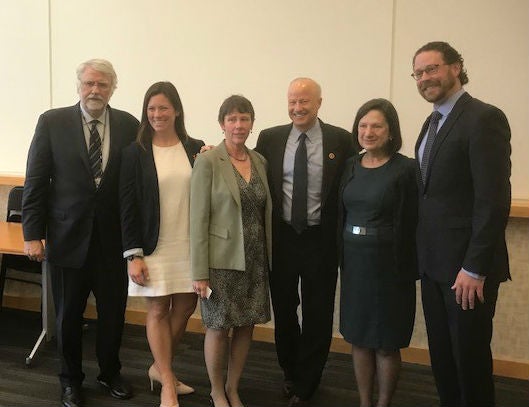 Office of Government Relations
CU Boulder Provost Moore in DC
CU Boulder Provost Russ Moore met with offices of the Colorado delegation in Washington, DC to provide an update on CU Boulder academic and research initiatives, as well as CU Boulder feedback on conversations taking place around the reauthorization of the Higher Education Act (HEA). 

Later that evening, CU alumni living and working in D.C. were invited to a CU in DC reception held in the historic Kennedy Caucus Room. Colorado Congressman Jared Polis spoke at the event, which also featured Provost Moore, CIRES Director Waleed Abdalati, and CU in DC Program Director Bud Coleman along with other CU Boulder alumni and supporters.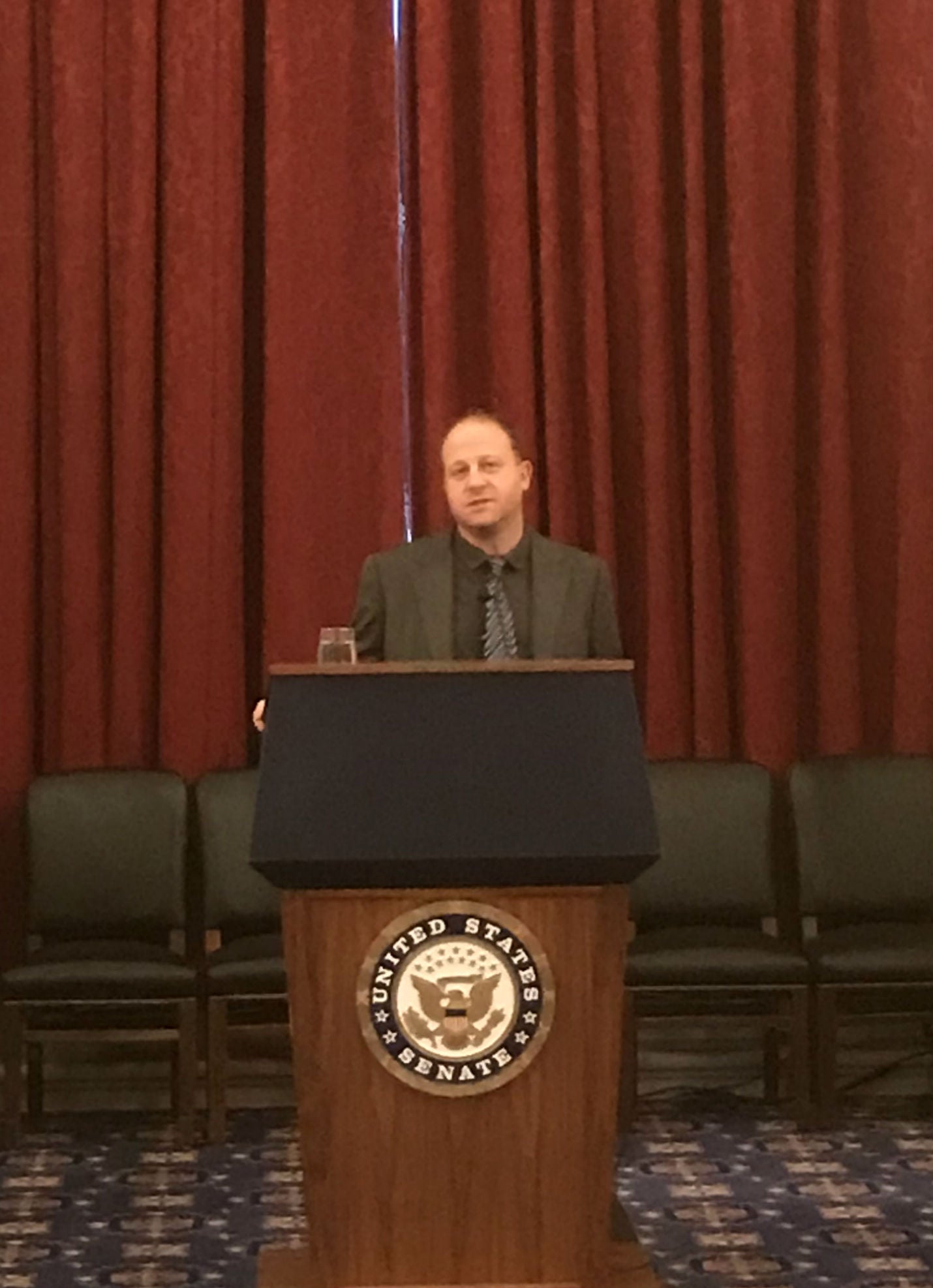 Office of Government Relations
CU Boulder CEAS Dean Braun Hill Visits
Dean Bobby Braun of CU Boulder's College of Engineering & Applied Science met with staff from the offices of Senators Gardner and Bennet, and Representatives DeGette, Polis, and Tipton to discuss the College's strategic vision and efforts to expand access to engineering across Colorado. The February 7 meetings were part of Dean Braun's visit to Washington, D.C. to attend the American Society for Engineering Education (ASEE) 2018 Public Policy Colloquium. CU's Office of Government Relations also helped arrange for Senator Gardner to speak to engineering deans from across the U.S. with an introduction from Dean Braun.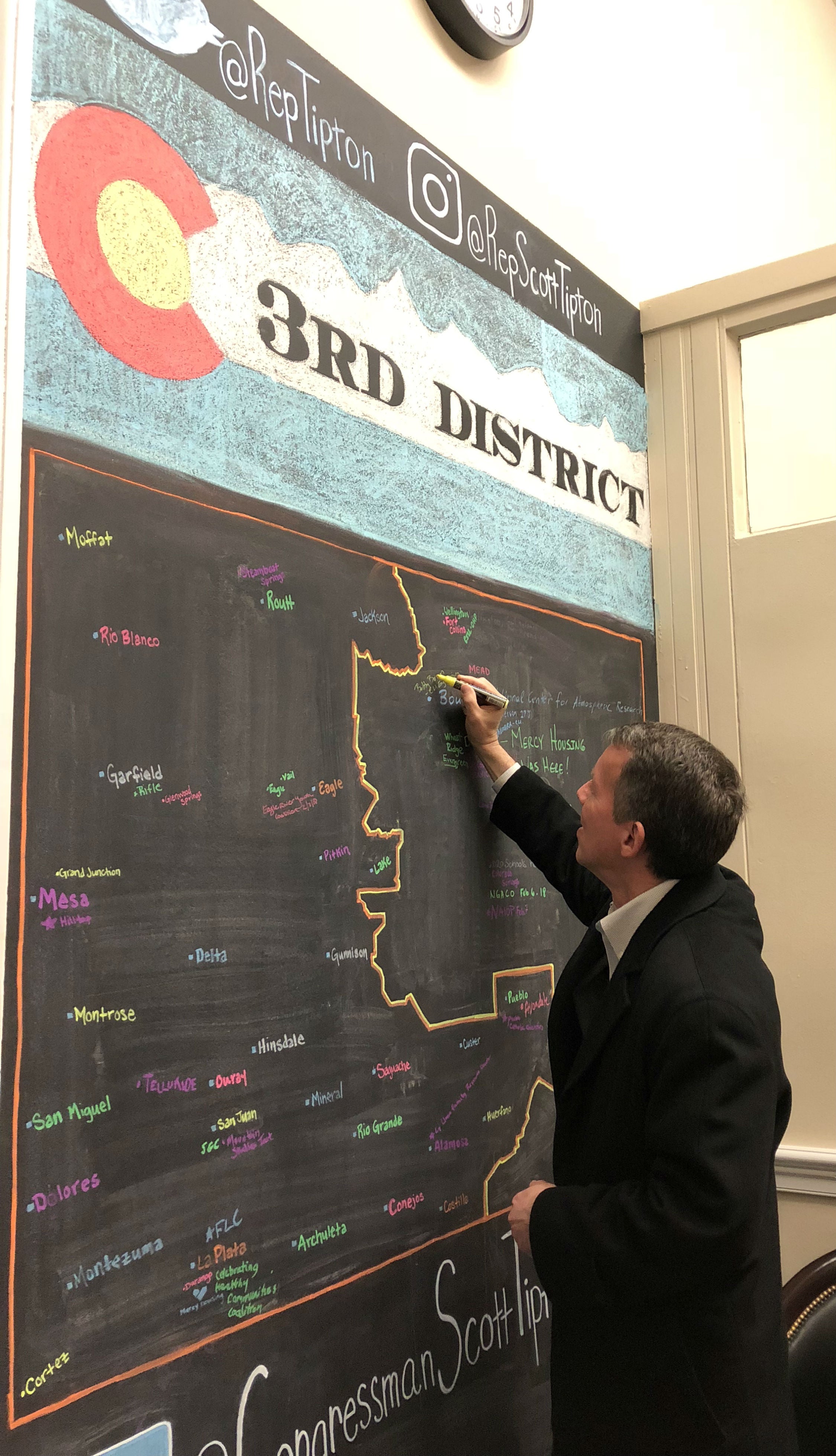 Office of Government Relations
CU Boulder Space Grant Faculty & Alumni Meet Colorado Delegation
The Colorado Space Grant Consortium (COSGC), represented by Director Chris Koehler, Deputy Director Brian Sanders, and program alum Christy Predaina, met with Colorado lawmakers to discuss the positive impact the statewide program has on students, as well as the Colorado workforce. They also advocated for robust NASA funding, which supports Space Grant through its Office of Education during their February 28 visit. The group met with staff from each office representing Colorado in the Senate and the House.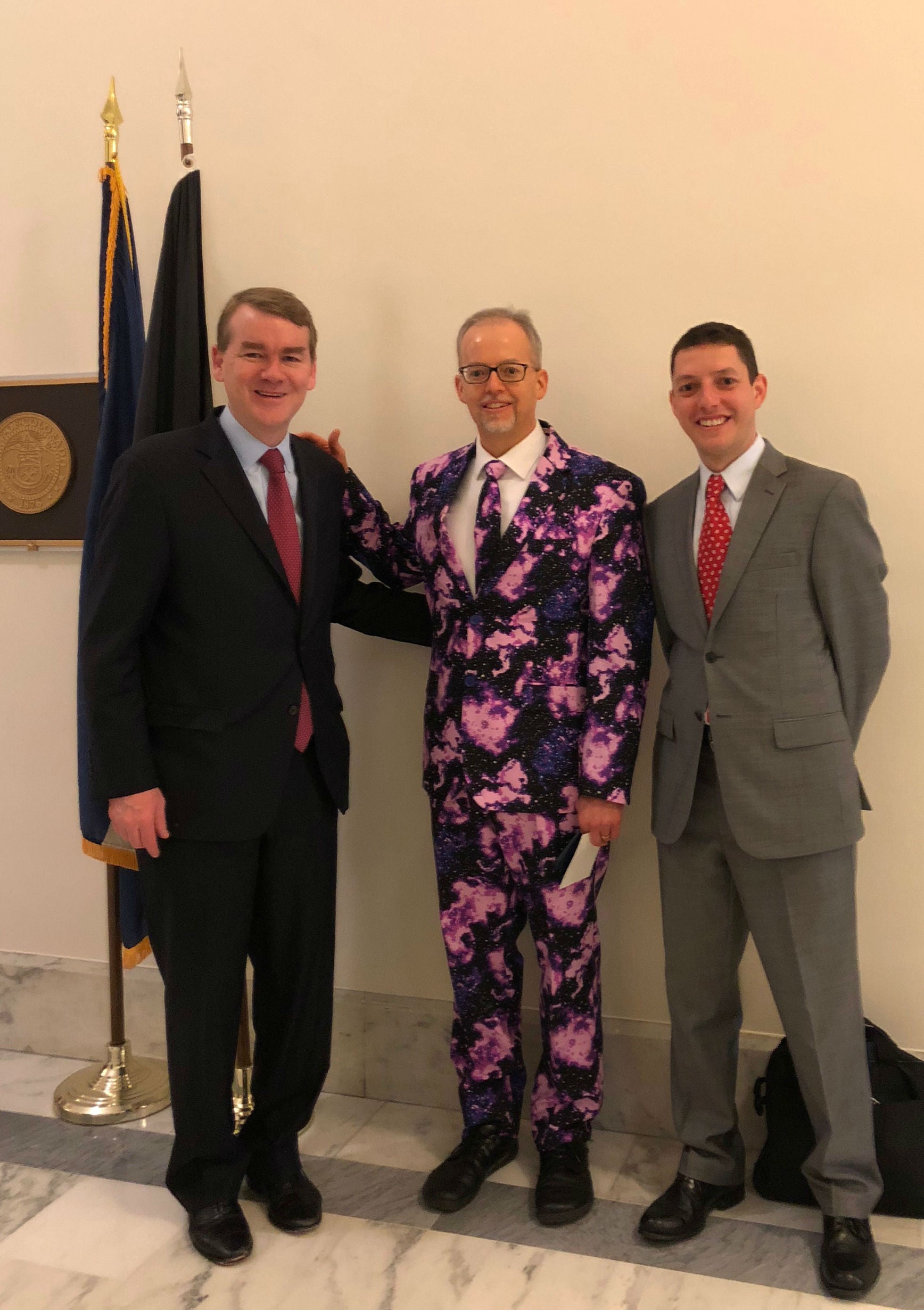 Office of Government Relations
Cohen Veterans Networks Clinic Has Grand Opening in Greenwood Village
Congressman Mike Coffman joined CU Regent Sue Sharkey, CU Anschutz Medical Campus Chancellor Don Elliman, CEO and President of the Cohen Veterans Network Anthony M. Hassan, Cohen clinic director Gillian Kaag, former United States Army Sergeant and Medal of Honor Recipient Kyle White; and Executive Director of the Helen and Arthur E. Johnson Depression Center Marshall Thomas to celebrate the opening of the Steven A. Cohen Military Family Clinic at CU Anschutz Medical Campus. The clinic, located in Greenwood Village, specializes in providing individually-tailored mental health care to post-9/11 veterans, National Guardsmen, Reservists and their family members (including spouse or partner, children, parents, siblings, caregivers and others in the veteran's immediate support system.)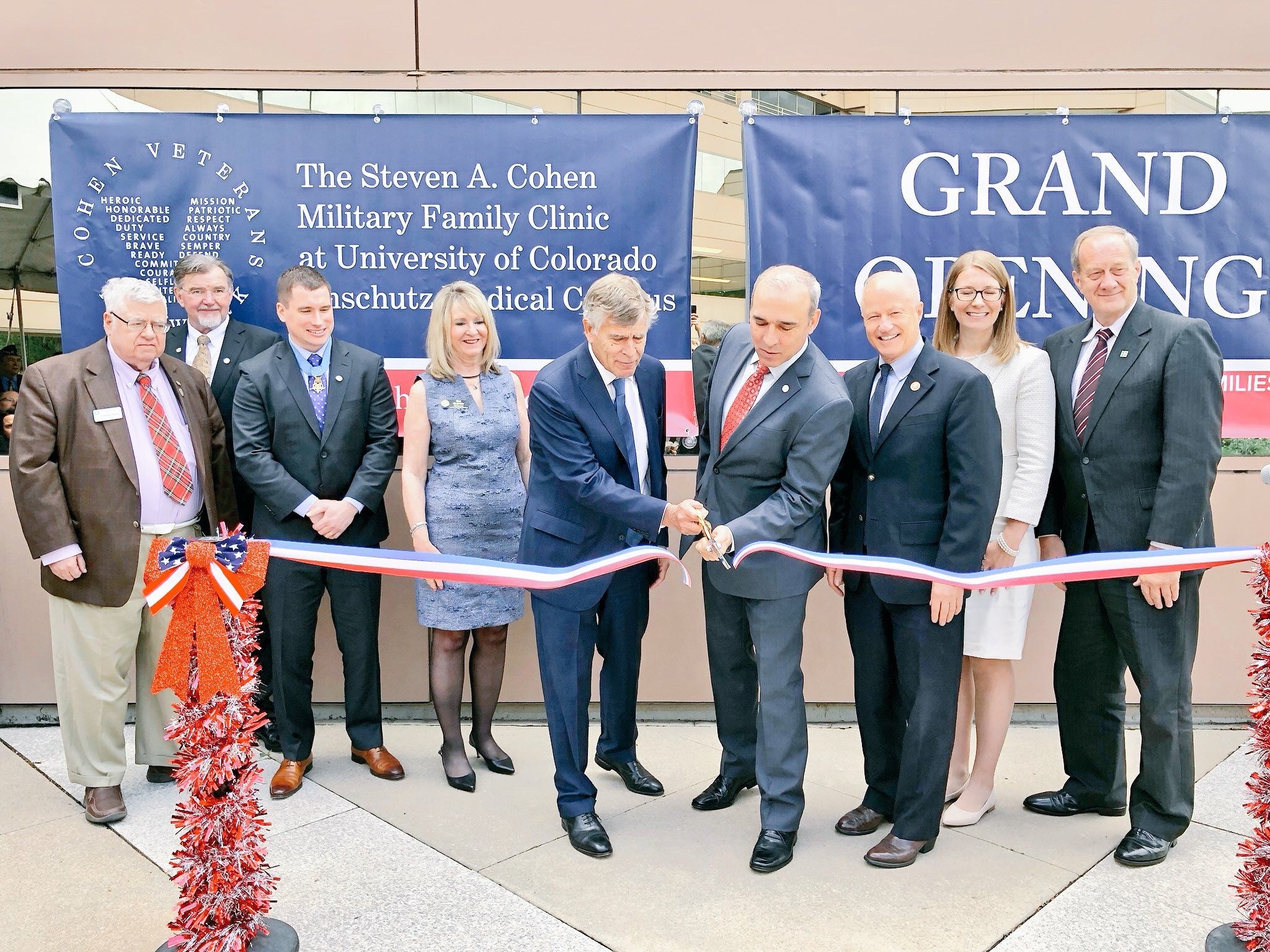 Matt Kaskavitch, University Communications