Staffing Updates in Government Relations
We are excited to let you know about a few staffing updates in the Office of Government Relations. Heather Retzko has been promoted to Assistant Vice President of State Relations, and will be CU's lead higher education lobbyist. Many of you know Heather through her work as our chief policy person during the past 12 years. She will now be at the capitol leading the charge on higher education issues. Heather's experience as our policy person gives her a solid foundation for lobbying over at the capitol. She earned her master's degree in Public Administration from CU Denver.
Allison Kohn joined our office as the Assistant Director of State Relations and Policy. She comes to us from the office of U.S. Senator Cory Gardner, where she worked in his Colorado office. Those of you who are involved with legislative activities during the State session will be receiving legislative information from Allison, starting in January. Allison earned her Master's degree in Public Policy from the University of Denver.
Staffing Updates in CU System Budget and Finance
Chad Marturano from the CU System Budget and Finance office will be taking on a lead role lobbying capital construction projects at the Capital Development Committee and the Colorado Commission on Higher Education. Chad is the Assistant Vice President for Budget and Finance at the CU System, and will be adding this lobbying role to his existing duties under Vice President and CFO Todd Saliman in the Budget and Finance office. Chad has been working for CU since 2014 and has over a decade of experience working on higher education issues in Colorado.
Governor Hickenlooper Signs HB 17-1332 and HB 17-1004
Governor John Hickenlooper signed HB 17-1332, Teachers Nonpublic Child Care & Preschool Facility at the University of Colorado Denver on May 31. This CU-initiated bill allows early childhood education teachers working in a private or community based setting to enroll in an alternative teacher program. Prior to this bill, only those working in public early childhood education centers were eligible for enrollment.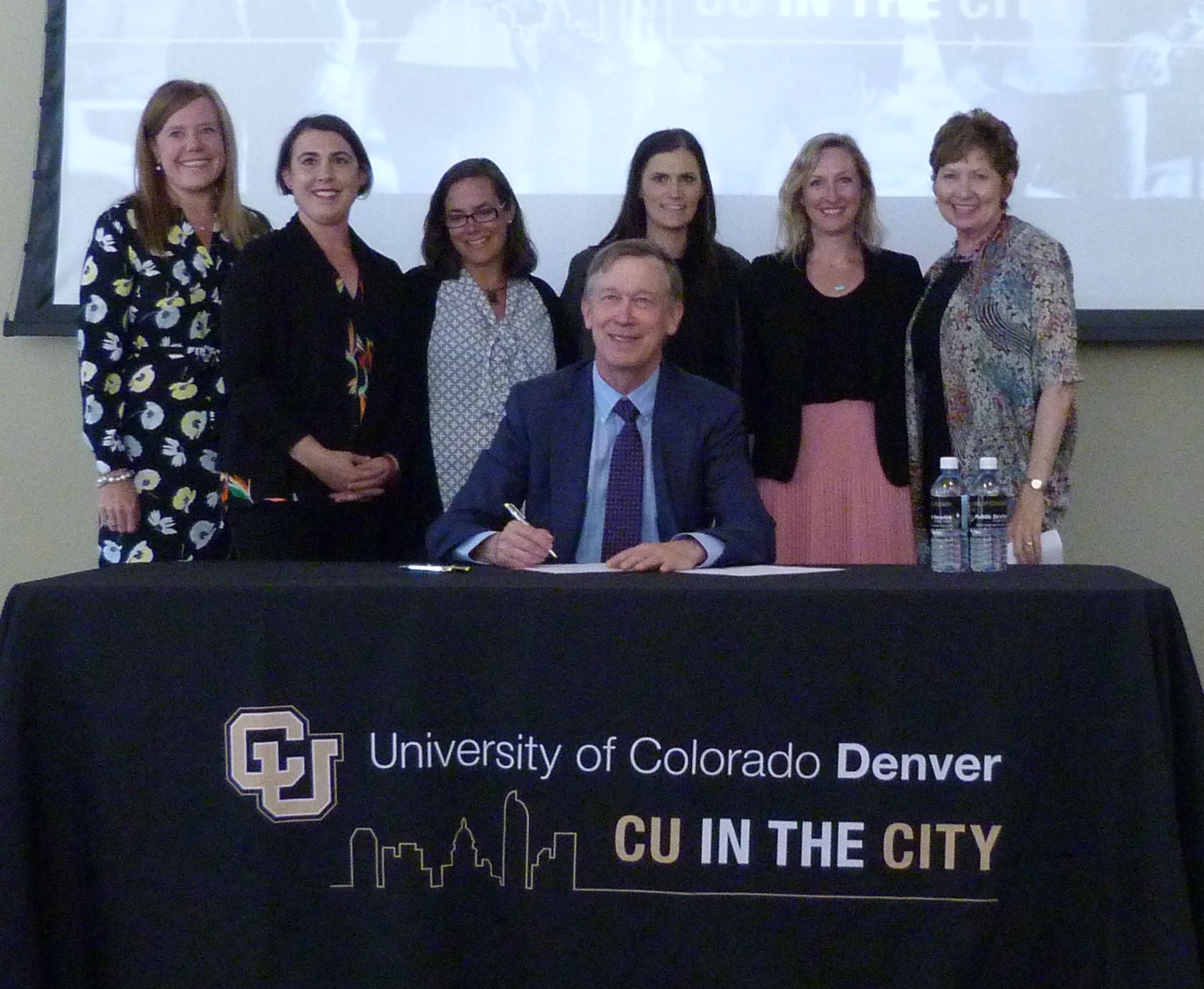 Office of Government Relations
Pictured: CU Denver Executive Director of Continuing & Professional Education, Dr. Shannon Hagerman, Qualistar VP of Quality Advancement, Stacy Howard, Colorado Children's Campaign's Government Affairs Director, Jennifer Corrigan, Heather Retzko, Kirsten Schuchman, CU Denver Chancellor Dorothy Horrell and Governor John Hickenlooper
Governor Hickenlooper also signed HB 17-1004, College Credit for Military Education and Training. The bill, which was signed on June 1, requires all campuses to have a policy for awarding credit for military learning. It also directs the GE Council to establish common standards for Guaranteed Transfer (GT) pathways designation of military prior learning.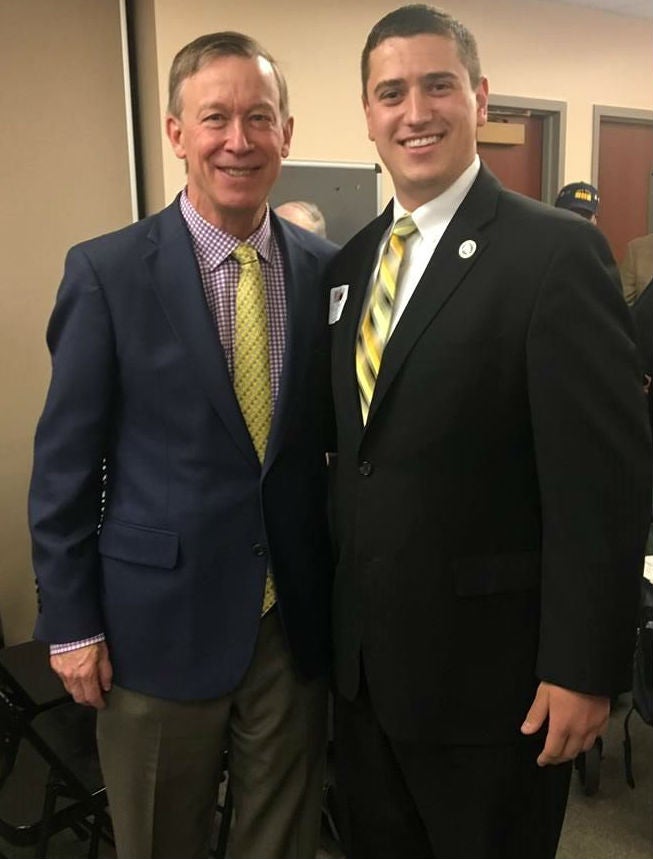 Office of Government Relations
Capital Development Committee Members Tour the CU Anschutz Medical Campus
Members of the Capital Development Committee were given a tour of the Center for Personalized Medicine at the CU Anschutz Medical Campus in August. Representatives Daneya Esgar (D-Pueblo), Jon Becker (R-Fort Morgan), and Chris Hansen (D-Denver) and Senators Randy Baumgardner (R-Cowdry), and John Kefalas (D-Larimer) were in attendance.
Legislators Attend Grand Junction, Pueblo and Fort Morgan Events to Celebrate Incoming Students
CU Advocates hosted "CU Celebration" events this July in Grand Junction, Pueblo and Fort Morgan to welcome new and incoming students from the Western Slope and southern and northeastern Colorado who plan to attend a CU campus. State Representative Yeulin Willett (R-Grand Junction) attended the Grand Junction event, State Senator Larry Crowder (R-Alamosa) attended the Pueblo event and State Representative Jon Becker (R-Fort Morgan) was in attendance at the Fort Morgan event. Students and their families were welcomed to the CU family in advance of the new semester.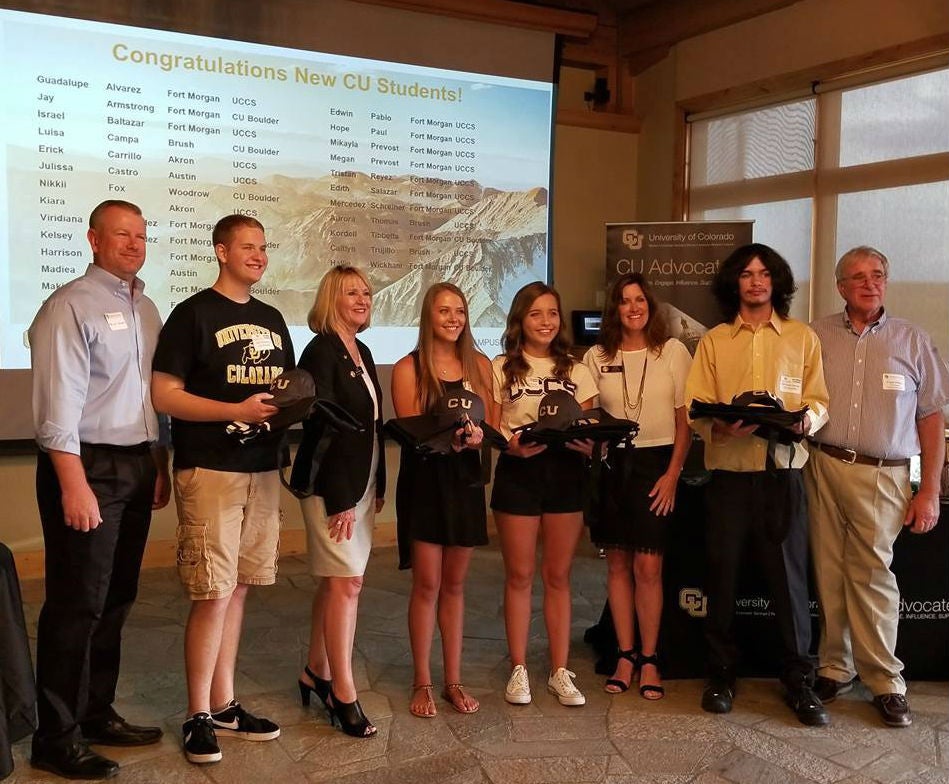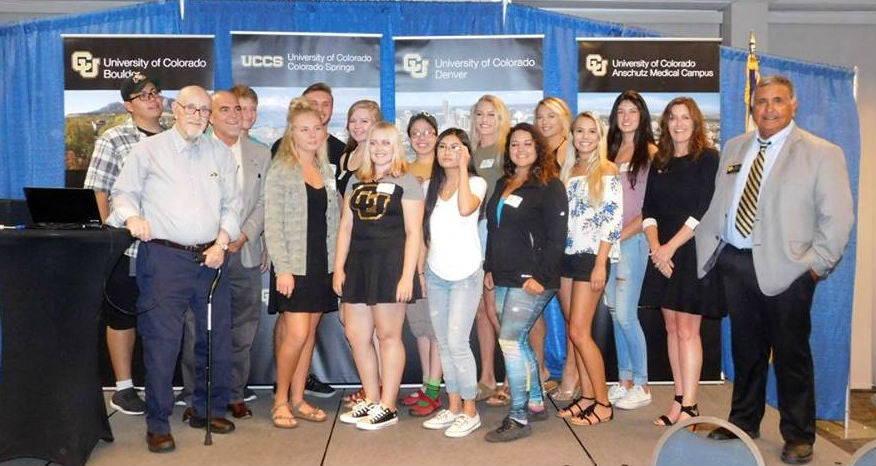 CU Boulder Campus on the Hill
CU Boulder was well represented at our nation's capital this summer. Waleed Abdalati, Director at the Cooperative Institute for Research in Environmental Services (CIRES) discussed the important role of Cooperative Institutes within NOAA's overall mission. Peter Pilewskie and Tom Sparn from Laboratory for Atmospheric and Space Physics (LASP) highlighted LASP's role in the CLARREO Pathfinder Mission. Urusla Rick, Program Manager & Research Scientist at Western Water Assessment (WWA) along with Benét Duncan, Climate Assessment Specialist, introduced the delegation to WWA, which is supported by the NOAA RISA program.
Mark Serreze, Director of CU Boulder's National Snow and Ice Data Center (NSIDC), part of CIRES and Florence Fetterer, Principal Investigator, NOAA at NSIDC provided updates on the research taking place at NSIDC. NSIDC manages and distributes scientific data, creates tools for data access, supports data users, performs scientific research, and educates the public about the cryosphere. Terri Fiez, Vice Chancellor for Research & Innovation and Robert McGrath, Director of the Renewable and Sustainable Energy Institute (RASEI), discussed DOE research taking place at CU Boulder.
Congressman Polis on the CU Boulder Campus
Congressman Jared Polis met with Stew Elliott, Director of the Office of Veteran Services before taking part in a question and answer panel with veteran students in August. In a separate event which took place in September, Congressman Polis met with Chancellor Phil DiStefano, Dean of Education Kathy Schultz, and toured the National Snow and Ice Data Center (NSIDC) to learn about the work taking place there.
Congresswoman DeGette Tours Alzheimer's Center
Congresswoman Diana DeGette toured the Rocky Mountain Alzheimer's Disease Center (RMADC) located on the CU Anschutz Medical campus to learn more about the dementia research and clinical care taking place there. During her visit, the Congresswoman met with lead researchers and clinicians at the facility. She also met with Chancellor Don Elliman, School of Medicine Dean John Reilly, and head of the Department of Neurology, Ken Tyler.
Office of Government Relations
Colorado House Delegation Asks HHS to Support Innovative Approach to Telehealth
Six members of Colorado's House delegation joined together to support the work of ECHO Colorado, and request the U.S. Department of Health and Human Services (HHS) to take a closer look at innovative telehealth arrangements like ECHO that are now in more than 30 states around the country. ECHO Colorado seeks to connect health professionals from all around the state to share expertise through interactive, case-based learning. The ECHO model improves access to care in rural and underserved communities by allowing physicians and other healthcare providers to learn to treat patients with complex conditions in the communities where they live. Colorado legislators Scott Tipton, Diana DeGette, Mike Coffman, Ed Perlmutter, Doug Lamborn and Jared Polis wrote to the Department asking that they expeditiously implement the ECHO Act, a bill passed by Congress last year to encourage HHS to embrace these types of telemedicine arrangements.
CU Anschutz Medical Campus on the Hill
Several departments from CU Anschutz Medical Campus were represented in Washington, D.C. The Gates Center for Regenerative Medicine discussed the current work taking place at their facility in May. Later in May, Dr. John Reilly, Dean of the University of Colorado School of Medicine conferred on National Institute of Health (NIH) issues. Dr. Rob Valuck, professor of clinical pharmacy in the CU Skaggs School of Pharmacy, updated the delegation on the status of opioid abuse in Colorado and on several state bills intended to improve prevention and treatment efforts in the state during his visit in June.
Congressman Perlmutter Staffers Tour CU Denver
Staffers from the office of Congressman Perlmutter toured the CU Denver campus this summer. While on campus, the group met with Chancellor Dorothy Horrell and Chief of Staff Regina Kilkenny for an overview of CU Denver. Dean Rebecca Kantor, Dean of the School of Education and Human Development talked about the programs being offered by SEHD. The Financial Aid & Scholarships Office showcased the services that they provide to students. Finally, the staffers toured the site of the Student Wellness Center, which is currently under construction.