2016 State Legislation
All bills signed by Gov. Hickenlooper from the 2016 state session are in effect as of August 10. The list of bills that affect or are of interest to University of Colorado and UC Health is available here. Please contact Heather Retzko at heather.retzko@cu.edu if you have any questions about implementation.
State Legislators Receive 2016 Legislator of the Year Award at CU Football Game
State Senator Jack Tate (R-Centennial) and State Representative Alec Garnett (D-Denver) were honored as 2016 Legislators of the Year at the September 10 CU football game. The award was in recognition of the Senator and Representative sponsoring a CU initiated bill, Senate Bill 16-121, which allows CU to realize tens of millions of dollars in savings when bonding for construction through better interest rates. The change in state law saved CU over $13 million in 2016 alone and has the potential to save many millions more in future years.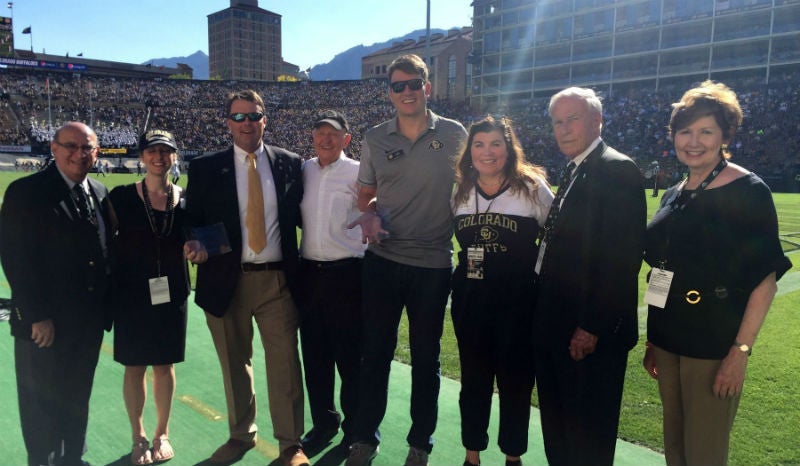 State Representative Alec Garnett (D-Denver)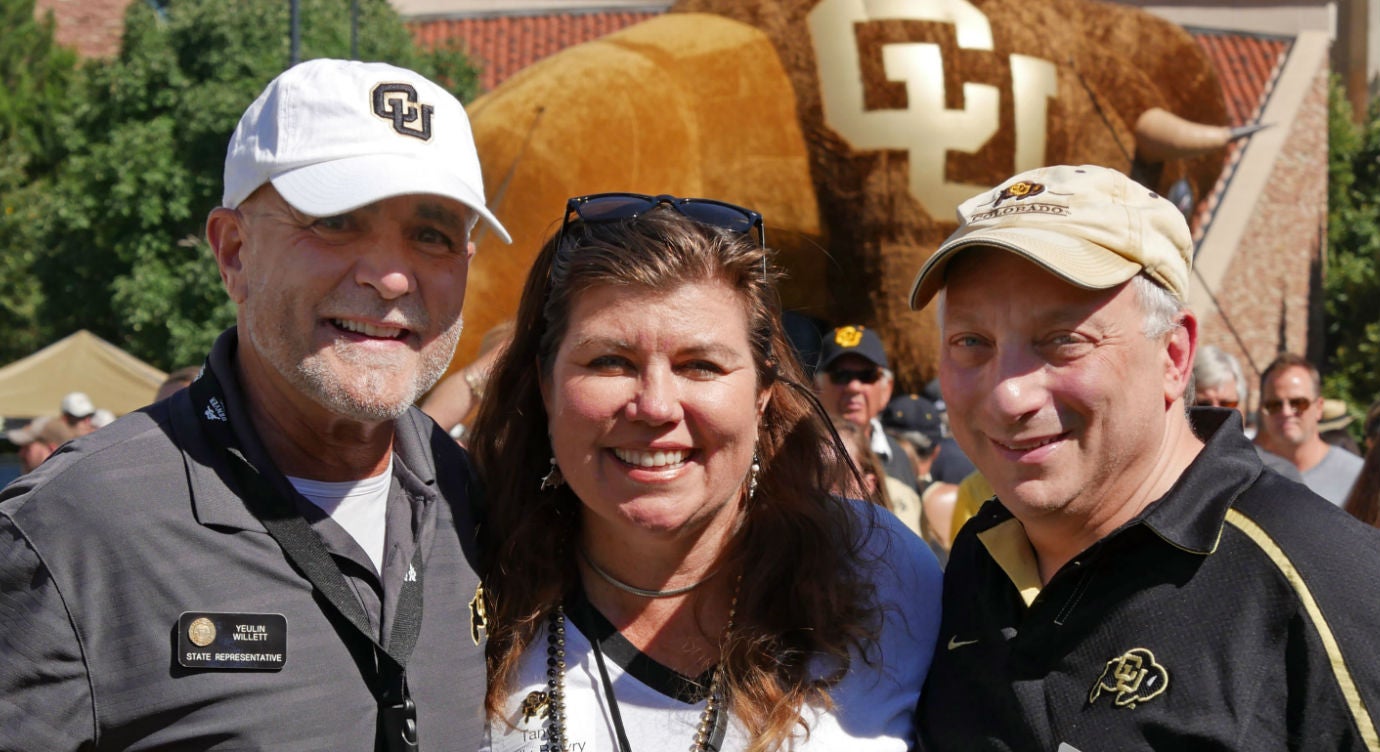 State Legislators and Federal Staffers Visit the Rocky Mountain Alzheimer's Disease Center
Dr. Huntington Potter and his staff hosted a tour of the Rocky Mountain Alzheimer's Disease Center at the CU Anschutz Medical Campus. The August 24 event highlighted Dr. Potter's important new research to find a cure for Alzheimer's disease. Staff members from U.S. Senators Michael Bennet and Cory Gardner, Congressmen Jared Polis, Ken Buck, Doug Lamborn and Ed Perlmutter were in attendance. State Representatives Janet Buckner (D-Aurora), JoAnn Ginal (D-Fort Collins), Dianne Primavera (D-Broomfield), Kim Ransom (R-Littleton), Joann Windholz (R-Commerce City), and Senator Nancy Todd (D-Aurora) also participated in the tour. Several candidates for state seats also joined including Jeff Bridges (D-HD 3), James Coleman (D-HD 7), Philip Covarrubias (R-HD 56), Leslie Herod (D-HD 8), Dominique Jackson (D-HD 42), and Kevin Priola (R-SD 25).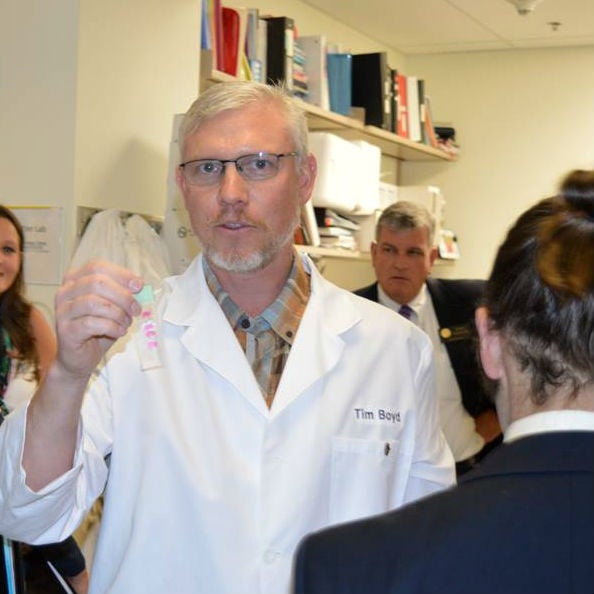 Jim Herlihy, Director of Marketing & Communications, Alzheimer's Association
Legislators Attend CU South Denver Reception with Business Leaders from the Colorado Investment Services Coalition
Business leaders from the Colorado Investment Services Coalition (CISC) an industry affiliate of the Metro Denver Economic Development Corporation, along with state legislators and stakeholders from CU business schools connected at the CU South Denver Campus for a reception on September 12, highlighting the economic imperative of workforce talent development and partnerships with higher education and industry. CISC industry members represent Colorado's largest investment services firms, including: Charles Schwab & Co. Inc., Fidelity Investments, Janus, OppenheimerFunds, TIAA-CREF, Empower Retirement, and T. Rowe Price. Luella Chavez D'Angelo, Vice Chancellor for Enterprise Development at CU South Denver, spoke to the group about the academic opportunities that are now available to the companies in their own backyard with the presence of a CU South Denver Campus. Roberto Caccia, Director of the Burridge Center for Finance at the CU Boulder Leeds School of Business and Dawn Gregg, Associate Dean of Programs and Director of the CU Denver MBA Program also spoke about the specific academic offerings and current partnership endeavors. Over 50 people attended, including State Representatives Kevin Van Winkle (R-Highlands Ranch), Kim Ransom (R-Littleton) and SD4 candidate Jim Smallwood.
Gov. Hickenlooper Signs HB 16-1456 and HB 16-1277 at Sheridan Health Services
Colorado Gov. John Hickenlooper signed HB 16-1456, Sale of State Land for Fort Logan National Cemetery and HB 16-1277, Appeal Process for Changes to Medicaid Benefits. State Representative Susan Lontine (D-Denver), CU Anschutz Medical Campus College of Nursing Dean Sarah Thompson, Executive Director of Sheridan Health Services Erica Sherer, professors Amy Barton and Pamela Jones, College of Nursing faculty Jennifer Dailey-Vail, and Colorado Department of Health Care Policy and Financing Executive Director Sue Birch attended the June 1 signing, which took place at Sheridan Health Services.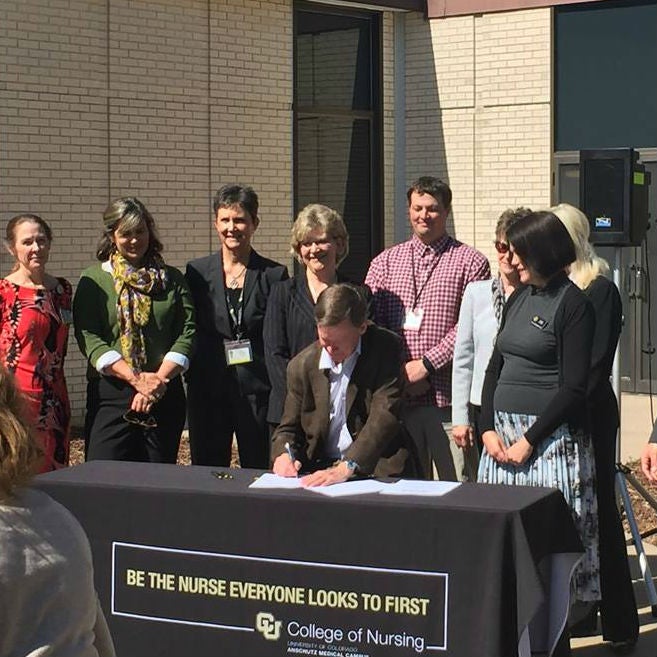 Legislators Attend Grand Junction and Pueblo Events to Celebrate Incoming Students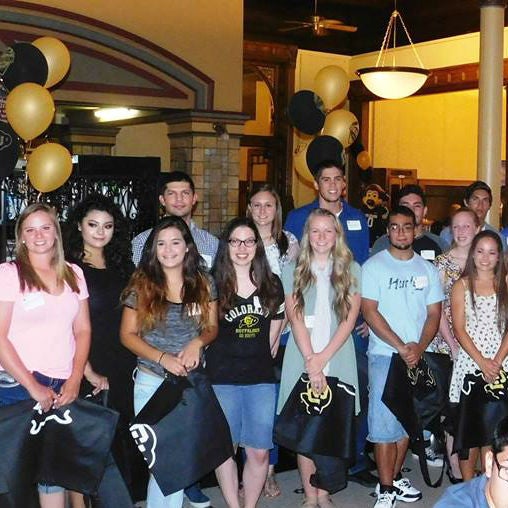 CU Advocates/University of Colorado
CU Advocates hosted "CU Celebration" events in Grand Junction and Pueblo to welcome new and incoming students from the Western Slope and southern Colorado who plan to attend a CU campus. The events, which took place in July, were held to welcome the new students and their families to the CU family. State Representative Yeulin Willett's (R-Grand Junction) wife Rose, a CU Boulder alumna, attended the Grand Junction event. Rep. Willett is also a CU Boulder alumnus. State Representative Daneya Esgar (D-Pueblo) and state Senator Leroy Garcia (D-Pueblo) attended the Pueblo event.
Colorado Space Grant Consortium Successfully Launches Rocket
A rocket carrying experiments developed by university students nationwide in the RockSat-X program was successfully launched on August 13 from NASA's launch range at the Wallops Flight Facility in Virginia.
The RockSat-X program is conducted with the Colorado Space Grant Consortium, which is funded by NASA. The goal of the program is to provide students a hands-on experience in developing experiments for space flight. This experience allows these students to apply what they have learned in the classroom to a real world hands-on activity.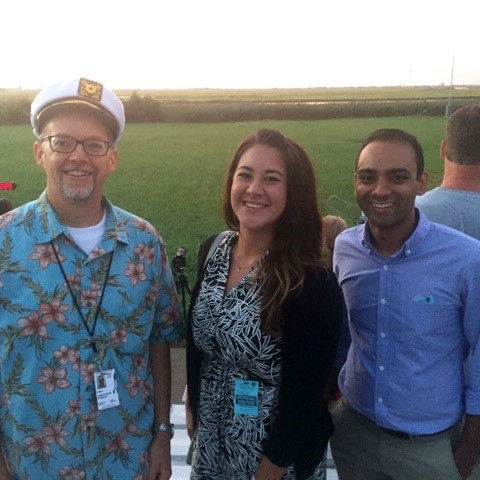 Brian Sanders, Colorado Space Grant
Congressman Polis Visits the CU Boulder Science Discovery Summer Camp
Congressman Jared Polis visited CU Boulder's Science Discovery summer camps and joined kids having fun while learning. Polis was briefed on the broader Science Discovery program by camp Director Stacey Forsyth, and was able to observe the Girls in STEM: Maker Space class at the Idea Forge and the Making Miniatures class in the engineering center.
Founded in 1983 to heighten young students' interest in science, CU Science Discovery coordinates an array of programs that connect K-12 students and teachers to current CU science. Each program utilizes CU scientific expertise, equipment, resources and graduate or undergraduate students in order to provide K-12 students and teachers with unique, hands-on science experiences. Polis is an alumni of the program.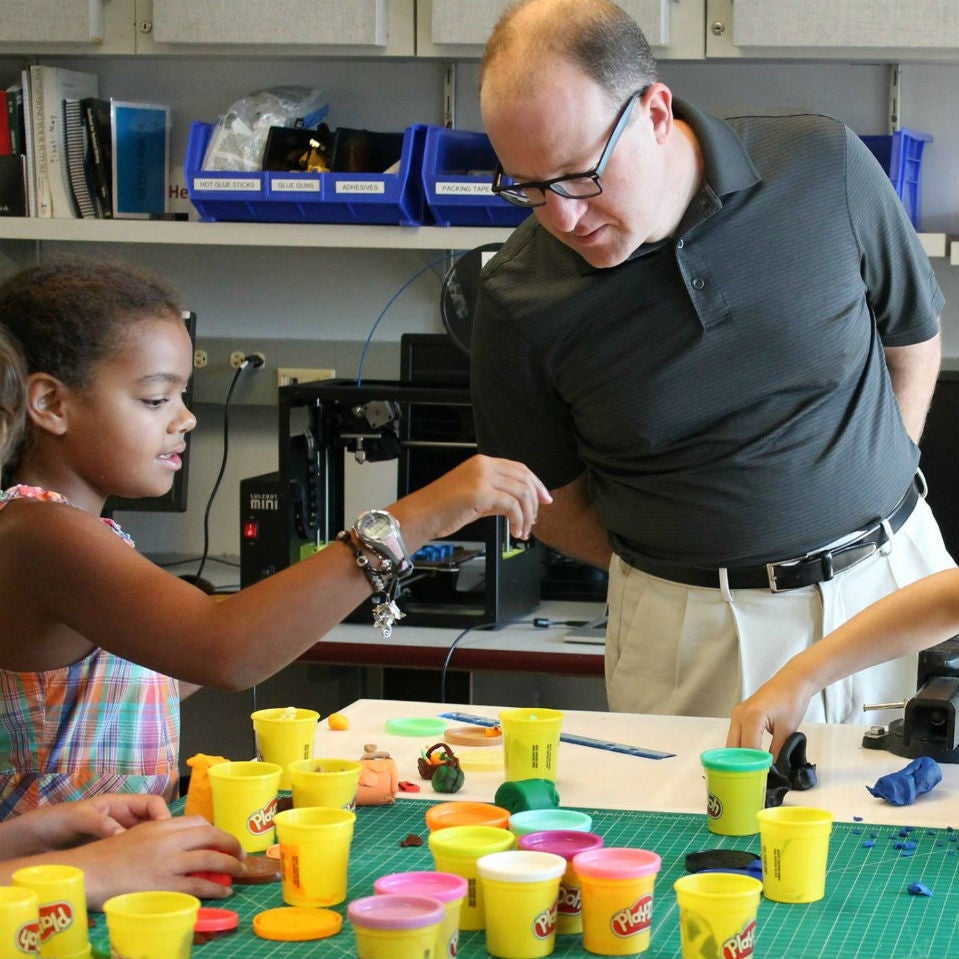 Maggie Warren, CU Science Discovery
CU Boulder Professor Testifies Before Congress
CU Boulder Professor of Law Mark Squillace testified before Congress on two separate occasions. On June 14, Squillace testified about H.R. 5259, Certainty for States and Tribes Act for the U.S. House Committee on Natural Resources Subcommittee on Energy and Mineral Resources. The following week, Squillace returned to Capitol Hill to testify on Bureau of Land Management (BLM) land use planning rules for the U.S. Senate Committee on Energy and Natural Resources Subcommittee on Public Lands, Forests, and Mining.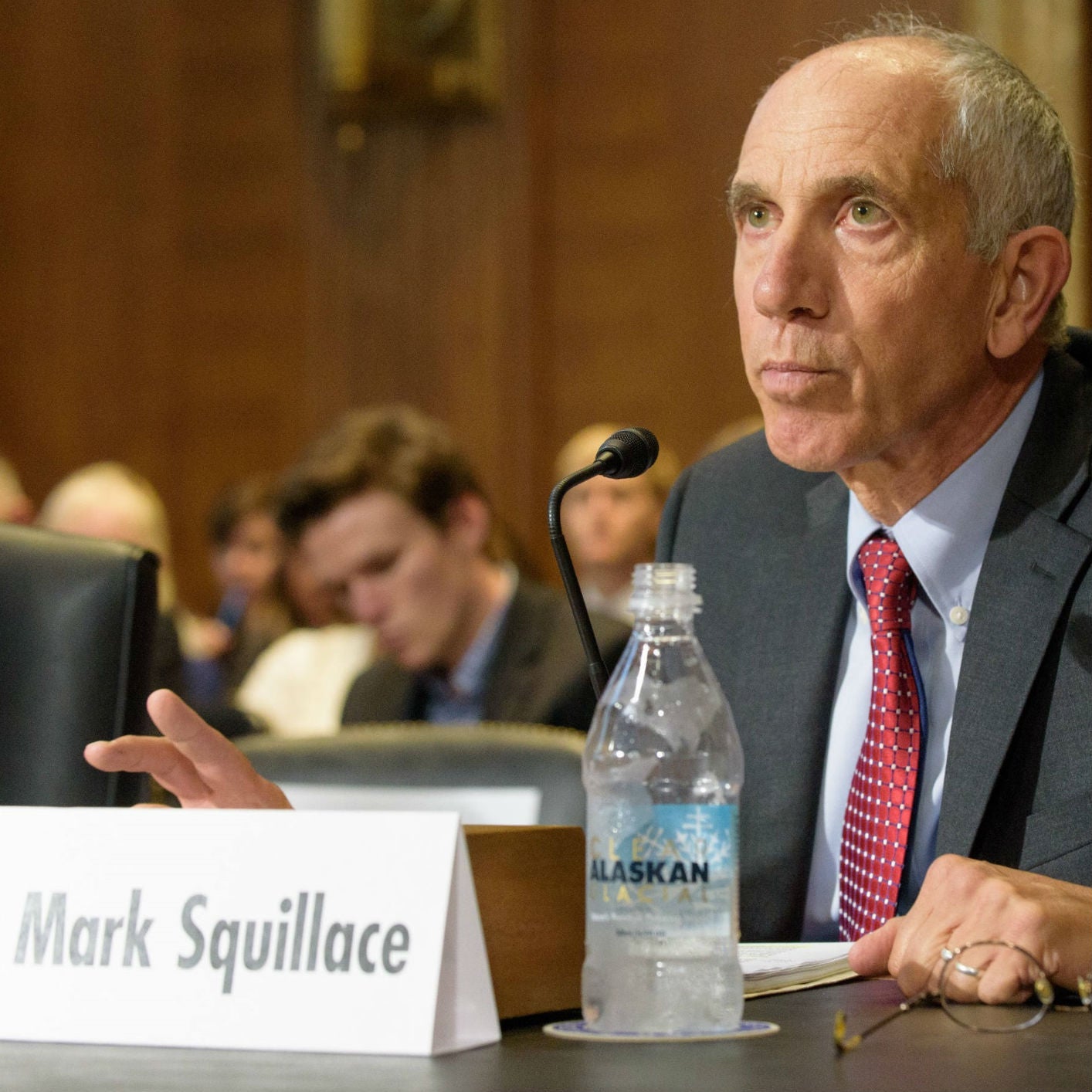 Photo courtesy of the House photographer
MAVEN Principal Investigator Bruce Jakosky Participates in Congressman Perlmutter's Science Advisory Council
Mars Atmosphere and Volatile Evolution (MAVEN) mission Principal Investigator Bruce Jakosky participated in Congressman Ed Perlmutter's Science Advisory Council in May. Joining Jakosky were representatives from the State Office of Economic Development and International Trade (OEDIT), Metro State University, Boeing, ULA, Colorado School of Mines, UCAR, Sierra Nevada, and Lockheed Martin including Ann Zulkosky, former Senate Space staffer. The principal topic of discussion was the potential for a manned mission to Mars, which Congressman Perlmutter would like to see accomplished by 2033.
CU Boulder Professor Marie Banich Discusses ABCD Study in DC
Dr. Marie Banich, Professor of Psychology, Institute of Cognitive Science at CU Boulder met with several Colorado congressional offices while in Washington, DC. Dr. Banich is CU Boulder's lead principal investigator for the Adolescent Brain Cognitive Development (ABCD) Study, a national 10 year study that will map brain development during adolescence and examine how behaviors such as drug use alter the course of brain development. Dr. Banich also participated in a widely attended congressional briefing on the NIH-funded study on September 19, which is the first of its kind.