From the President,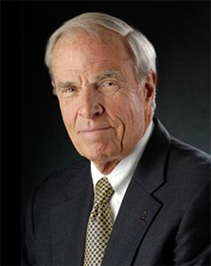 CU President Bruce Benson
The University of Colorado is many things to many people. The common thread for all our constituents is that we are a world-class teaching and research university advancing the economic, social and cultural health of Colorado and beyond.
The collective strength of the University of Colorado has been built over the past 135 years. It is critical that we use the equity we've created to promote CU in ways that cut through the clutter of images and messages pervasive in communications today. Doing so demands that we present consistent, coordinated messages and visual images to our key stakeholders.
The university continually competes for resources, attention and students. We cannot afford to hinder our efforts in that competition by presenting mixed messages, confusing images or a fragmented view of the university.
This Identity Standards manual serves as a roadmap for effectively conveying who we are, what we do and why our efforts are valuable. Its intent is to not only serve as a guide for effectively presenting the university, but also to make the best use of resources.
Presenting the university through consistent and coordinated messages and images will allow us to better showcase our excellence, value and impact. It will also lead to better connections with key audiences and convey our strengths in learning and teaching, discovery and innovation, health and wellness, and community and culture.
Every member of the university community has a role in advancing our efforts. Using these standards will help us do so in coordinated and consistent ways.

Bruce D. Benson
President