​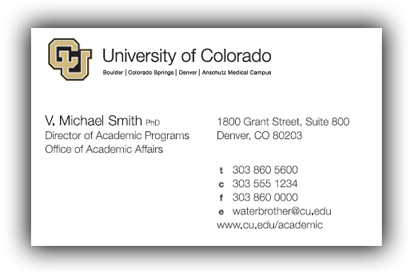 A unified stationery system establishes a common style and helps us communicate effectively and consistently. While each campus uses its own signature, the structure for stationery components is consistent across the CU system.
The letterhead features a signature and clean presentation of contact information. Use of a consistent layout supports our unified image and builds brand recognition.
Envelopes and business cards comply to a standard layout.
Additional details are available in the brand identity standards for each campus.

Business collateral should contain only essential information as articulated in system and campus identity standards manuals. Business cards and stationery should not have extraneous information such as taglines, additional contact information, or departmental or individual mission statements (either on front or back of business cards). The only acceptable use for the back of business cards is essential information such as physician clinic or medical/emergency contact numbers. QR codes may be added to the back of business cards only if they contain university contact information and/or point to official university websites with the domain name of cu.edu, Colorado.edu, uccs.edu, ucdenver.edu or cufund.org.
Stationery/envelopes