May 19, 2017
Pharmacy, nursing students provide home visits to elderly
The IPE Student Home Visit Project offers assistance, assessment, education
Community, Education, Healing
The Interprofessional Practice in Education (IPE) Student Home Visit Project sends a School of Pharmacy student and College of Nursing student to conduct screenings, provide myriad assessments and educate patients on health topics ranging from proper nutrition to drug management, all in the comfort of their home.
The collaboration – launched in January with seven nursing and seven pharmacy students – is the brainchild of Eric Gilliam, assistant professor in the Department of Clinical Pharmacy in the Skaggs School of Pharmacy and Pharmaceutical Sciences and director of clinical integrations at the CU Center for Interprofessional Practice and Education, and Amy Barton, professor, Daniel and Janet Mordecai Endowed Chair in Rural Health Nursing and associate dean for clinical and community affairs in the College of Nursing.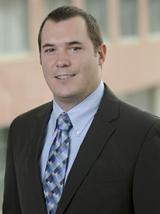 "We're giving students new interprofessional training through extracurricular opportunities, community engagement and volunteerism, as well as when they complete their clinical training," Gilliam said. "They are working with other professions and health profession students intentionally and collaboratively."
The young project is already making a difference, Gilliam and Barton said. They cited a case where a patient had gone to the emergency room and had been taken off his hypertensive medications, they explained.
"When the students visited him his blood pressure was elevated," Barton said. "It was not a good situation and we were able to get him into the clinic the next day and get him back on his meds."
The project works through the Sheridan Health Services Clinic, a nurse-led federally qualified health center and a faculty practice institution for the College of Nursing. The clinic holds time open each day for cases that need more immediate attention.
"What we're able to do is screen our older adult patients for those who could benefit from a home visit and dispatch a student dyad to go and interview them in the home," Barton said, noting one of the fundamental purposes is to focus on health literacy, an issue for many populations across the country.
"A variety of people (older adults, low income, those with limited English proficiency) just don't necessarily understand their plan of care. Our thought was that if they had an unhurried visit within their home environment that we could help them with self-management of whatever their condition might be," she said.
A lot can be learned from a home visit and the students are enthused.
"The students say, 'It makes so much more sense now.' They start learning a lot more about the patients, so patients really enjoy this and our students feel like they're doing good work," Gilliam said.
"The patients' environmental issues are apparent and mental health issues are more likely to emerge," Barton said. "Their social factors, like who's in the home, who's smoking in the home when it's not in the patient record. Do they really understand their plan of care and their meds?"
The process entails students calling the patient in advance and asking if it's OK to visit. The nursing students take vital signs – heart rate, blood pressure, temperature – and ask general questions about their quality of life. Depending on the answers, the students ask more specific questions until they have a strong indication of where the patient stands and what he or she might need.
"They talk about pain or any issues with pain management," Barton said. "They'll talk about mood, how they're feeling if they haven't been feeling their best lately, once again that triggers another round of assessments."
The pharmacy students ask the patients to bring out all of their medications, supplements, and over-the-counter remedies.
"They've asked about going to see their medicine cabinet, but have not had a lot of takers on that," Barton chuckled. "So that in and of itself was an interesting finding."
"They will go through their medicine, 'What is this? Why do you take it?' and attempt to assess the patient's understanding," Gilliam said. "We want to focus on medication safety within the household, not just the right prescription for the moment."
As with many projects and programs at the CU Anschutz Medical Campus, the students are not only participating in the program, they're helping to build it.
"They have really been open to a quality improvement approach," Barton said. "In our first set of visits, we gave them a whole series of assessments and said 'Here, try this and let us know what works, and they were good with that. They really embraced the opportunity to help mold it, and that will continue as we move forward."
The students took ownership of the project even before they went for their first home visit.
"Even before the pharmacy students went out initially, they were asking, 'Do we have pill boxes we can give out?' And we're like 'Well there's something!'" Barton said.
Even the trips to and from the home are important to the project, he said.
"They do go in tandem and that has been beneficial not only for safety purposes, but also they prepare for the visit on the drive over, and they debrief on the way back before they get back to the clinic," Gilliam said. "That has allowed them to establish rapport, be able to think through the visit, and prioritize things before they get there and then compare notes on their way back."
"The key is making sure we close the loop, so we have a coordinator at the clinic that the students report back to, and then the students also document a note in the patient chart about what they found," Barton said.
The project was funded through the National Center for Interprofessional Practice and Education, located at the University of Minnesota, which itself is funded by several foundations. Their grant was $50,000, with the College of Nursing providing matching funds.
"We strategically started this program with our own students in our own clinic and I think what we're doing is creating a model Eric is going to be able to take to other clinical agencies to say, 'This is how this can work,'" Barton said. "That's the key, being able to collect data early on it so we can facilitate the spread of this model of care for our students to other clinics throughout the metro area."
Denver metro area has a lot of federally qualified health centers with lots of patients in need. "I think the way we streamlined the model will facilitate expanding these opportunities for our students," she said.
"Leveraging the interprofessionality of the project and giving students the opportunity to really practice what they're learning here on campus about the values of interprofessional education is important to us. Students see first-hand that working together can help improve care for patients," Gilliam stressed. "The motivation is not just do of IPE for the sake of IPE, but really get involved in meaningful patient care as a team."