March 18, 2019
Visionary health fair serves migrant families
Urban Underserved Track's after-school activities build community wellness
Community, Education, Healing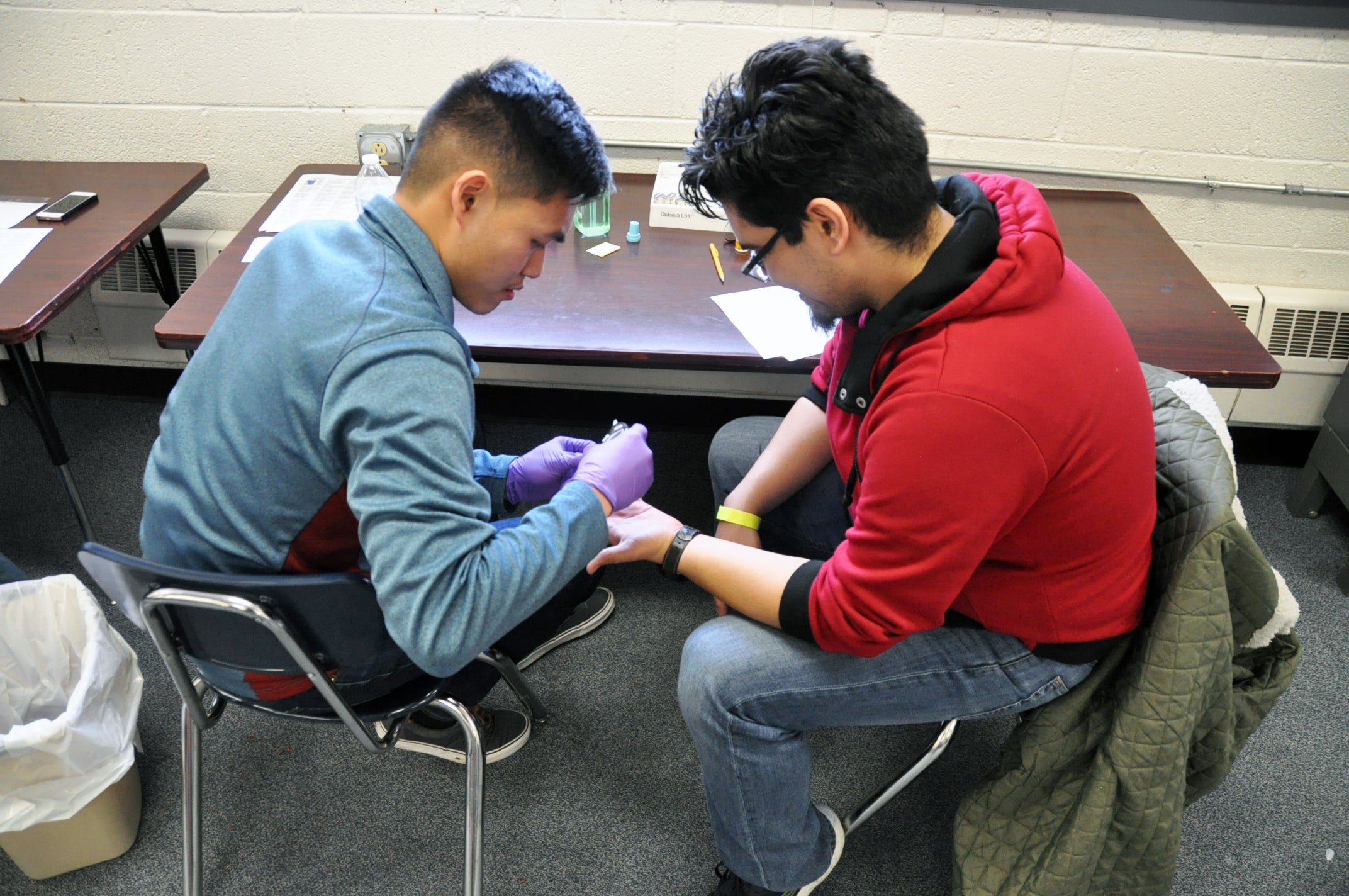 First year UUT M.D. student Minh Do, left, performs a glucose test on a patient at the health fair.
School was out and the student doctor was in – as was the ophthalmologist, the dentist, the pharmacist and others in the health field. The
Urban Underserved Track
(UUT) at the
CU School of Medicine
held its second health fair in partnership with the
Spring Institute for Intercultural Learning
and the
Lions Club
at the New America School in Denver, providing mostly immigrant students and their communities free health and vision screenings after the bell and before bedtime.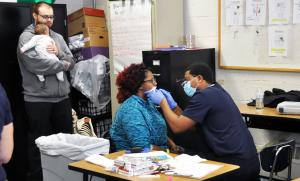 "Our students performed 88 glucose tests and blood pressure checks, but most of the people were there for the eye exam and glasses," said Tania Soto Valenzuela, track coordinator. Once again, the track collaborated with the Lions Club for exams and glasses. They screened 69 people; 57 received glasses, including 11 children and 46 adults.
her
new glasses," said Peggy Moritz, Lowry community volunteer.
Individuals served came from Afghanistan, Burma, China, Congo, El Salvador, Eritrea, Ethiopia, Guatemala, Korea, Kenya, Mexico, Middle East, Nigeria, Nepal, Somalia to name a few, Valenzuela said.
Aly Sotiros, a track student and the event organizer, noted one of the clients served said he got his first pair of glasses in 44 years and was ecstatic.
The event was initiated by students and faculty within the track to bring hard-to-reach services to the school's students and their community. "We have helped arrange vaccines, sports physicals for students and now have UUT students teaching an interactive reproductive health and safe sex practices workshop," Valenzuela said.
Physician Assistant
,
Nurse Practitioner
and
M.D.
programs, Colorado Welcome Back and even New America School high schoolers conducted screenings, cleanings and a great deal more.
School of Dental Medicine volunteers performed dental screenings and fluoride varnishes on about 40 people. The Skaggs School of Pharmacy and Pharmaceutical Sciences sent two people to educate participants about over-the-counter medications, "But they were very open to just answering any questions the community may have," Valenzuela said. The Department of Ophthalmology shared the expertise of its faculty and residents to assist with diabetic retinal screening exams while the tracks' community partnership with Brandy Kramer and the Spring Institute allowed it to provide interpretation services to a number of refugee patients, she said.
For Valenzuela, the opportunity to assist hit close to home. "I dragged my stepdad to this event because he has not seen a doctor since I've known him in over 25 years," she said.
Donate to the Urban Underserved Track
The health fairs are initiated by students from the Urban Underserved Track and each event is influenced by the lead students, who work with the New America School to develop the program. Valenzuela said a track student has already mentioned taking the lead in 2020.
"These events are developed to create meaningful engagement with our surrounding community and to allow CU Anschutz Medical Campus students to strengthen their commitment toward eliminating health inequities," Valenzuela said. "They also help expand the understanding our students have about health care disparities and the multifaceted role of clinicians in urban communities."
The Urban Underserved Track, now in its ninth year, is divided into approximately two-year phases of cohorts. It is composed of blocks that focus on specific patient populations including homeless, LGBTQ, maternal-child, refugees, immigrants, prisoners, substance abusers, mental health/illness patients, racism and social justice. It educates, supports and encourages students who are committed to caring for diverse, urban, underserved populations and who share a commitment to eliminating health inequities.
As one volunteer wrote in the follow-up survey: