"Next Gen" Advancement

What is NextGen? NextGen is a cross-campus project launched to improve the functionality and capabilities of Advancement at CU. This includes strategic roadmapping of Advancement, process improvement, data governance, reporting, stabilizing the Ellucian Advance tool, and the eventual replacement of Ellucian in favor of a more robust tool that best supports CU. Questions? Contact Anthony Torres.
Grants Optimization:

The Grants Optimization project is focused on three main areas:

Business Process Optimization – ensuring CU can use the Grants modules' features and functionalities fully to the university's benefit
Data Clean-up and Reconciliation – ensuring we have good data and a "clean house" as we move forward
Enhancements – adding functionality where it makes sense to increase efficiencies and enforce best practices
Reporting – creation of new tools that can be used by university staff for the purpose of efficient grants accounting and auditing

Accomplishing the above will allow the university to mature in the use of the Grants module and streamline departmental tasks.
• The primary focus of the project will be to continue the replacement of the SmartERP overlay in HCM by targeting the following critical business processes, which currently use SmartERP-built custom forms:
Release 1 – Scheduled for Spring 2018
Release 2 – Scheduled for Fall 2018

Direct Transfer
Contract Transfer
Create/Maintain POI

Direct/Student Hire
Applicant Tracking System Hire
Contract Hire
Direct/Student Rehire
Applicant Tracking System Rehire
Contract Rehire
Add Additional Job
• The campuses will benefit from a more stable system, which is less prone to data issues and is supportable by CU staff and Oracle. Additionally, the system will be in a position to take future enhancements from Oracle whereas today the university can only use the SmartERP-built custom forms.
For more information, visit the IT Gov Sharepoint project page. Must be logged in to view.
Large, strategic projects involving multiple campuses and significant funding will follow the project management standards established under IT Governance.
Projects will be initially identified by local campus IT organizations or UIS.
The Annual and Strategic Plans will also inform which projects need IT Governance oversight.
Must first meet IT Governance Scope test:

Projects that are managed by a single campus or System IT department but will ultimately provide service to multiple campuses or System departments

Second test is to determine the level of risk to which the project exposes the institution:

Risk will be calculated via a standard risk assessment tool to be completed for all new projects through the local PMO organization. Some of the criteria which would be indicative of high risk include the following criteria:

The project will impact how a large population (1,000+) of users interact with tools necessary to do their jobs
The project will introduce new tools, applications, and technologies which could have significant impact within CU
Project budget is anticipated to be over $2M
The project will require significant support from external consultants
New initiatives in domains where CU has limited experience
Campus & System Leadership will report out quarterly to the Regents on status of all IT Governance projects.
While the majority of IT Governance projects will be multi-campus initiatives, a single campus may elect to go through the IT Governance project process if the local CIO or campus stakeholders decide it prudent to do so based on risks, impact, or other factors.
If the project is $5 million or above in cost, it must go through the IT Governance project process and be approved by the Regents.
The exceptions to this are projects that fall into the following categories:

Hardware Renewal and Replacement
Projects funded exclusively through research or clinical sources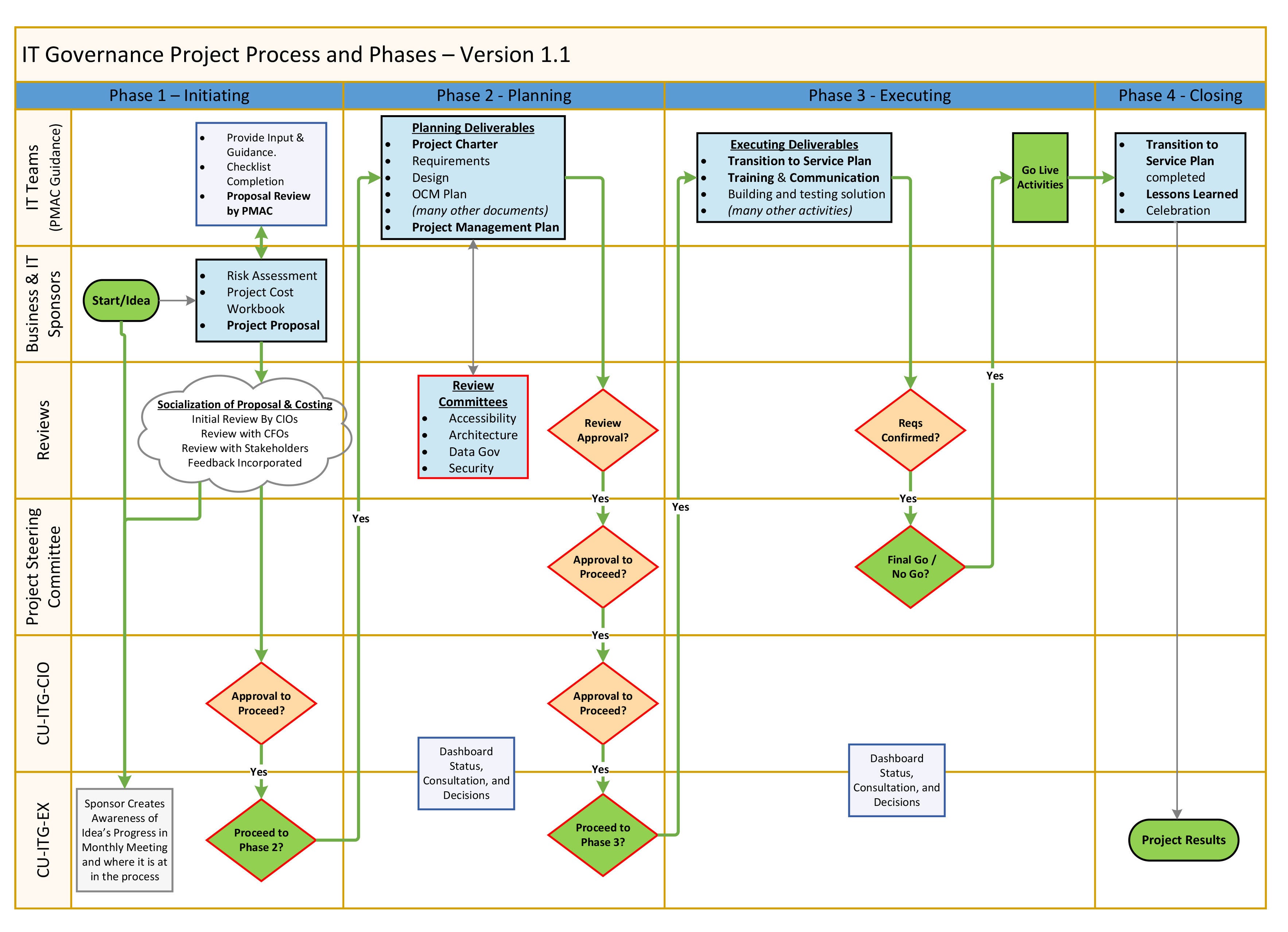 Get more details here.