September 5, 2018
Remembering a remarkable student
A CU Denver scholarship has been created to honor the memory of Erica Huss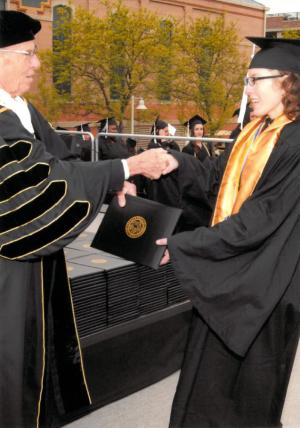 One of the great parts of my job is participating in commencement ceremonies on our four campuses. I enjoy handing students their diplomas and seeing their excitement and sense of accomplishment. I was struck by one in particular, a young woman who earned her degree from CU Denver. The commencement robe Erica Huss wore was adorned with so many honor designations it was almost hard to see her face. She had two medallions, one stole and three sets of cords, each signifying a substantial academic achievement.
Erica earned her degree in political science, with minors in international studies and economics. She was deeply interested in international business, the role of U.S. embassies abroad and political economies. Sadly, this vibrant and talented young woman passed away just a year after graduating. I've learned a little more about her, and about the Erica Huss Memorial Scholarship for Global Citizenship, which was established in her honor. The collaboration between CU Denver's International Studies program and Department of Political Science provides funding for a student to participate in the United Nations Intensive Summer Study Program. Erica participated in the program at the United Nations and loved it.
Erica was a stellar student whose academic achievements were impressive by any measure. She graduated with distinction, was co-president of the Political Science Honor Society, was a member of the Golden Key Honor Society and was posthumously inducted into the International Studies Honor Society. As important, her professors and classmates report she was the kind of student who always looked to make things better for her school and her fellow students. She was helpful to all and always went the extra mile.
CU offers thousands of scholarships, so it's nice to take a closer look at a person behind one effort. The CU community is poorer for Erica's passing, but richer for the impact she made and will continue to make. If you choose to donate in Erica's honor, we encourage you to do so here. Also, if you're interested in supporting any of our other worthy scholarships, you may do so at Giving.cu.edu.