July 24, 2017
Pathways2Teaching encourages youths to teach close to home
High schoolers in underserved communities examine how to break the cycle of inequity
Community, Education, Progress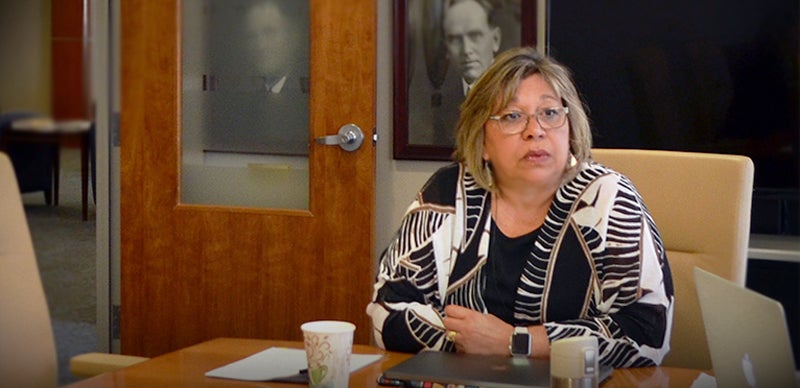 You can't be who you can't see. That's the motto Pathways2Teaching founder Margarita Bianco instills in marginalized youth who take part in the college prep program. Started in 2010, the program enables high school juniors and seniors to explore teaching as career choice, examine critical issues related to educational justice, and earn college credit.
Bianco, a Timmerhaus Teaching Ambassador and associate professor in the School of Education and Human Development at CU Denver, knows well the challenges facing underrepresented youth across the Front Range and the country. Being from New York and traveling extensively, she saw plenty of diversity around her – but none in front of her.
"I never saw someone who would be that role model for other students," she said. "On the professional level, I taught in public schools for many years and oftentimes I was the only Latina teacher in the entire public school building."
Pathways2Teaching is a grow-your-own program that is helping to break that cycle of inequity by encouraging underserved students to explore teaching as a career. Bianco said the people who live in low-income or rural communities best understand the communities' strengths and challenges and make engaged and knowledgeable teachers.
"We want students to become teachers and come back to their communities, so we're looking at the community as a resource to build a teacher workforce," she said.
But it goes beyond that, she said. The program, which focuses on social justice and critical consciousness, aims to shake things up in the schools and the districts the teachers return to.
"When you have a situation where students are disenfranchised and marginalized it's a hard sell to say 'come back to the system and work in it,'" she said. "So, I take those inequities and have students study them and understand them better and hopefully motivate them to come back to change them. It's to participate in the system, and in a way participate to disrupt it, not to perpetuate it."
Bianco has also recently set up a fund to enable low-income, successful Pathways2Teaching students to earn a scholarship to attend CU.
Having completed its seventh year, the yearlong, three-credit program has engaged 440 high school students thus far and has expanded to schools in six local school districts.
"We do not have a GPA requirement for students to take this class," Bianco said. "That to me is one of the most important aspects because we're open and expanding opportunities for students to take a college level class who otherwise might not believe they're capable of doing that."
CU Denver undergraduate and graduate students play an integral role in the program. Several Pathways2Teaching high school graduates now attend CU Denver in the undergraduate teacher prep program and act as ambassadors, she said.
"I'll take them with me or I'll have my doctoral students take the former high school students – now CU Denver students – to go visit other high schools students about the things they learned in the program. They help us recruit and build the program," Bianco said.
She also takes undergraduate students to present at national conferences around the country.
"Most importantly, I have a cadre of doctoral students working with me, one, as research assistants but also they're in the classrooms acting as mentors and role models for the high school students in our program," she said.
Pathways2Teaching creates a cycle of intergenerational interaction, as involved high school students also mentor elementary students once a week. No matter what stage they are at in their education, students are talking to, learning from and being inspired by mentors who look like them and understand where they're coming from.
The program is growing rapidly, not just in Colorado but across the country. Bianco is spending some time this summer in Nashville working with teachers there who have adopted the program to be implemented in five schools in the area, she said.
In her role as Timmerhaus Ambassador, Bianco will also be touring the country the next two years offering free lectures and workshops on "Attracting and Retaining Diverse Teachers." Those interested in having Bianco visit their institution can make a request using this form.
Pathways2Teaching is confronting the challenges both rural and urban communities face with teacher shortages as well as empowering young people to believe in themselves and their future. As this grow-your-own program expands, more and more students are realizing they can be who they see.
On the right path
We attended a Pathways2Teaching research project presentation at Mapleton Public Schools in Thornton to chat with some students about their projects and an administrator about the program.
Brian Portillo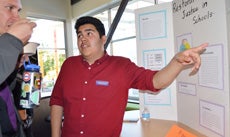 Restorative justice in school: It's is a brand of criminal justice, a way of students that end up doing bad things in their classroom, like classroom disruption and disrespecting teachers and stuff like that.
The most inspirational thing to become a teacher is seeing how students – because I work with a third grade classroom – seeing how they are so creative and how they want to express themselves in everything they do.
Demri Sailas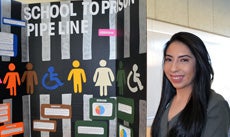 School to prison pipeline: It targets those in urban education who have come from different cultural backgrounds, and when you're going to suspend or expel a child that comes from a neighborhood under poverty or of a diverse background and they're trying to escape the towns they're coming from, you're only throwing back into what they're trying to escape from. My solution is to have in-school suspension so rather than taking them out of it, they're physically in the building and it eliminates them from the communities they're trying to get away from.
Hiring more teachers of color and having them to relate to the students in their community and coming from the same struggles as them, they're able to solve this issue of behavior problems.
Luisa Rocha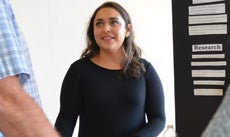 English as a second language learners: It was really personal to me since I was an ESL student from first grade to eighth grade. I wanted to research more about it and know why I was in these classes. I feel the reason why these students are not getting help is because they don't have bilingual teachers, and one of my solutions is to get bilingual teachers so these students can have a connection.
I wanted to be a kindergarten teacher but after doing research but after doing research I want to go into special education help, like being an instructor for ESL so in the future students will have a bilingual teacher to help them so they don't feel ashamed.
Humberto Escobedo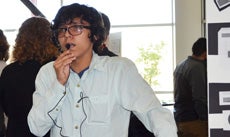 Mental health: If we're able to teach teachers how to assess mental health in students, there will be less problems like a disorder like bipolar disorder. I think four out of five students give clear warning signs before suicide. So if we teach teachers the warning signs and what to look out for I think that'll make them realize that even just asking questions to someone you think might being going through something can make a world of difference for that person.
Janice Phelps, director of the Clayton Partnership at Mapleton Public Schools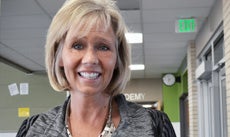 The quality of students that we receive from CU Denver is exceptional. When we look at resumes, we always make sure that those are the teacher candidates that we interview first because we know that they are highly trained and skilled professionals when they graduate from the program.