August 24, 2017
Each Tuesday brings a new DAWN for patients throughout Aurora
CU Anschutz student-run clinic is tirelessly committed to serving the uninsured community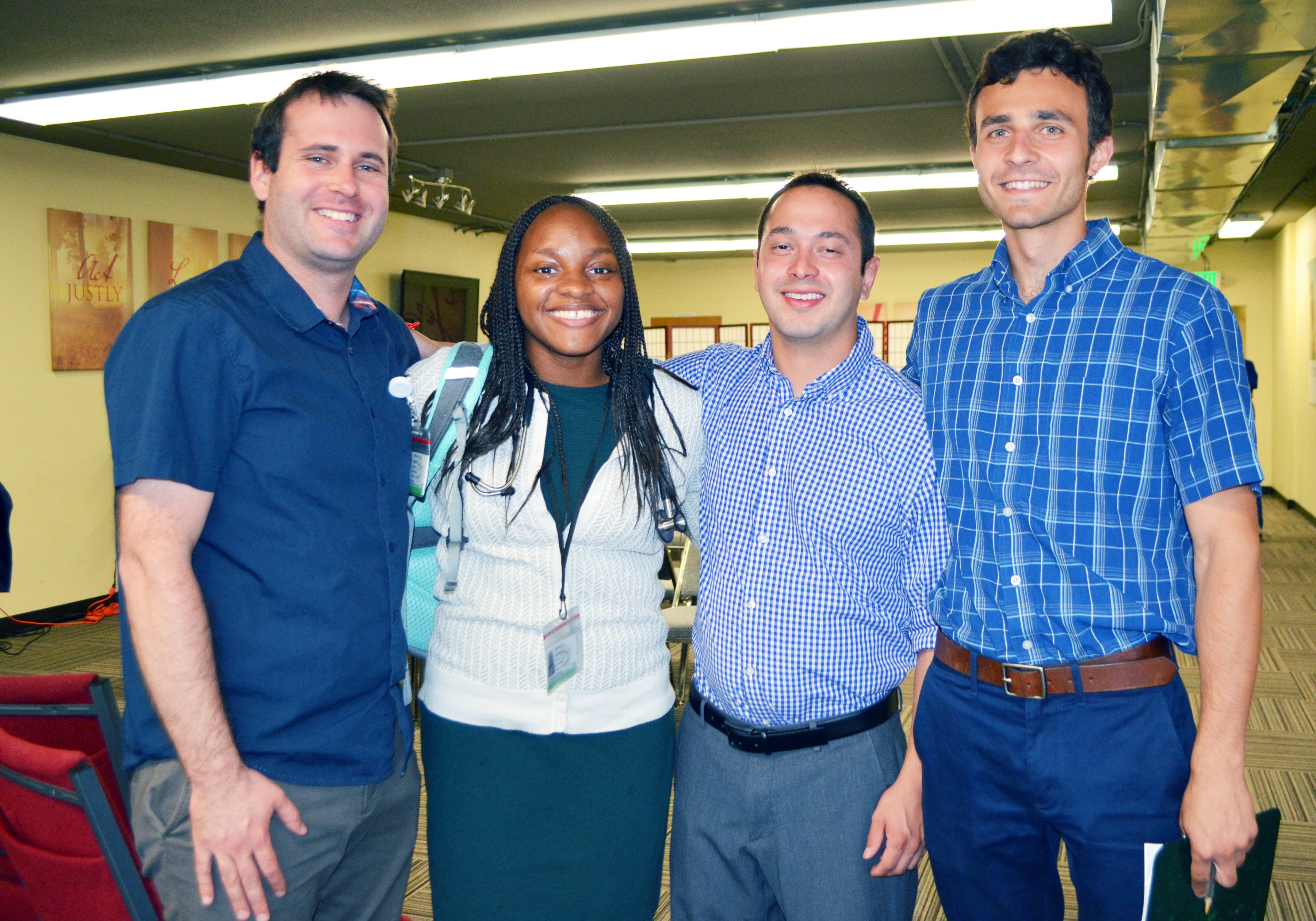 Student volunteers Nick Arlas, Josten Overall, Joaquin Quintana and Andrea Mariani
Some patients don't understand why their diabetes or breathing difficulties are connected to obesity. Many others are laborers and have broken bones from work-related accidents. One had liver failure and yet another DAWN Clinic patient's brain was exposed to the air.
Late afternoon each Tuesday, about 30 University of Colorado students and their faculty mentors gear up for just about anything when they enter the free clinic at 1445 Dayton St., Aurora – a student-run initiative that serves uninsured and underserved neighborhoods.
Walk-in patients start filing in sometimes as early as 4 p.m. to wait for the clinic to officially open. Others with follow-up appointments come in at their scheduled time to get additional assistance and monitor their progress.
"A lot of this assessment is not just this fancy medical physiology I've been talking about, but also the advocacy of the patient, the relationship building," he tells them.
At 6 p.m., medical, nursing, pharmacy, physical therapy and dental student volunteers swing into action to assess their patients' needs in 30-minute consultations and, supervised closely by their faculty mentors, recommend a course of treatment.
"We have definitely seen these experiences shape our students' careers," said Johnson, a geriatric doctor at InnovAge Greater Colorado at his day job. "They find they had known they have the values of taking care of people, but they weren't aware of the breadth of the health care system and the ways that they can fit into it."
Most students at the DAWN (Dedicated to Aurora's Wellness and Needs) Clinic are early in their training at CU Anschutz Medical Campus; otherwise they can get burned out by the intense studies required over four years, he said. With their teammates, these first- and second-year students learn the right questions to ask, what to look for in a patient's needs and what not to overlook, Johnson said.
"We're exposing them to this early in their careers," he said. "They come out with a whole new respect for their colleagues since every patient here is seen by both a medical student and nursing student, or both a pharmacy student and P.T. student."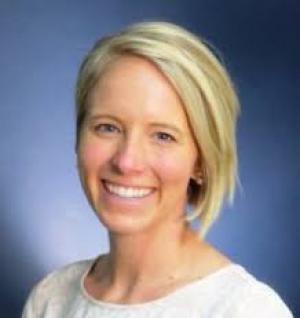 Launching with about 200 volunteers in March 2015, the clinic has thrived for more than two years – which is not a common feat, said Kari Mader, M.D., associate director of the clinic and a family medicine doctor formerly at CU Anschutz and now at Denver Health. She explained the clinic wasn't the first student-initiated attempt to bring health care to the uninsured in the Aurora community – other ventures quickly closed or never got off the ground in the first place.
"One thing that happens in health care is we providers say, 'This is a good idea, I'm going to do this.' But we don't ask the community what they want," Mader said.
The DAWN Clinic was fortunate to partner with the Fields Foundation, which is based in and deeply committed to Aurora.
"With this new partner, we were able to bring in our students' advocacy with our ability to get support from the campus," Mader said. "We always had a sense that the community wanted it. But we didn't want to come in with just our ideas, we wanted to make sure they were asking for it."
The clinic was created through and received outstanding support from the schools, colleges and departments at the CU Anschutz Medical Campus. "[University Physicians Inc., now CU Medicine] helped to fund an initial large amount of money to help get this building open," Mader said.
Many of the students at the launch have continued volunteering and are now about to graduate.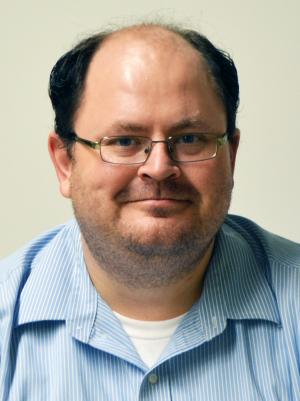 One such student is Matt Applegate, a CU Boulder grad who is now a fourth-year student at the CU School of Medicine at CU Anschutz specializing in internal medicine, with a focus on primary care.
"I was here on the first night," he said. "The work here I've done has made me realize how much of a need there still is, how much more we can do for these patients."
Applegate is a nontraditional student who chose a health care career after working as a researcher – including arranging rides and consecutive appointments for patients – at Denver Health. It was through helping those who needed it most that he found his calling.
"I think the main thing honestly is just giving them access to services in their own neighborhood," Applegate said. "The university is a large organization, but it's not necessarily close enough to a lot of the parts of Aurora where people can just walk to it or show up, or they might not have the means to pay for their needs at the university."
Looking forward to graduating in the spring, Applegate is applying to residency programs across the country that focus on primary care. And although he's excited about finding out his residency destination on Match Day -- the day when the National Resident Matching Program releases results to applicants seeking residency, with thousands of med students across the country opening their envelopes at the same moment – he's also looking ahead to coming home to further serve the Denver area after the three-year program, "just getting the care to the neighborhood."
The clinic serves on average 13 to 15 patients each week. "We make them walk in the first time just because our follow-up appointments are limited," Mader said. "It's important that we keep capacity for walk-ins to maintain that trust. So they know if they get here early they'll get seen."
The clinic also continues to thrive because of the influx of students each year. "The students talk to their friends and then they handle all student recruitment," Mader said. "It's not Joe and me doing the recruitment – we're more coaches and facilitators, but our goals are to raise leaders – and they often step up to recruit each other."
Mader and Johnson are hoping to expand the services, and their ability to recently hire Sally Garcia to manage the clinic is a good step. Garcia, formerly the director of the labor and delivery ward for high-risk patients at St. Anthony's, speaks fluent Spanish and has deep connections to the community.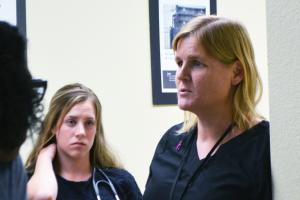 "We know that she had the leadership capabilities and the clinical management abilities to really improve our access to the community," Johnson said. "Patients require a strong relationship with someone who knows their culture and speaks their language and that's what Sally Garcia will be able to do throughout the week."
Johnson thanked Drs. David Schwartz and Frank deGruy, the chairs of Medicine and Family Medicine, and Dean John J. Riley at the CU School of Medicine for securing funding for Garcia's position.
"Maybe someday we'll be able to put up a sign. But now it's just word of mouth," Johnson said. "The Spanish-speaking folks who we're serving respect and appreciate the care that our students at CU are giving them.
"Only because we do the job is why we're still here: 'Those students did great by me and I feel confident in my help now and I'm going to tell my neighbor about it.'"