August 2, 2016
CU at the Olympics
Congrats and best of luck to our Rio-bound athletes, coaches and staff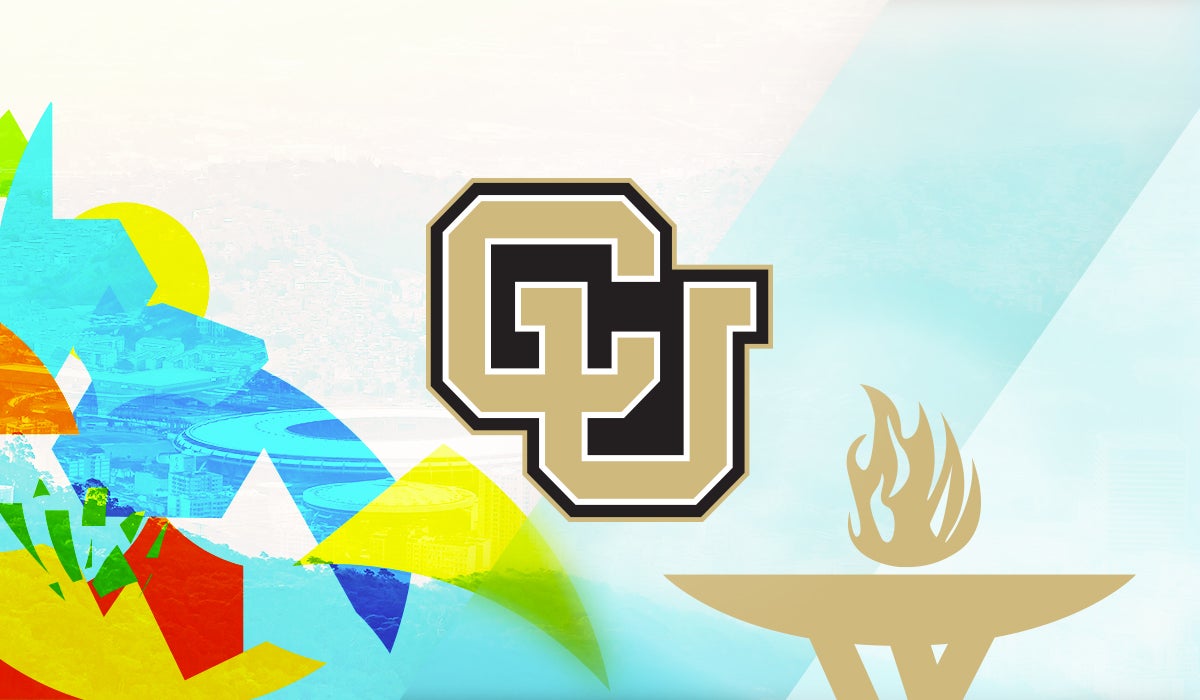 University of Colorado Boulder and University of Colorado Colorado Springs each have students, alumni, coaches and/or faculty taking part in the games, which start Aug. 5.
The
CU Boulder boasts four alumni athletes headed to Rio: Two alumnae in track and field are representing the United States, one alumnus will represent Samoa and an alumna will compete for Bermuda.
For the U.S., Emma Coburn (marketing, 2013) will run the 3,000-meter steeplechase, and Jenny Simpson (Economics, PolSci, 2009), will run the 1,500-meter run. Both women won their respective races at the U.S. Olympic Trials. (Read more)
This is Coburn's second trip to the Olympics – having made the finals in the 2012 London Olympics. She was a three-time NCAA Champion and a six-time All American.
Simpson was a seven-time All-American and four-time NCAA Champion at CU. It's her third trip to the Olympics, her second in the 1,500. She ran the steeplechase in 2008.
Coburn and Simpson are training under CU coaches Mark Wetmore and Heather Burroughs. Wetmore is heading to Rio and Burroughs will stay in Boulder to be on hand as the cross country team reports for fall camp.
In addition, CU Boulder alumnus Jeremy Dodson (arts and sciences, 2010) is representing Samoa at the 2016 Olympic Games in the 200-meter dash; and alumna Flora Duffy (sociology, 2013) is competing in the triathlon for Bermuda. She also competed in the 2008 and 2012 games.
UCCS boasts four athletes who identify as students or alumni competing for Team USA: Adeline Gray, wresting, is a three-time World Champion (2012, 2014, 2015), the 2015 Pan American Games champion, and the 2014 and 2015 World Cup champion; Jennifer Valente, undeclared major, cycling, was part of the five-member women's team that made history for USA Cycling by winning the program's first world title in team pursuit; Will Brown, mechanical engineering, is competing in his first Olympics in shooting and Frank Thompson (business, 2011), shooting, finished eighth in the 2012 Olympics in London.
UCCS alumni and staff will also be making the trip in supporting roles, including Craig Elder, associate professor of Clinical Teaching Track, who is the athletic trainer for the Paralympic Archery Team; Nuwanee Kirihennedige, a dietician with Peak Nutrition Clinic at the Lane Center for Health, will serve as dietician for the Paralympic Team; and alumna Meredith Price, who graduated last spring from the sports nutrition program, is a dietitian for the U.S. Olympic Team.