August 3, 2018
CU Anschutz expands health care education through MOOCs
Courses coming online range from newborn health to palliative care
Community, Healing, Innovation, Progress
Already a respected leader in health care education throughout the region, CU Anschutz Medical Campus is expanding its reach to improve health care on a global scale through a series of new massive open online courses (MOOCs). Five new MOOCs are scheduled to launch in the coming months.
Jay Lemery
, associate professor of emergency, and wilderness and environmental medicine, explained that the expansion came about by demand. Coursera, the platform that hosts several of CU's courses, sought to expand its reach in health care and CU Anschutz answered the call.
"We're going to try to be an innovator in the field and take advantage of this huge growth opportunity," Lemery said. "This is the future. As the cost of education goes up and barriers to access go down, we're in the middle of it, helping define it."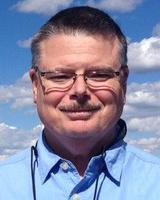 Palliative Care: It's not Just Hospice Anymore – led by
F. Amos Bailey
, professor of internal medicine – will launch in September. It's the first offering of its kind from CU Anschutz.
"This program is designed to provide primary palliative care education to all health care providers in the USA but also around the world," Bailey explained. "The course will explain the many domains of suffering, communication skills, ways to ease pain and non-pain symptoms and how to ease psychological, social and spiritual distress."
The course will benefit nurses, physicians, pharmacist, social workers, spiritual-cares providers and others working with individuals and their families living with serious and life-limiting illness, Bailey said. "Patients and families will benefit from the content as they learn to advocate for themselves."
"The Palliative Care Team is a group of true professionals passionately dedicated to their work. They have developed a warm, empathic, and well-delivered series of courses that have received very high reviews in beta-testing," said Jill Lester, CU system MOOCs Initiative Program manager. "Their learners will range from health care professionals to caretakers working with patients facing end-of-life."
In January, a specialization on creating healthy learning environments and promoting child health through school and community partnerships will be offered by
Hilary Stempel
, assistant professor of pediatrics. The School Health – Key Components for Establishing Healthy Learning Environments Specialization targets health professionals working with school-aged children.
"We intend for this course to be accessible to those with limited health care training and educational staff who interact with children on a daily basis." Stempel said. Beneficiaries might be primary care providers – such as, pediatricians, family medicine doctors, pediatric nurse practitioners, pediatric physician assistants – as well as other health professionals, such as school nurses, school counselors, school social workers and school psychologists.
"Youth-serving adults, such as, school administrators, teachers, school safety officers and school health coordinators are encouraged to take the course as their role in fostering a healthy and supportive learning environment for students is critical," Stempel said. Lastly, she said, "Parents and caregivers will take-away knowledge useful for advocating for healthy schools."
Other courses and specializations coming online in January through CU Anschutz include emergency medical training, newborn health care, and practical informatics. This latter specialization uses real-world healthcare and pharmaceutical contexts and challenges to prepare learners for the scenarios they will face as clinical data scientists, as they provide data and analyses to help health care providers make clinical decisions and plans for a patient's best outcome.
The emergency medicine specialization offers practical content that prepares learners to become EMTs (emergency medical technicians). Jaimie Henthorn, director of digital education and engagement, said working with the EMT team to prepare the courses is exhilarating.
"These faculty and paramedics are putting content online that can be directly utilized by learners to act at first responders or, in the US, to qualify to sit for the EMT certification exam. Each video, each lesson, each course created offers information and training that has the potential to save lives," Henthorn said.
Lemery said a large part of the benefit of the courses is not only the reach across the globe, but across the campuses.
"It's breaking down barriers. It's a cross-disciplinary endeavor," he said. "You think about health care, we know it's a growing sector of the economy and the projections say it will remain so for 10 or 20 years."
The access to this expansive and free-or-low-cost learning is imperative as we advance as a global society and to fill the demand for access.
In addition to CU Anschutz, Cory Pavicich, program manager in the Office of Strategic Initiatives at CU Boulder, said the Boulder campus is planning to launch specializations this fall in high performance computing, power electronics, embedded systems engineering and optical engineering.
"Being able to train a competent work force cheaply, efficiently, conveniently is something we're all invested it," Lemery said. "In that regard I think we're in a very strong position because we have great connection with these online drivers of Silicon Valley. It's a real partnership."