November 14, 2016
Avoid the gift that keeps on giving: holiday weight gain
CU Anschutz Health and Wellness Center expert offers tips to eating healthy and getting fit
Community, Education, Healing
Hence now is the time to take steps toward a healthy holiday, said Staci Lupberger, M.S., R.D., clinical trials project manager at the University of Colorado Anschutz Health and Wellness Center.
"In order to not stuff yourself by overeating, especially if you are trying to lose weight, planning is key," Lupberger said. "If you're going to a friend's house or family member's house, contribute to the meal with healthier versions of recipes.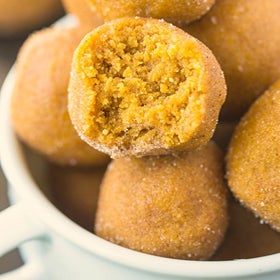 Healthy No Bake Pumpkin Spice Latte Bites
Easy, delicious cake-like bites which tastes exactly like a pumpkin spice latte but much healthier for you and only take 5 minutes to whip up!
"Another way to plan ahead is to visualize the foods you are going to eat ahead of time. Picture your plate and what foods you will consume that are the healthier options – this will help you when you get in front of the buffet and are overwhelmed with choices. Stick with what you have planned on eating."
Spending time with friends or family out of state? Plan a trip to the local grocery store in the area to stock up on healthy snack options, she said. "Don't get stuck eating the high calorie snacks and foods that are sitting around." Lupberger also recommends mapping out ahead of time a nearby trail, walking path, track at a local high school or finding the closest gym and getting a guest pass.
"If taking a road trip, pack a cooler full of fruit, vegetables, low-fat yogurt and nuts – this will help you avoid stopping off at fast food restaurants," she said.
And while it's easy to think, hey, it's just one day of gluttony, what can it hurt? Lupberger stressed that's not the case.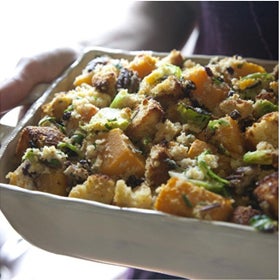 Healthy Holiday Stuffing
This recipe is veggie heavy and can even be made the day before!
"One of the biggest issues related to weight gain over the holidays is that we look at the holidays as a 'season' of eating rather than one Thanksgiving meal or one holiday meal in December," she said. "Most people have leftovers and the one meal becomes a few days of meals, not to mention holiday parties at the office."
In the holiday spirit of giving and maintaining your waistline, Lupberger recommends donating excess food.
"Buy some extra Tupperware and have your guests take home leftovers, especially those extra pies, or take your extra food to a local food bank or pantry," she said. "And of course stop when you feel full – skip dessert if you need to – it will be there later."
A little more motivation and planning ahead can easily make for a happy, healthy holiday.
Other 'steps' to take for a healthy holiday
While the average weight gain over the holidays is 1 pound for people of normal weight, research has shown that it is up to 5 pounds for those who are overweight or obese. Additionally, weight gain over the holiday season explains 51 percent of annual weight gain among the entire population. And that extra weight is the holiday gift that keeps on giving – most people never lose it. Better to get or stay active and not put it on in the first place.
Staci Lupberger, M.S., R.D., clinical trials project manager at the University of Colorado Anschutz Health and Wellness Center, recommends fitting in exercise over the holidays anywhere you can:
Ask family members to join you on a hike or a bike ride after the main meal
Pack a jump rope in your suitcase or borrow a yoga mat from your hotel
Wake up 30-45 minutes earlier than your house guests to take a morning walk
Park farther from the shopping stores
Take the stairs instead of the elevator
"Research has also shown that breaking up 30 minutes of exercise into 10 minute increments of exercise has a similar effect as one long session – so fit it in to help increase your metabolic flexibility around a time when you may consume more calories," she said.