November 2, 2017
ALL FOUR: People - Scott Kupferman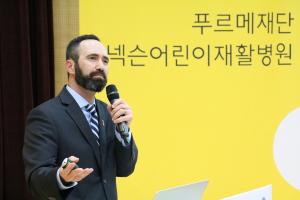 Scott Kupferman, Ph.D., CRC is an assistant professor in the College of Education and co-coordinator of the Special Education Program at the University of Colorado Colorado Springs (UCCS). He is also the director of the National Collaborative for Disability and Technology (NCDT), a network of 200+ engineers and people with disabilities who work together to co-develop assistive technology. Kupferman's research interests include assistive technology, accessibility and universal design, and the transition from high school to college, employment, and independent living for people with disabilities.
1. How has the University of Colorado benefited your research into assistive technology?
Much of my research uses technology to address social and environmental barriers for people with disabilities. With CU being so well connected, both within Colorado and beyond, I am able to address these barriers by collaborating with a larger network of people — from people with disabilities, families, teachers, engineers, and computer scientists. This collaboration has materialized into the National Collaborative for Disability and Technology, which has developed over 45 innovative software and hardware applications that are currently being used by thousands of people with disabilities. I recently had an opportunity to share this work at a United Nations symposium in South Korea and will do so again in Dubai in December. CU certainly has an international reach!
2. Throughout your work, what benefits have you seen come directly from the University of Colorado?
UCCS, in particular, strongly engages our undergraduate students in research experiences. This aids in both my development of new technology – from an interactive social skill application for people with autism, to dynamic video captions where you can actually interact with the video for people who are deaf or hard of hearing – to the actual integration and support of technology being used in local schools. The eagerness, fresh ideas and proactive attitudes of our undergraduate students have helped tremendously.
CU also encourages innovative teaching practices by faculty, which filters into my research activities. For example, I co-teach most of my courses with people who have disabilities, including a friend and colleague who has cerebral palsy and communicates via eye blinks. We've taught together over the past four years and through this experience, we've developed a camera system for him to be able to control his own PowerPoint presentations and communicate using his eyes. The system allows us to work together to co-develop, co-teach and co-grade all of our coursework. We are true partners.
3. Why CU?
I was drawn to CU, and specifically the UCCS College of Education, because of our fundamental philosophy of inclusive education. For example, compared to the status quo of special education and general education programs being in completely separate departments, the UCCS College of Education has merged these programs into a joint department. This allows me to prepare ALL teachers to teach ALL students, including those with disabilities. The opportunity to engage with both general education and special education teachers was the primary draw for me to come here. It's a real philosophy, a real mindset, within the UCCS College of Education.
4. If you could give one reason why students should come to CU, what would you say?
We are fortunate here to have a true balance of experiences for students. From having a local Colorado connection to sharing an international community, I'd say that you really get the best of both worlds in terms of building networks and communities while enrolled as students and beyond as alumni.
5. What do you find the most inspiring aspect of working with CU?
The most inspiring aspect has really been about trying to change the perspective of the term "disability." Compared to seeing a disability as a problem within a person that needs to be fixed or cured, my approach to research is to look at environmental and social barriers that prevent access and inclusion. I'm not trying to fix the person; I'm trying to fix the environment and society. And across CU, we have a Disability Studies Cross-Campus Coalition that has worked to perpetuate that mindset through workshops, information sharing and even a certificate program. The CU Coleman Institute has greatly helped as well. Having support within CU and working with people on other campuses who have the same mindset has been really helpful.