Q&A: CU-Boulder grad Layne Jackson Hubbard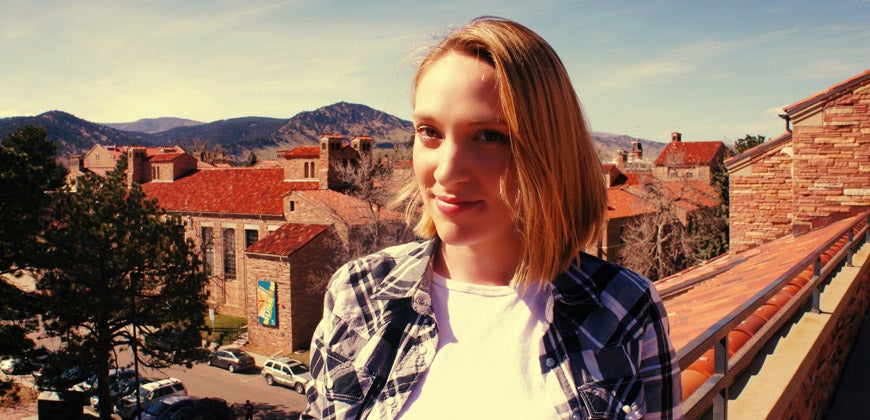 Hubbard, who graduated May 9, was just awarded CU-Boulder's Chancellor's Fellowship, which will pay her way through graduate school at CU-Boulder beginning this fall when she will start a Ph.D. program in computer science. While her graduate work is in computer science, her interests also lie in understanding humans, particularly how to use technology to create changes that benefit communities.
"I became interested in neuroscience because I want to support the well-being of our population," Hubbard said. "The more we understand ourselves, the more we can do for ourselves. But neuroscience uses a lot of computational techniques, and I realized that I couldn't critique or utilize these approaches if I didn't understand them."
One class project in particular helped show Hubbard how she could combine her passion for public service with the problem solving capabilities developed through computer science.
As part of the undergraduate course, Hubbard organized a team of students to create an app called "TakeBack." The underlying goal was to "empower people to identify, share and solve problems in their neighborhood environments by creating an app where users could snap a photo of space, tag its location, upload it to the site, share it with others and then begin collaborating."
Hubbard worked as project manager, and continued to develop the project through another course on campus. After testing the app for usability, the team developed a "Ruby on Rails" app that won second place for best project.
Before starting graduate school, Hubbard is interning in product management at FindTheBest, a data-driven tech startup, in Santa Barbara, California.
More with Layne Jackson Hubbard:
Tell me about your path to CU-Boulder, why did you decide to attend school here?
I taught preschool before I came to CU-Boulder and I really enjoyed helping my students find their strengths and move past obstacles. Then, in the summer of 2010, I traveled to the Dominican Republic to work at a library that served as a safe learning space for kids and teens. I took directions from local leaders who were combating the rise of human trafficking and exploitation in the area. I led a daily art program and the kids were incredible. Every day they showed up on their own accord and ready to work. They took charge of their opportunities and it inspired me to take charge of mine. So I decided to learn from the lessons I taught my own students and go back to school.
It was really scary for me. I didn't know how I would support myself or what would happen if something went wrong. I planned to go to school in Denver because it was more affordable, but I was really attracted to the strong research and neuroscience program at CU-Boulder. When I won a small scholarship, I decided to take a leap of faith: I told myself that it would be the first of many. So I enrolled in CU.
Tell me about a project, student group, or research here at CU that you are most passionate about.
Student government (CUSG), hands down. Not only do I work with a talented group of people, but we also look out for each other. Working in student government has given me the ability to turn my insights into action, and now instead of seeing limitations, I see opportunity. I helped advocate for the new neuroscience major by presenting to the Board of Regents, I helped create a much-needed student advisory committee in engineering by working with the deans, I am responding to requests from students and faculty to develop a Public Health Certificate at CU, and I am collaborating with University Libraries and the Boulder Faculty Assembly to bring free, open textbooks to our classrooms.
What are your long-term goals once you graduate?
I want to influence the way we live by transforming research into practice. I was awarded the Chancellor's Fellowship to start the Computer Science PhD program in the fall and will be learning from an incredible human-centered computing research team in the Sikuli Lab. Other than that, I'm keeping my future open.
Tell me about your connection to the Guardian Scholars program.
I am a Guardian Scholar. The Guardian family looks out for me and makes sure I have everything I need to succeed. It's also nice to know that there are other people on campus who share my background.
What advice can you offer other students who are just starting at CU?
Ask for help when you need it. Really. Do it.
What accomplishment at CU, or at this point in your life, are you most proud of? Just who I am. There's so many crossroads in life, I'm honestly surprised sometimes that I've been able to maintain my original spirit. It's still a work in progress though.
What's your favorite thing about being a student at CU?
I can't lie, it was a culture shock for me, but there are so many opportunities and resources, it feels amazing to try and make the most of them. The fact is, traditional programs don't always work well for nontraditional students like me. But when I voice our needs, the university responds. I've never felt this supported.
What are some of your interests outside school?
I love to dance! I dance bachata, merengue, cumbia and salsa at clubs in Boulder and Denver. There's so many great dancers to learn from and it's an amazing workout. I was part of a Hawaiian dance group, Keaka O Kalani, that performs at festivals and showcases. Hula is very graceful and embedded with such strong symbolism. And, I love learning new dances from West Africa, mostly from YouTube and in my living room. Azonto is my favorite.
How can people follow-up with you?
You can email me at layne.hubbard@colorado.edu, you can find me at linkedin.com/in/dreamlayne, or you can check out my startup project at takebackapp.com.