Health and harmony for the homeless
CU Anschutz students understand health care goes beyond medical attention
Aurora Day Resource Center
.
Thirty-two students from the College of Nursing, Child Health Associate-Physician Assistant (CHA/PA) program and the School of Medicine provided multiple health screenings, including blood glucose, blood pressure and pulse oximetry. The students were mainly first-year and some second- and fourth-year students from CU's Urban Underserved Track (UUT) – which hosted the event.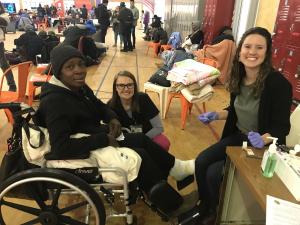 Courtesy of Urban Underserved Track
Luisa Fernandez, second year Physician Assistant student at CU School of Medicine, said of the 36 homeless people treated, 20 people received foot care. Six others received flu shots thanks to donations from the Inner City Health Center. Fernandez said the student volunteers also provided educational material, hand warmers, lotion, shampoo, nail clippers, Chapstick, nail files, water bottles, backpacks, foot powder, Vaseline, about 200 pairs of socks – and joy -- to more than 100 people facing homelessness who visited the ADRC that day.
Just as important, the homeless received a heavy dose of compassion.
"As humans we all need to form interpersonal connections and just the simple gesture of speaking with individuals, asking them how they're doing," said Jeremy Ansah-Twum, a first-year student in the CU School of Medicine. "Letting them know that people care about them goes a long way to their overall wellbeing."
First-year medical student Clayton Hoffman said the people they assisted were kind and friendly, and had simply run into unfortunate circumstances.
"Overall, my heart was warmed to converse with many individuals who had a genuine positive attitude," he said. "More than anything, I think this community is in need of hope and encouragement to overcome the adversity they are faced with."
Ansah-Twum played the guitar at one of the wellness stations with a small group of homeless individuals. Some of which, he said, were very talented.
"A man approached the circle and busted out his harmonica," he said. "Near the end of the event, he mentioned that he was going to start walking toward downtown and try to find a ride to the 16th Street Mall to play his harmonica because 'that's how I make money for food.' That statement definitely stood out to me." The man also hopes to get together with Ansah-Twum to play again.
"One individual who I worked with had just gotten off a 12-hour overnight shift shoveling snow. He was elated because later that week he would be picking up the first car he was able to purchase in years," he said. "On account of his hard work and dedication to improving his life, he finally had something tangible he could show for it. I applauded him for his dedication and took in the moment to appreciate what an accomplishment it was for him; and how something as simple as personal transportation could make such a life-changing difference."
"Providing these individuals with transportation, such as bus passes, and information on where to go to receive full health care as well as how to get signed up for Medicaid/health care benefits has – in my opinion – the biggest impact on the overall health status of the homeless community," Ansah-Twum said.
"My hope for these communities is that they can develop positive relationships with both each other and the surrounding support networks – like the university – to create an environment that fosters healing and recovery," Hoffman said.
The health fair was a success and an inspiration for the students and the four faculty who donated their time and supervision: Dr. Jamaluddin Moloo, UUT director; Dr. Jane Kass-Wolff UUT faculty from the College of Nursing; Tanya Fernandez, faculty and clinical course director from CHA/PA program; and Dr. Erik Wallace, associate dean for Colorado Springs Branch of School of Medicine.
It left all involved committed to doing more.
"The Urban Underserved Track has done an excellent job providing its students with exposure to the different local resources that provide services to underserved populations, but these experiences have been primarily unique to the track," Ansah-Twum said. "CU Anschutz can take an active role in encouraging student and faculty participation in community health service events such as the ADRC Health Fair."
"I think through more health resources (like the flu shots) and a more consistent support structure it would be possible to arrange health fairs like we had on a consistent basis," Hoffman said. "Through continuing development, the opportunities could reach beyond medical students to allow for all medical professionals at the university to volunteer, and potentially incorporate individuals dedicated to improving health care access to the ADRC community."
Fernandez said that's in the works.
"In partnership with Inner City Health we hope to offer a health screening at Aurora Day Resource Center at least once a semester," she said. "We will also have our 11th annual foot care clinic at the downtown homeless shelters in the fall of 2020. We have also had health fairs serving the refugee and immigrant community for the past two years, that we hope we can make possible again this year."