Appreciating Krisana Park's history, character
CU Denver teams with Historic Denver to preserve the integrity of mid-century Denver homes

By Cathy Beuten | CU system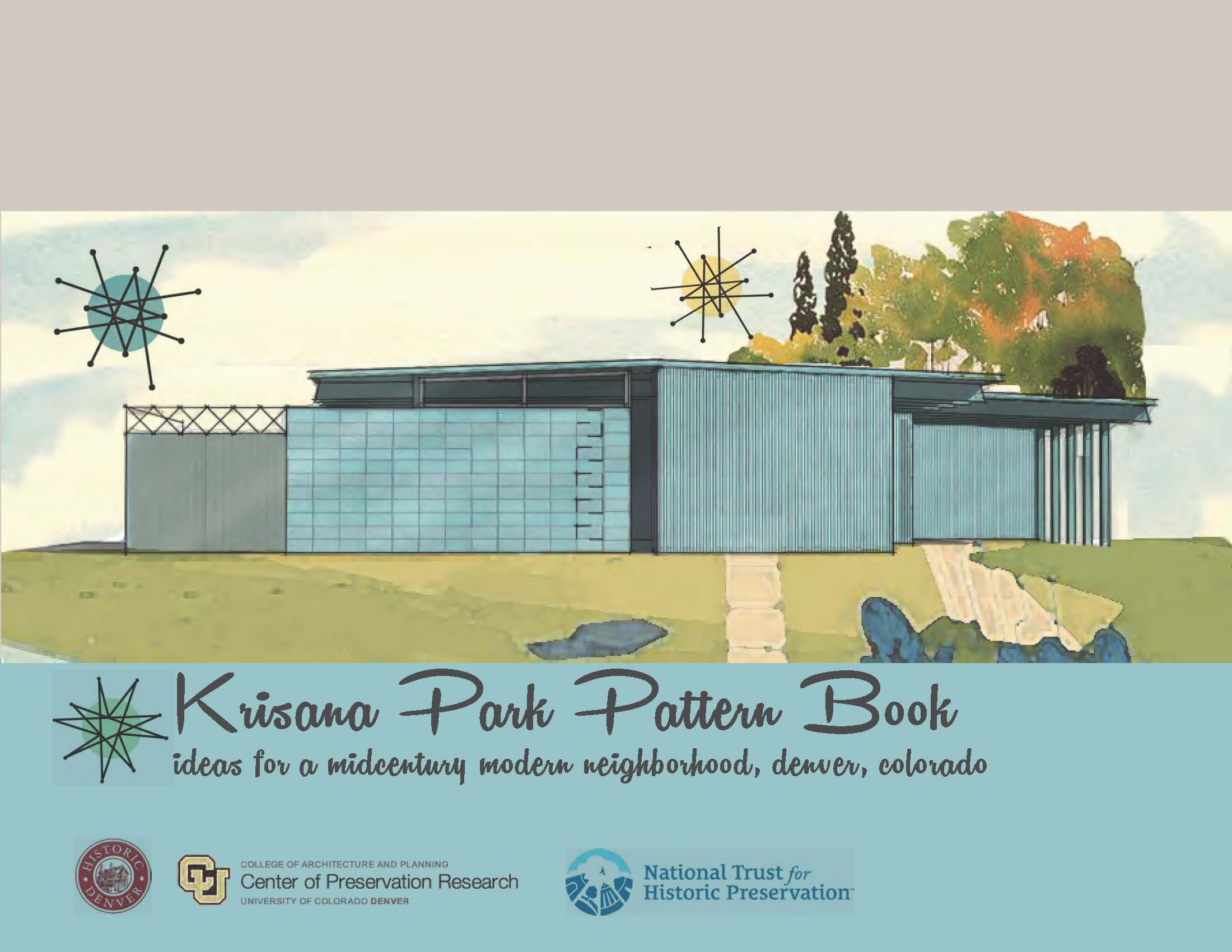 The economy was in better condition than any other country in the world and public policy – such as the GI Bill of Rights passed in 1944 – provided money for veterans to attend college, purchase homes and buy farms. The overall policies aided returning veterans, prompting them to begin families and have children by the truckloads.
Taking shape in downtown Denver in the early 1950s was a modern neighborhood of 175 homes befitting an Ozzie and Harriet family lifestyle. Krisana Park, developed by H.B. Wolff and his son Brad Wolff, aimed to help fill the postwar housing shortage, with prices starting at $15,950 and financing plans for veterans of $50 down and $104.02 a month. 
Touted as "3-D contemporary" homes, the angular styles and modern construction of Denver's first properly planned subdivision still possess a charming Leave It to Beaver beauty today. And the neighborhood would like it to stay that way.
Enter Historic Denver. Becca Dierschow, preservation and research coordinator, said their organization reached out to the neighbors in July 2013, letting them know that they would help them address the unique challenges mid-century modern homes pose for modern homeowners.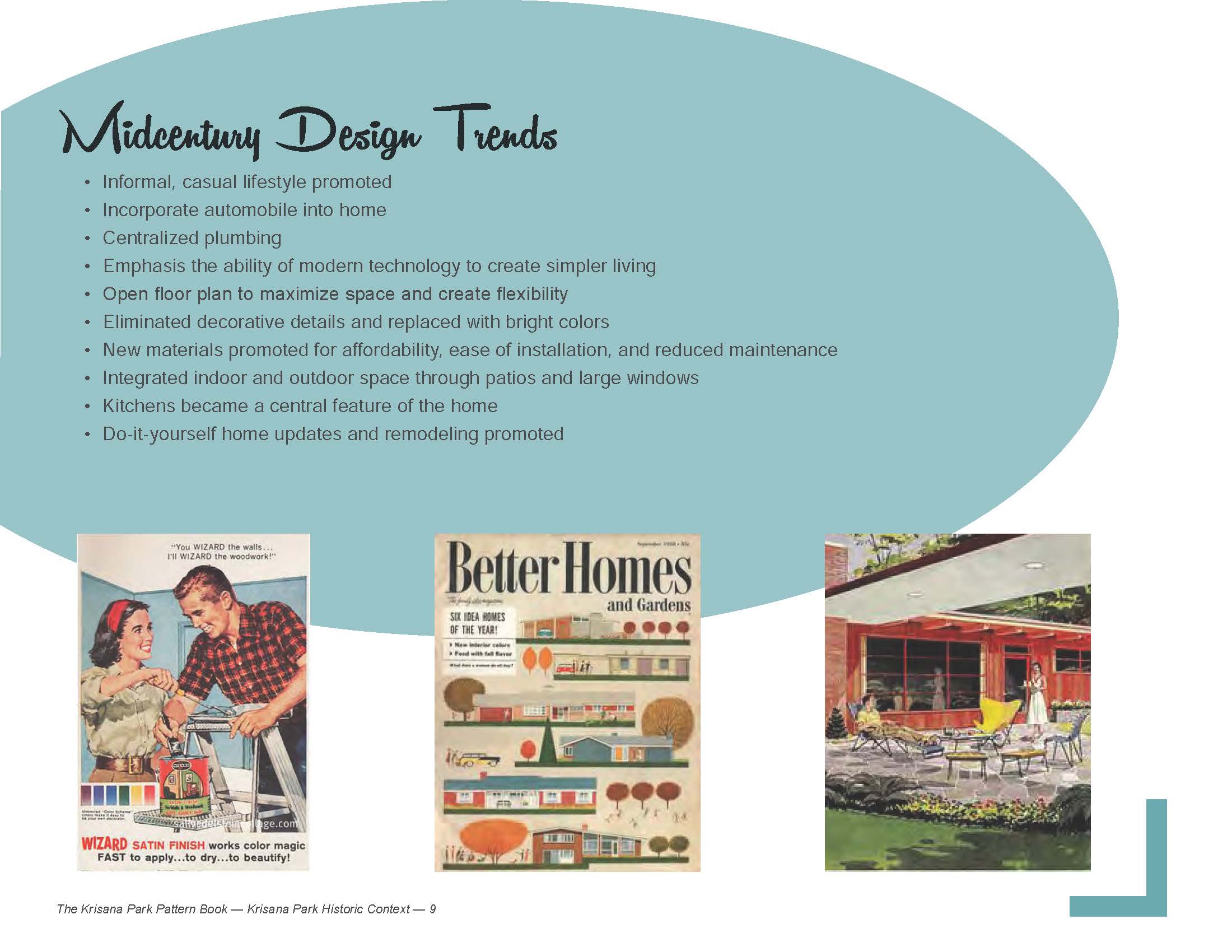 After coming up with the project idea, Historic Denver hired the staff and students at the
Center of Preservation Research
(CoPR) in
CU Denver
's
College of Architecture and Planning
to develop the pattern book. Historic Denver, which organized and funded the project, received a grant from the National Trust for Historic Preservation to help them fund the project. Together the team took on the challenge providing Krisana Park residents insights on what to upgrade or update and what to leave alone to best secure the integrity of the neighborhood for another 65 years.
The result is the Krisana Park Pattern Book: Ideas for a Mid-Century Neighborhood. It offers ideas, inspiration and encouragement to homeowners.
"Everyone in Krisana Park loves their home for the architecture—and this pattern book will help them articulate what makes their homes so unique and how they differ from the surrounding post-war ranch homes," Dierschow said. "Ideally, this pattern book will be shared with future home owners who might want to make changes to their homes and will help preserve the character of Krisana Park for future generations."
The 65-page book is filled with helpful hints, art and graphics that capture the look and feel of the modern mid-century home and family.
There are no guidelines regulating the treatment of the homes, "but a common understanding of the neighborhoods' key characteristics and a common commitment to honor those characteristics can support the ongoing success of Krisana Park," she said.
The neighborhood sits north to south from East Louisiana to East Florida avenues, and east to west from about South Fairfax to Dahlia streets. Breaking away from the standard ranch-style homes, the Wolffs incorporated elements of international style, softened into a more widespread, popular style. Homes feature large windows facing an interior courtyard or backyard – just right for entertaining – and smaller windows for the façade.
Other unique qualities included a flat or low-pitch gabled roof, an entrance that is hidden on the side and irregular placement, with varied orientation to the street.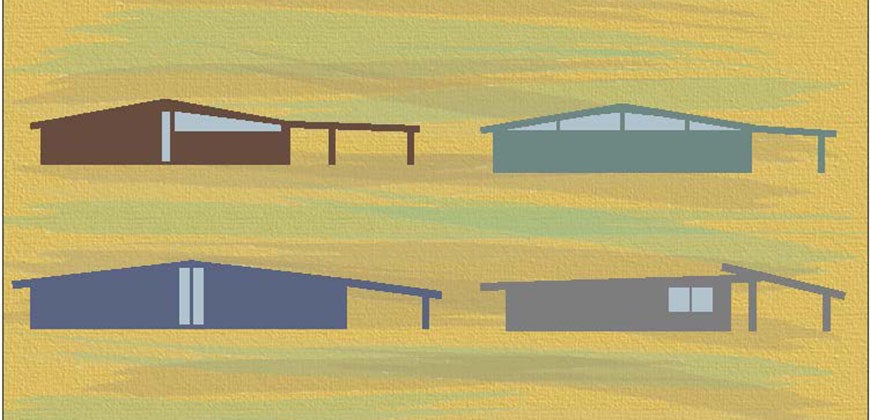 The students, faculty and other preservationists concluded that with this neighborhood, less is more, providing recommendations such as:
Replacing the original siding only if necessary. If necessary, it should be replaced with vertically oriented siding. Covering the walls with horizontal siding, vinyl siding, stucco, or stone is not compatible with the historic character of Krisana Park.
If using paint, a muted, natural color palette is most appropriate. Use matte or eggshell paint; shiny surfaces are inappropriate for these homes. Semi-gloss can be used in wet areas.
If original coordinating tile and fixtures are present, embrace them! Nothing else says mid-century modern like pastel tubs and sinks! Restore or clean the hardware and grout. Re-plumb and replace the "innards" to make everything more efficient.
Original cabinet fronts should be maintained or replicated if possible to retain the original look of your home. You can build in modern conveniences behind the original cabinets and have fronts made to match for addition units. If you need to replace the cabinets, use fronts with clean lines- slabs only, no moldings or panels. Granite is not generally appropriate aesthetically for a mid-century modern kitchen.
The team also suggested design adaptations to bring the homes in line with the times, without compromising their historical esthetic value:
Additions should use similar, compatible materials to the original house. Vertical siding is ideal. The walls of the addition do not have to match the original, but they should blend with it.
Additions should use similar window types to those on the original house. Windows should be placed in organized patterns and not randomly scattered.
Additions should have low-pitched or flat roofs with a deep eave overhang. Roof lines should not conflict with or obscure the original roof form. All fascias should match the dimensions of the original roof.
The care and attention to detail the neighborhood has enjoyed for more than a half century has paid off for its residents.
CoPR at CU Denver's College of Architecture and Planning has been instrumental in helping residents maintain and grow the value or their homes in Denver and throughout Colorado. The center is dedicated to the study, preservation and sustainable use of the built environment and cultural landscapes across the state. 
"We focus on place, preservation, education and research," Christman said. "Through education and scholarship, our exploration of the past for application in the present provides a basis for future sustainable preservation."