The Communications Committee is responsible for the collection and distribution of information between SSC and System Administration employees.
Committee members: Katie Princo, Elisha Garza, Sarah Wallace, Heather Harrison Thorwald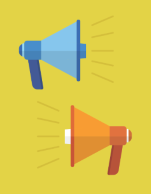 Tasks the committee handles:
One person attends training for one Marketing Cloud (and one Cvent) license to:
Send monthly SSC newsletters and occassional individual emails
Standardize formats for all System Staff Council communication, including designing email templates, proofreading and disseminating all SSC communications
Coordinating all SSC communications for effective scheduling of event announcements
Maintaining the SSC website and updating news and events information
Creating and maintaining an SSC informational brochure and other print materials
---
We'd love to hear from you!
Please use the button below to email a comment, question, or suggestion to the Communications Committee.