By definition, "governance" is a method of establishing chains of accountability, empowerment, management, and communication to effectively make and implement decisions.
IT governance is then the set of processes that ensure effective and efficient use of information technology (IT) in order to enable an organization to meet its goals.
An IT governance model establishes who is empowered to evaluate, prioritize, select, and fund competing IT investment options, as well as oversee the implementation of solutions and measure benefits.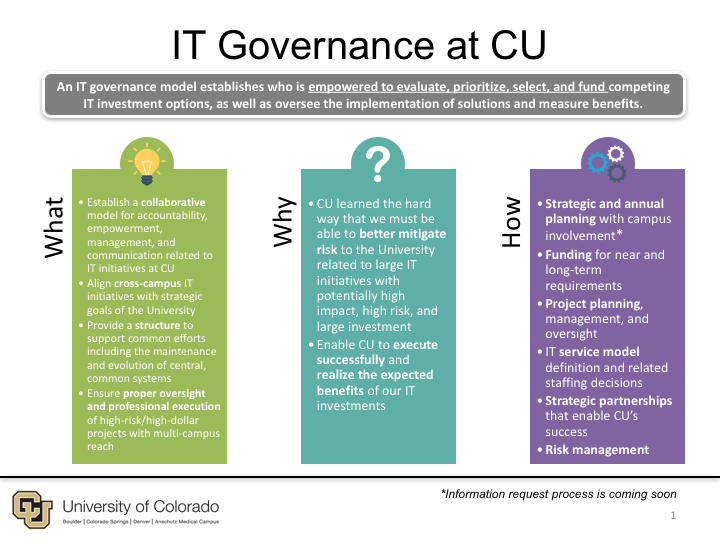 Download the above graphic.
Here at CU, a new, collaborative IT Governance model has recently been established in response to past failures, as well as in support of continuing and upcoming strategic initiatives.
Purpose
Goals

Review and approve future strategic IT investments
Provide oversight to existing investments
Drive structure for collaboration across campuses to support common efforts including the maintenance and evolution of central, common systems

Establish a model that acknowledges the distinct roles and missions of our four campuses
Ensure the model supports the need for common, strategic investment in technology that is critical to achieving our mission as efficiently as possible
Services in-scope: multi-campus IT offerings
Research and Grants
Student Services
Finance Services
HCM Services
Cross Application Services
UIS Organizational services
Advancement Services