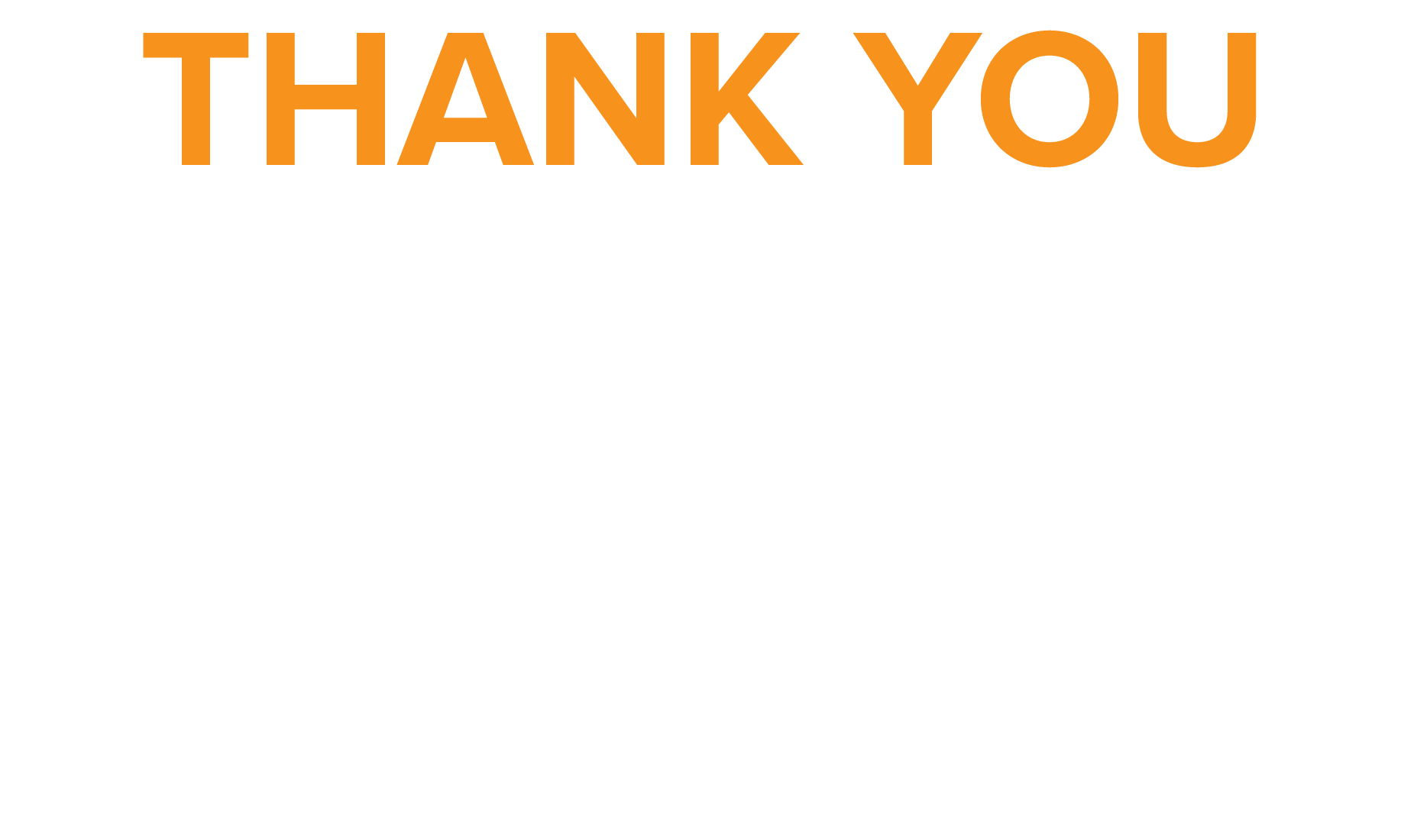 ---
Dr. Miller is a Professor of Psychological Sciences and President's Distinguished Teaching Fellow at Northern Arizona University and author of Minds Online: Teaching Effectively with Technology (Harvard University Press, 2014) and Remembering and Forgetting in the Age of Technology: Teaching, Learning, and the Science of Memory in a Wired World (West Virginia University Press, 2022). Learn more on her website.
In her talk, Realizing the Promise of Teaching with Technology: Insights from the Psychology of Learning, Dr. Miller will present strategies for bringing cognitive and motivational research together in technology-enhanced learning activities that make the most of what we know about how the mind works.
Dr. Miller is passionate about helping instructors create more effective and engaging learning experiences, and helping students become more effective learners, all through the application of principles derived from cognitive psychology and learning sciences.
---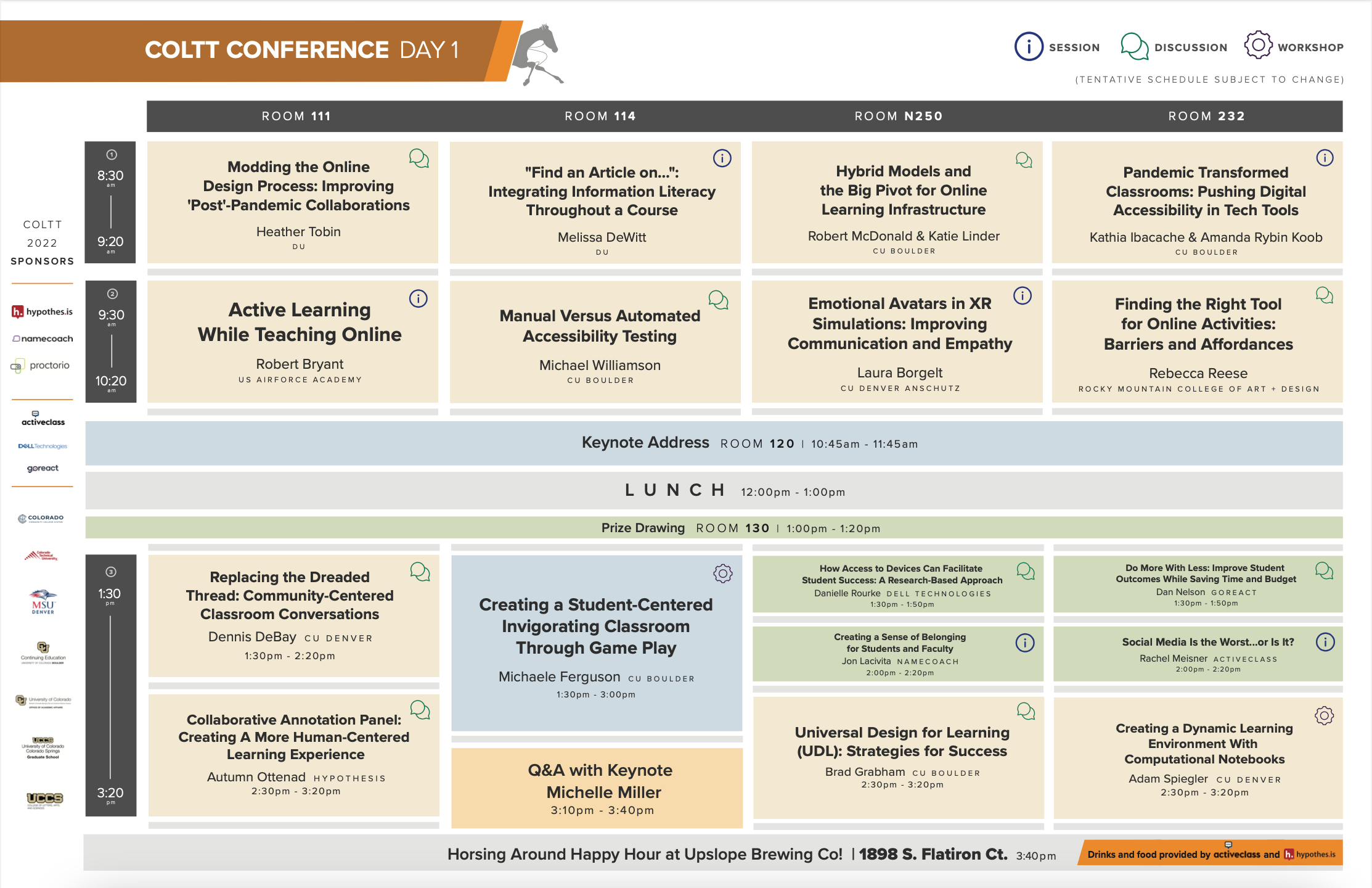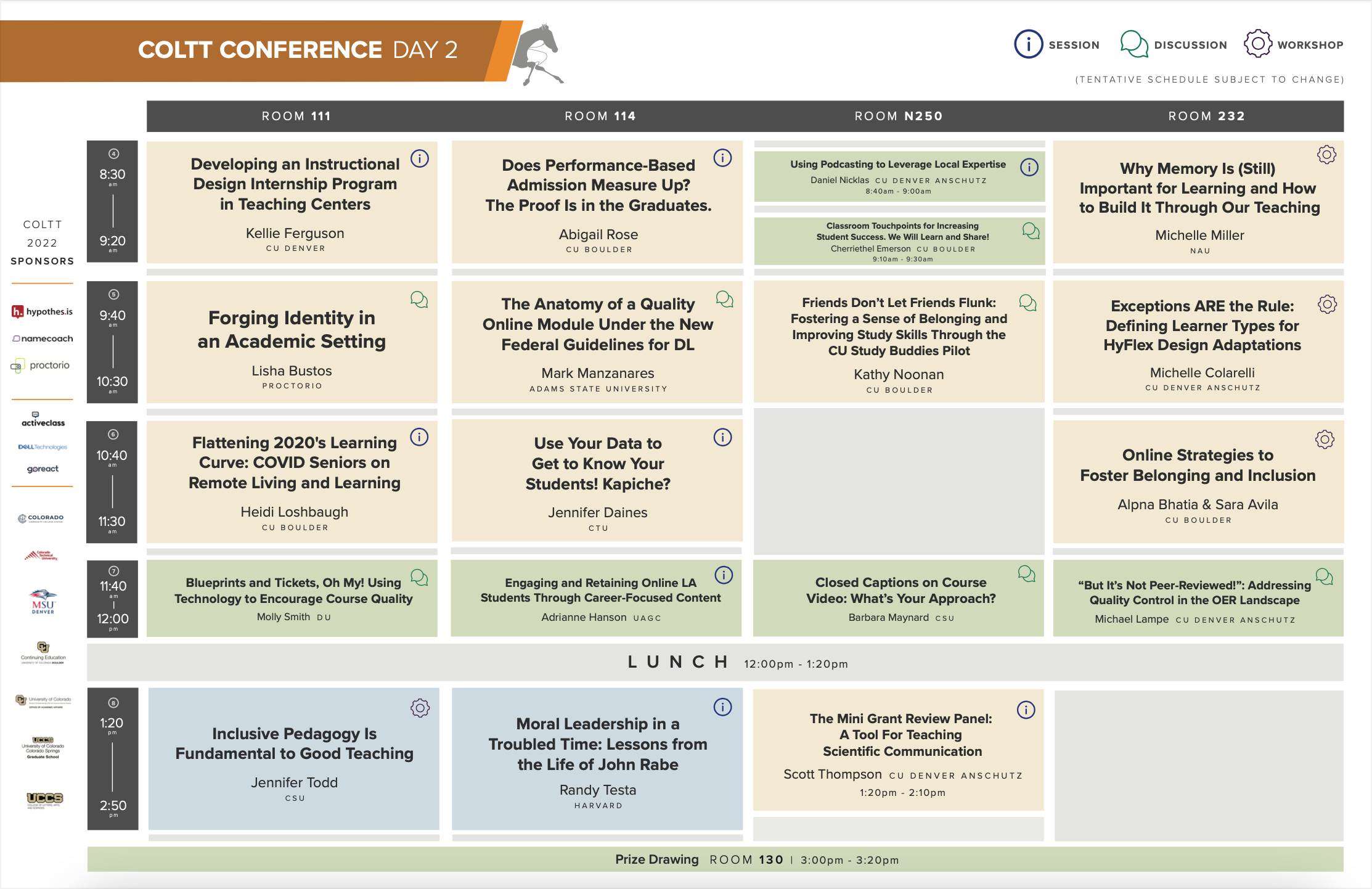 COLTT 2022 SESSIONS
and more schedule info coming each day!

---
Jump to Thursday Pre-recorded Sessions Venue Maps
---
WEDNESDAY, August 3, 2022
Session 1 (50 min) | 8:30 - 9:20 AM
Modding the Online Design Process: Improving 'Post'-Pandemic Collaborations | Heather Tobin
Location: Room 111
Affiliation: University of Denver
Co-Presenter(s): N/A
Description: Looking for an opportunity to actively explore new ideas with colleagues and peers? Join us for this Gamestorming session focused on supporting faculty as course authors in a post-pandemic landscape. Learn more about Gamestorming strategies here https://gamestorming.com.
"Find an Article on…": Integrating Information Literacy Throughout a Course | Melissa DeWitt
Location: Room 114
Affiliation: University of Denver
Co-Presenter(s): N/A
Description: Finding and using information is an essential skill in the classroom; however, students come from a variety of backgrounds and may hold myths about finding and using information. Instructors may have misconceptions about what students know about research. Some of our assignments and courses can also perpetuate common information myths. Weaving information literacy throughout the course design process, and leveraging technology to create meaningful learning activities can help students understand and navigate the information landscape. Participants will learn about existing ideas, and have the opportunity to consider future assignments and activities to try in their own courses.
Hybrid Models and the Big Pivot for Online Learning Infrastructure | Robert McDonald & Katie Linder
Location: Room N250
Affiliation: University of Colorado Boulder
Co-Presenter(s): Laura Borgelt, Nathan Bullock
Description: A hybrid campus model allows all learners across modalities to receive a consistent student experience prioritizing equitable and personalized support. This model is essential in this post-pandemic landscape and may be critical for many institutions as they shift their digital education strategies. In this session, leaders in online teaching and learning from all four campuses of the University of Colorado System will share their experiences from a 9-month process from conception and planning to implementation, and share lessons learned.
Pandemic Transformed Classrooms: Pushing Digital Accessibility in Tech Tools | Kathia Ibacache & Amanda Rybin Koob
Location: Room 232
Affiliation: University of Colorado Boulder
Co-Presenter(s): N/A
Description: Educational technologies support instruction by enhancing student engagement and learning opportunities. This was true during emergency remote teaching and learning and continues in pandemic-transformed classrooms. Still, knowing that tech tools may enhance engagement is not enough; we should be asking whether these tech tools are accessible for all students and, if not, what can be done to make them more accessible. During this session, you will engage in an educational activity using Kahoot, Jamboard, Mentimeter, Padlet, or Poll Everywhere. Our goals are to better understand ADA issues and reflect on best practices for digital accessibility no matter what tech tools you typically use.
Session 2 (50 min) | 9:30 - 10:20 AM
Active Learning While Teaching Online | Robert Bryant
Location: Room 111
Affiliation: US Air Force Academy
Co-Presenter(s): N/A
Description: During the pandemic, experienced educators soured on the online modality because they couldn't replicate the learning experience of the physical classroom. Although, 30-years of research has often concluded no significant difference in academic performance when online learning is compared to that of face-to-face instruction, instructors continue to perceive passive learning and lack of socialization as primary pedagogical weaknesses. This session will explore the tools and strategies that are used to effectively create active learning and socialization in the online environment.
Manual Versus Automated Accessibility Testing | Michael Williamson
Location: Room 114
Affiliation: University of Colorado Boulder
Co-Presenter(s): Marisha Lamont-Manfre, Addison Hugen
Description: How does an entity determine if its digital products are accessible? Join us to learn about how CU Boulder conducts accessibility testing and the ways we determine accessibility for our campus. Through discussion and demonstrations, we will outline the benefits and drawbacks of manual and automated accessibility testing. We will explore the importance of screen readers and native assistive technology users in testing. Drawing on the experiences and procedures of the CU's Accessibility Assessment and Usability team, we will give an example of how manual accessibility testing is integrated into campus and why manual testing is vital to understand the overall usability of digital technology.
Emotional Avatars in XR Simulations: Improving Communication and Empathy | Laura Borgelt
Location: Room N250
Affiliation: University of Colorado Anschutz
Co-Presenter(s): Clint Carlson
Description: Join us to learn about and develop social-emotional XR avatars that exhibit verbal and non-verbal responses in conversation. These avatars create opportunities for learners to practice effective communication skills and provide a safe space for conversations about topics, such as diversity, equity, inclusion, and others in a low-stakes environment that can span all demographics. Developing social-emotional XR avatars in the virtual classroom can provide students with opportunities to learn effective and empathetic communication skills that enable them to lead equitably, navigate cultural differences successfully, and maintain a mindset of improvement through immediate feedback.
Finding the Right Tool for Online Activities: Barriers and Affordances | Rebecca Reese
Location: Room 232
Affiliation: Rocky Mountain College of Art and Design
Co-Presenter(s): N/A
Description: Participants will identify a particular activity they currently have for an in person course, and then adapt it for fully online delivery while considering the barriers and affordances technology might present. By considering the barriers and affordances of tools in the online environment before your students ever come to class or start an activity, you create a more inclusive and accessible environment for all learners.
Session 3 (20 min) | 1:30 - 1:50 PM
How Access to Devices Can Facilitate Student Success: A Research-Based Approach | Danielle Rourke
Location: Room N250
Affiliation: Dell Technologies
Co-Presenter(s): Jamie Wittenberg, Rhonda Gonzales Dean
Description: The digital divide between students from different socio-economic backgrounds is nothing new, but the pandemic opened the eyes of schools to the level of disparity across the student body. CU Boulder and CSU Pueblo have embarked on a pilot research study to explore the benefits of one-to-one programs for in-need students. Join us for a session with leaders of the study discussing the motivation for the program, challenges and opportunities, and preliminary results one year into the research. The study was also featured in a whitepaper sponsored by Dell and the Chronicle of Higher Education. Read more here: https://bit.ly/DellCOLTT2022
Do More With Less: Improve Student Outcomes While Saving Time and Budget | Dan Nelson
Location: Room 232
Affiliation: GoReact
Co-Presenter(s): Katie Anderson-Pence
Description: Higher education professionals are often asked—and expected—to do more with less. That means figuring out how to improve student readiness while juggling the realities of limited resources. In this presentation, you'll learn about force multipliers that can help you save time and budget, even as you increase professional practice for your students.
Session 4 (50 min) | 1:30 - 2:20 PM
Replacing the Dreaded Thread: Community-Centered Classroom Conversations | Dennis DeBay
Location: Room 111
Affiliation: University of Colorado Denver
Co-Presenter(s): Josie Smith
Description: As we move toward the building of a hybrid campus, we must create authentic and engaging online learning spaces. Instructors are realizing that in addition to the endless emails that come pouring into their Inboxes every day, keeping track of student needs and answering them quickly is incredibly challenging. Authentic discourse, clear communication, and community building are paramount to student success in online formats. In our 50-minute conversation, we will explore the use of agile learning communities like Slack to engage in meaningful and authentic conversations in our classrooms.
Session 5 (90 min) | 1:30 - 3:00 PM
Creating a Student-Centered Invigorating Classroom Through Game Play | Michaele Ferguson
Location: Room 114
Affiliation: University of Colorado Boulder
Co-Presenter(s): David Paradis, Catherine Kunce, Jacie Moriyama
Description: In this session, we will introduce you to Reacting to the Past, an immersive role-playing pedagogy in which students develop skills in critical thinking, persuasive writing, public speaking, leadership, and teamwork while wrestling with primary texts and important ideas. We will start by playing a mini-game, set in ancient Athens in 405 BCE, as the Athenian Assembly debates whether or not to abandon democracy and surrender to the Spartans and bring an end to 27 years of war. After game play, we will talk about the benefits of role-playing, the use of Slack, and how you can adopt Reacting to the Past into classes across the curriculum, from sciences and engineering to literature and law. This is an active learning session so bring your best game face and let the games begin!
Session 6 (20 min) | 2:00 - 2:20 PM
Creating a Sense of Belonging for Students and Faculty | Jon Lacivita
Location: Room N250
Affiliation: NameCoach
Co-Presenter(s): Lisha Bustos, Kylie Leckliter
Description: Promote a strong sense of belonging for all students on and off-campus from the very first interaction! NameCoach's accurate audio name pronunciation and preferred gender pronoun tool is used to address the subtle but real sense of alienation students may feel when their name is mispronounced or they are misgendered in any educational interaction. The NameCoach tool is integrated seamlessly into the institution's Learning Management Systems, CRMs, or email systems to ensure a user-friendly experience for everyone.
Social Media Is the Worst...or Is It? | Rachel Meisner
Location: Room 232
Affiliation: ActiveClass
Co-Presenter(s): N/A
Description: Here's a Captain Obvious statement for you: Social media is powerful. The phrase alone has the power to spark excitement and strike fear in the hearts of present-day humans. Social media offers society numerous benefits and myriad ills, but regardless of your personal estimation of its net value, one thing is certain: It has your students' attention. In this session, learn how to leverage the power of social media to create authentic engagement inside your courses.
Session 7 (50 min) | 2:30 - 3:20 PM
Collaborative Annotation Panel: Creating A More Human-Centered Learning Experience | Autumn Ottenad
Location: Room 111
Affiliation: Hypothesis
Co-Presenter(s): Wendy Bolyard, Dane Stickney, Miranda Egger, Brandon Poulliot
Description: One way to create a more Human-Centered Learning Experience In this session, Hypothesis, a social annotation tool has put together a panel of distinguished educators from the Colorado area. These educators will speak about how collaborative annotation helps to create a more human-centered or student-centered approach to learning. These instructors go beyond the discussion board and understand why annotating the text together elevates the conversation and pushes the metacognitive practices for the students. The panel is to give an opportunity for instructors who excel at developing instruction driven by students' needs, interests, and goals to share.
Universal Design For Learning (UDL): Strategies for Success | Brad Grabham
Location: Room N250
Affiliation: University of Colorado Boulder
Co-Presenter(s): Karen Crouch, Doris Cheung, Lea Norcross
Description: Participants will enrich their understanding of concepts related to Universal Design for Learning and strengthen their professional course design skills in such ways as to increase the quality of student learning.
Creating a Dynamic Learning Environment With Computational Notebooks | Adam Spiegler
Location: Room 232
Affiliation: Colorado University of Colorado Denver
Co-Presenter(s): Troy Butler, Yaning Liu
Description: This session is designed to engage attendees in the design and implementation process for developing interactive computational notebooks for use in various classroom formats and provide audience members with the tools to create their own materials. Participants will be introduced to the Jupyter and R Markdown notebook environments. We will discuss the various platforms available to run notebooks including options that address issues of equitable access.
Beginners and experts are invited to learn about the recently awarded CU Denver project "OER for the Creation of Interactive Computational Notebooks and a Computational Pathway in Mathematics and Statistics."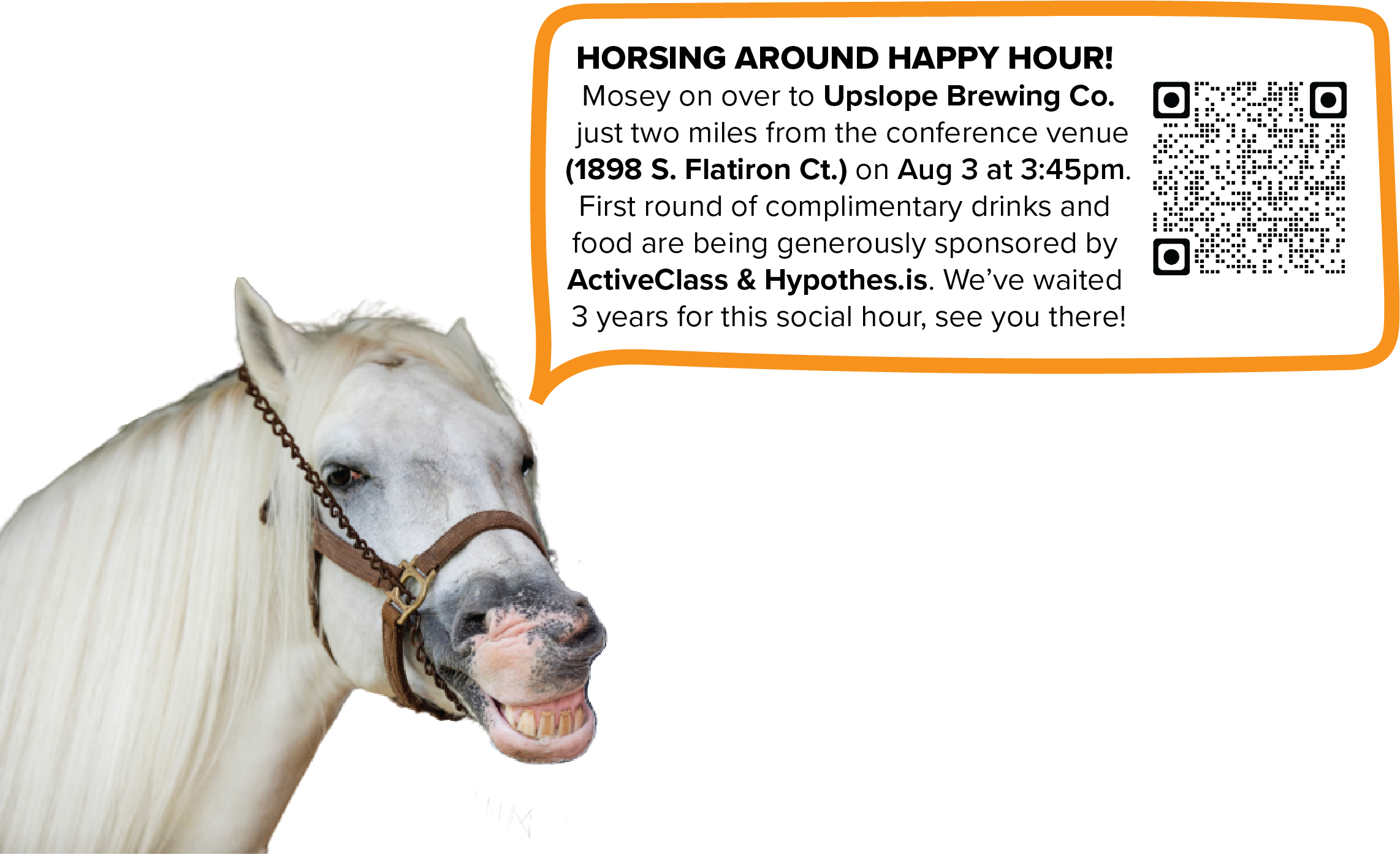 THURSDAY, August 4, 2022
Session 1 (50 min) | 8:30 - 9:20 AM
Developing an Instructional Design Internship Program in Teaching Centers | Kellie Ferguson
Location: Room 111
Affiliation: University of Colorado Denver
Co-Presenter(s): Lindsey Hamilton
Description: Teaching centers, while a valuable resource for faculty, often struggle with limited budgets and understaffing. Integrating an instructional design internship program into a teaching center can help relieve some of the pressure teaching center staff experience while providing beneficial experience for students studying learning technology and instructional design. In this interactive session, CU Denver's teaching center director and one of the instructional design interns from this pilot program will discuss the creation of, challenges to overcome, and benefits of this type of internship program. We will provide a model for setting up a similar program at other teaching centers.
Does Performance-Based Admission Measure Up? The Proof Is in the Graduates. | Abigail Rose
Location: Room 114
Affiliation: University of Colorado Boulder
Co-Presenter(s): Erica Reid, Kaitlyn Rye
Description: If you can do the work–and prove it–you're admitted! That is the motto of CU Boulder's MSDS and MSEE on Coursera programs. These innovative online graduate degrees empower students to earn admission on their own terms. No application, no transcripts, no letters of recommendation, nothing. At its genesis, we asked one burning question: will PBA work? We are here to say "Yes!" and we have the data to prove it. Representatives from the Office of Digital Engineering, the Data Science Program, and the Department of Electrical, Computer, and Energy Engineering will share Boulder's performance-based admissions experience and results from 3 years of admissions and graduations.
Why Memory Is (Still) Important for Learning and How to Build It Through Our Teaching | Michelle Miller
Location: Room 232
Affiliation: Northern Arizona University
Co-Presenter(s): N/A
Description: Today's faculty are wary of over-emphasizing memory and memorization in their courses. This aversion reflects a wide variety of valid concerns, from the wish to nurture higher thinking skills, to resisting a culture of over-testing in K-12 education, to repudiation of an outdated and hierarchical "banking" model of learning. However, neglecting or avoiding memory in our teaching creates missed opportunities to take advantage of new research on the importance of developing a knowledge base during learning. It also sets students up to fail in situations where relying on the Internet for information is impractical. This workshop challenges common myths and misconceptions about memory and learning, reviews provocative new research linking memory to thinking skills, and offers techniques and technologies that help students develop a solid base of knowledge.
Session 2 (20 min) | 8:40 - 9:00 AM
Using Podcasting to Leverage Local Expertise | Daniel Nicklas
Location: Room N250
Affiliation: University of Colorado Anschutz
Co-Presenter(s): Alison Brent, Carla Torres-Zegarra
Description: It is crucial for pediatric providers to have access to current, evidence-based education specific to patients during the COVID-19 pandemic. Leveraging podcasts in both English ("Charting Pediatrics") and Spanish ("Pediatras En Linea") promoted global real time dissemination. Our hosts interviewed experts on COVID-19 topics including epidemiology, women's issues, vaccines, and mental health yielding more than 50 episodes. The combination of English and Spanish podcasts provided real time delivery of high-quality clinical education cross-culturally. We will break into small groups to brainstorm ways to apply our structure in order to leverage local expertise in other academic areas.
Session 3 (20 min) | 9:10 - 9:30 AM
Classroom Touchpoints for Increasing Student Success. We Will Learn and Share! | Cherriethel Emerson
Location: Room N250
Affiliation: University of Colorado Boulder
Co-Presenter(s): N/A
Description: My personal interest has always been in developing motivational programs. I have worked in diverse occupations: education, high-tech manufacturing, online gaming and private prisons. In each, there are identifiable touchpoints, where an individual's lack of motivation may seem insurmountable. Yet, overcome with timely and appropriate intervention.
This 20 minute session will be fast paced. (1) I will share a few of my touchpoints and the intervention taken, and the result. (2) We will break into 2-3 person groups and you can share your touchpoints and successful intervention. (3) We will regroup and hear small group reports. (4) I will summarize. Please join us.
Session 4 (50 min) | 9:40 - 10:30 AM
Forging Identity in an Academic Setting | Lisha Bustos
Location: Room 111
Affiliation: Proctorio
Co-Presenter(s): Joanne Addison, Stanna Michelle Slater, David Lux
Description: Can remote proctoring be a tool to promote diversity, equity and inclusion in education? Join us for a panel discussion about the history of LGBTQ representation in education, the challenges faced and the technological advances that allow for those doors to higher ed to remain open to everyone.
The Anatomy of a Quality Online Module Under the New Federal Guidelines for DL | Mark Manzanares
Location: Room 114
Affiliation: Adams State University
Co-Presenter(s): N/A
Description: Using best practices in online learning and the new federal regulations on regular and substantive engagement and Interactions, this presentation will discuss the components of a quality online course. Institutions currently offering online courses, considering moving to an online format, or are just trying to understand the new rules will benefit from understanding the anatomy of a quality online course and what regular and substantive engagement and Interactions really means. Participants will be encouraged to share what they are doing at their institutions to develop a compendium of engaging online activities.
Friends Don't Let Friends Flunk: Fostering a Sense of Belonging and Improving Study Skills Through the CU Study Buddies Pilot | Kathy Noonan
Location: Room N250
Affiliation: University of Colorado Boulder
Co-Presenter(s): Doris Cheung, Jacie Moriyama, Scarlett Pontón de Dutton
Description: Establishing friendships and having a sense of belonging is critical to the success and persistence of students. The recently published Campus Culture Survey from the University of Colorado Boulder indicated that "finding study peers is difficult for many students" and that fewer than a third of undergraduates who responded to the survey found it easy or very easy to find someone in class to borrow notes from, find other students to study with, and get to know other students in their classes. This session will demonstrate how several departments across campus are collaborating to help students develop effective study habits, improve grades, and make lasting friendships.
Exceptions ARE the Rule: Defining Learner Types for HyFlex Design Adaptations | Michelle Colarelli
Location: Room 232
Affiliation: University of Colorado Anschutz
Co-Presenter(s): Reesie Roland, Tina Brock
Description: Did you realize that 'One Size Fits None' with every instructional design decision during this pandemic? Join us to identify student learner types (In-Person, Remote, Flex, and Asynchronous) and the HyFlex design principles that support learners unable to attend class in person. Classroom learning will be aided through educational technologies.
Session 5 (50 min) | 10:40 - 11:30 AM
Flattening 2020's Learning Curve: COVID Seniors on Remote Living and Learning | Heidi Loshbaugh
Location: Room 111
Affiliation: University of Colorado Boulder
Co-Presenter(s): N/A
Description: During spring 2020's COVID19 lock-down, we surveyed 600 college seniors at a southern R1. They described:
Gaps in campus crisis planning;
Faculty/student ambivalence to online instruction;
College-through-tech headaches.
Students reveal the toll the lock-down took on their socio-affective health and distinct differences in how faculty managed non-cognitive factors in the online environment. Students also reveal compassion for faculty navigating pandemic complexities. Their voices point to how faculty can improve online learning, satisfaction, and well being.
Participants will learn the key role of effective engagement online and practices to really reach remote students.
Use Your Data to Get to Know Your Students! Kapiche? | Jennifer Daines
Location: Room 114
Affiliation: Colorado Technical University
Co-Presenter(s): Trish Elley, Lara Seng
Description: Who are your students? Do you really know them? We, too, thought we knew our students - until we found out we didn't. As our institution began using a two-way messenger app for student-faculty communication, we predicted it would be a great tool for connection – and it was! What we didn't realize until recently, however, was that it was also a power tool for data analysis. With over 5,000 messages from students being sent each day, and over 3.3 million total messages sent between faculty and students in 2020, we had a lot of data to analyze. Using Kapiche, we were able to sift through all those messages, and what our students were saying both surprised and educated us!
Online Strategies to Foster Belonging and Inclusion | Alpna Bhatia & Sara Avila
Location: Room 232
Affiliation: University of Colorado Boulder
Co-Presenter(s): N/A
Description: You care about your students and you want to share the learning experience with them! In this session participants will develop a message and an exit ticket idea that fosters belonging and aims to make students feel seen. Messages are written or recorded communication from the instructor to a student or a group of students. An exit ticket is a simple, 3-5 minute task for the end of the lesson, which will tell us whether students have understood the lesson's objectives. Be prepared to discover that simple gestures can go a long way in building connections with students. They learn more, and the overall satisfaction with the learning process improves.
Session 6 (20 min) | 11:40 AM - 12:00 PM
Blueprints and Tickets, Oh My! Using Technology to Encourage Course Quality | Molly Smith
Location: Room 111
Affiliation: University of Denver
Co-Presenter(s): Michelle Kruse-Crocker, Chelsie Ruge
Description: Wouldn't it be nice if students across multiple sections of a given course had a consistent, high-quality learning experience each term? Wouldn't it be nice if you could snap your fingers to ensure course content was automatically updated and those pesky typos from last term magically disappeared? What if this wasn't a dream, but the result of carefully managed course containers that leverage a ticketing system to manage course changes and crowdsource updates from instructors who teach different sections of the same course? Join us as we explain how University College is using Blueprint courses and engage in conversation that explores how technology can drive course quality and consistency.
Engaging and Retaining Online LA Students Through Career-Focused Content | Adrianne Hanson
Location: Room 114
Affiliation: University of Arizona Global Campus
Co-Presenter(s): N/A
Description: How do students majoring in the liberal arts and humanities position themselves for professional opportunities, especially when completing a degree program entirely online? What is the role of instructors and course designers in creating student-centered, career-focused online content? This session looks at a career-integration initiative at UAGC that embedded career-focused modules across one online degree program. Participants will brainstorm strategies for creating online content that links students' knowledge and skills to the post-graduation workplace. Orienting liberal arts curricula around students' professional goals ultimately enhances student engagement and retention.
Closed Captions on Course Video: What's Your Approach? | Barbara Maynard
Location: Room N250
Affiliation: Colorado State University
Co-Presenter(s): Andy Swanson
Description: Like many schools, in Spring 2020, CSU quickly figured out how to provide accurate closed captions on course videos. Now we'd like to share how CSU's captioning project is structured and hear what others are doing. At CSU:
We hire students to edit computer-generated captions and use vendors to fill excess demand. This way the funding employs students.
We contact instructors when students start registering so instructors can plan.
For students who use American Sign Language, we add a side-by-side video of an ASL interpreter to pre-recorded videos.
We present to campus about why and how to make captions available.
We look forward to learning how your school is meeting this need.
"But It's Not Peer-Reviewed!": Addressing Quality Control in the OER Landscape | Michael Lampe
Location: Room 232
Affiliation: University of Colorado Anschutz
Co-Presenter(s): Ellie Svoboda, Ben Harnke, Teresa Connolly
Description: When you chose course content, what helped you choose that content? How much scrutiny have you placed on your non-OER resources whether they were coming from a respected author or peer-reviewed journal? Now take your answers and see if they hold up when asked if you want to use OER resources as an alternative. Sometimes, you may hear the narrative that OER does not hold the same academic value or rigor when compared against academic journals and textbooks. In this session, we will discuss the actual narrative of comparing OER with traditional materials and what more needs to be done to strengthen the true narrative of OER.
Session 7 (50 min) | 1:20 - 2:10 PM
The Mini Grant Review Panel: A Tool For Teaching Scientific Communication | Scott Thompson
Location: Room N250
Affiliation: University of Colorado Anschutz
Co-Presenter(s): Aimee Bernard
Description: Understanding how science is evaluated and funded is critical for both future scientists as well as informed citizens. Additionally, being able to communicate complex ideas concisely and clearly in a compelling manner to peers has broad applicability to many disciplines. In this mock grant panel exercise students create consensus evaluation criteria to judge experimental proposals written by their peers based on primary scientific literature. In serving as both creators and evaluators, students experience both the challenges and critical thinking associated with each role as well as exposure to a diverse array of experimental ideas.
Session 8 (90 min) | 1:20 - 2:50 PM
Inclusive Pedagogy Is Fundamental to Good Teaching | Jennifer Todd
Location: Room 111
Affiliation: Colorado State University
Co-Presenter(s): Tonya Buchan
Description: Inclusive pedagogy is the foundation of all effective teaching. Do you ask students to use particular technology to complete an assignment? Do your students ever work in groups? Do you assign a major project to students? It is important to view all teaching practices through an inclusive lens. This workshop will introduce the Teaching Effectiveness Framework (TEF), comprising seven essential, interrelated domains of effective teaching—for face-to-face and online instruction. The TEF positions Inclusive Pedagogy at the hub of effective teaching and links it to all other domains. Participants will work independently and in groups to create an action plan to become more inclusive instructors.
Moral Leadership in a Troubled Time: Lessons from the Life of John Rabe | Randy Testa
Location: Room 114
Affiliation: Harvard Graduate School of Education
Co-Presenter(s): N/A
Description: At a time characterized by political division and international polarization, how educators, corporate leaders, and members of other organizations respond to emerging moral crises is of central importance. In understanding moral leadership, the relatively unknown story of John Rabe offers illumination into the complexity of moral action. Knowing how and what meaningful action to take and how to translate exploration of these issues into meaningful learning is the subject of this session. Using the powerful story of the Rape of Nanjing combined with formative research on moral development, this session examines online learning for our troubled world --and its confounding moral challenges.
Pre-recorded Sessions
* Pre-recorded videos will be available in the COLTT repository
How Learner Dashboards Created a Seat at the Medical Education Assessment Table | Michael Lampe
Affiliation: University of Colorado Anschutz
Co-Presenter(s): Marina Mutter, Todd Guth
Description: The University of Colorado School of Medicine created a new curriculum that provides an opportunity to study programmatic assessment for clinical skills in pre-clerkship students. This session will summarize the data gathered through a clinical skills dashboard to display assessment data for first year medical students and stakeholder focus groups that provided feedback on the preliminary versions of the dashboard. It will also discuss technological disruption that led to centralizing the structure of multiple data sources.
Integrating Instant Messaging Into Graduate Courses | Derek Sedlack
Affiliation: Colorado Technical University
Co-Presenter(s): N/A
Description: Learn to design and integrate instant messaging into your remote learning graduate course when using case studies or projects.
Padlet Benefits for Classroom Learning During Pandemic and Beyond | Michelle Colarelli
Affiliation: University of Colorado Anschutz
Co-Presenter(s): N/A
Description: The pandemic required educators to adapt their teaching methodologies and learning environments at a moment's notice. At the University of Colorado's Center for Interprofessional Practice & Education (CIPE) we discovered Padlet, an online pin board, as a solution for remote classroom facilitation. Padlet offered a way for our asynchronous learners to engage in our remote learning environment and a solution for absent students to make up the session and review classroom learning. Padlet is an educational technology that improved our ability to facilitate classroom report outs and engage our learners in inter-team discussions, gallery walks, peer reviews, and make-up assignments.
Venue Maps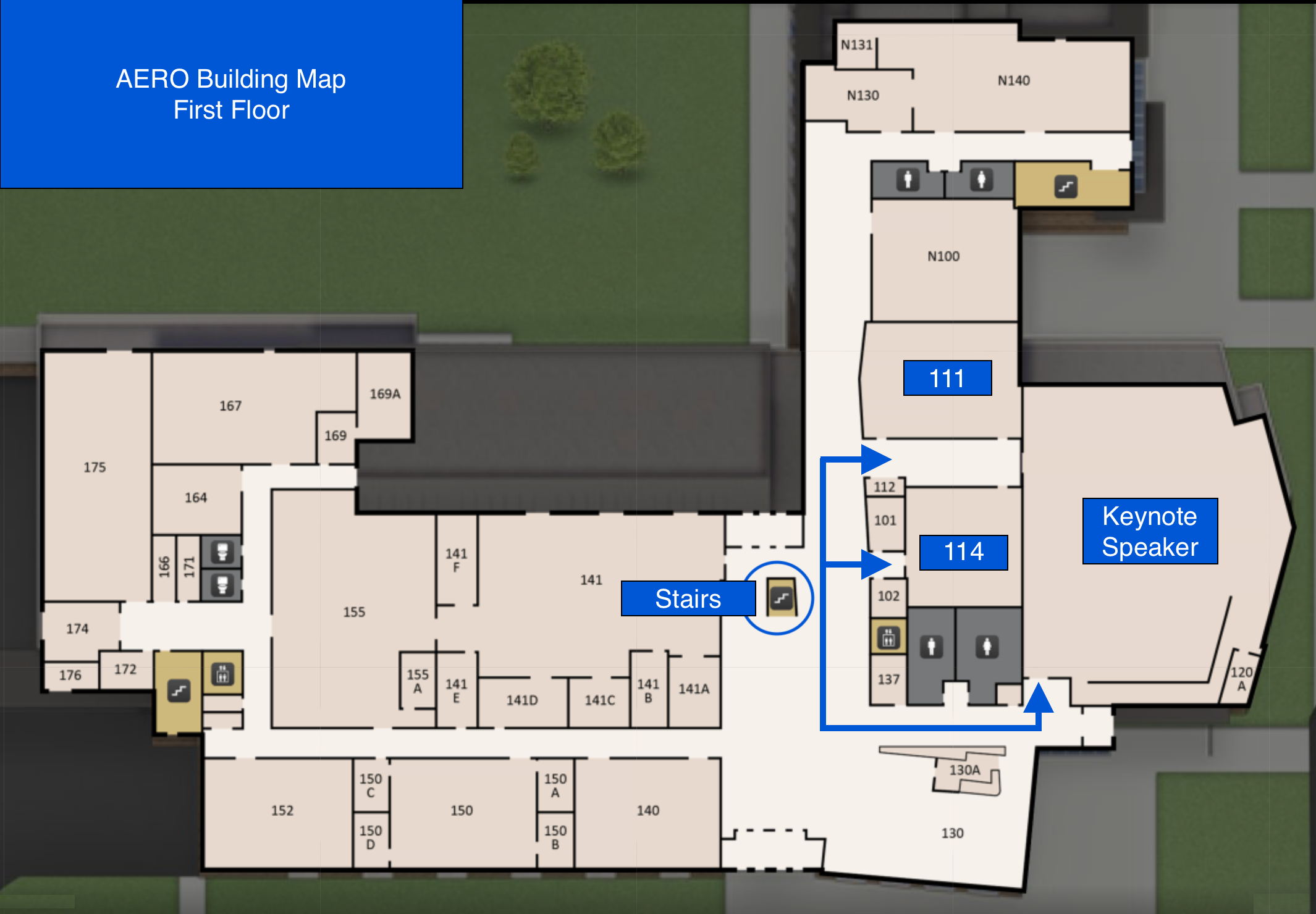 1st Floor of Smead Aerospace Building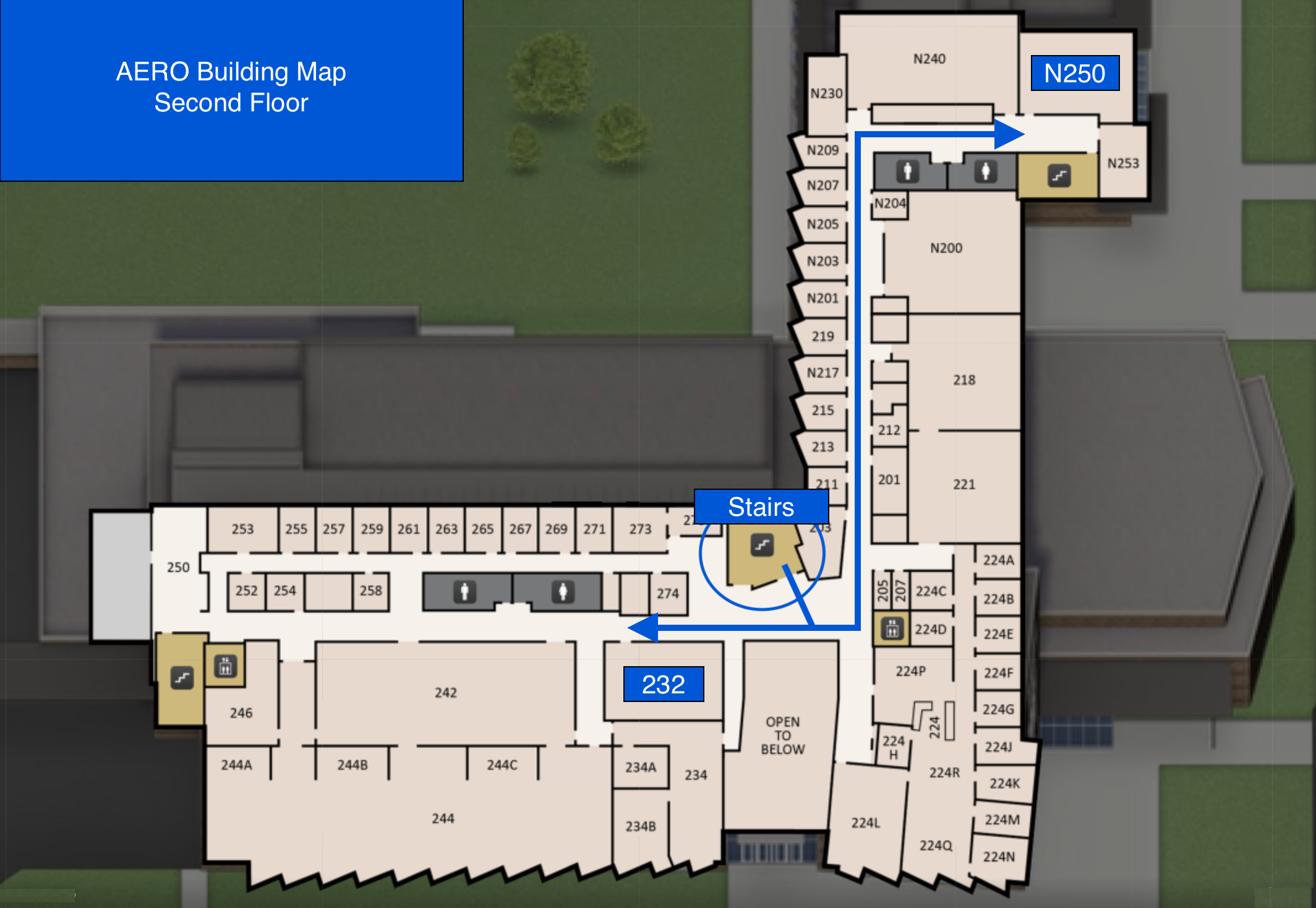 2nd Floor of Smead Aerospace Building