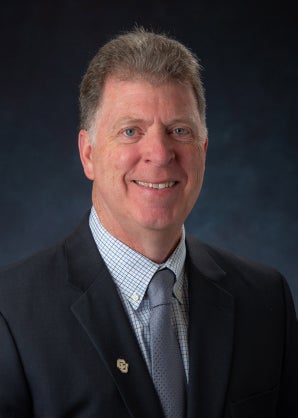 CONTACT INFORMATION
1800 Grant St., Suite 800
Denver, CO 80203

Jackie Foster
Executive Assistant
Phone: 303-860-5661
Fax: 303-860-5640

As senior vice president and chief of staff, Leonard Dinegar works closely with the vice presidents, chancellors, and regents, and assists the president in managing the day-to-day operations of the Office of the President.
Dinegar previously served as the director of the Office of State Government Relations for the University of Colorado system. As the chief lobbyist for the university, he worked with the Colorado legislature, the governor's office, and other state agencies on budget issues and higher education legislation. Leonard also served as the associate director for public affairs at CU where he was responsible for state government relations for the former CU-Health Sciences Center and University Hospital (now known as the CU Anschutz Medical Campus), working in the areas of health care, health policy, medically indigent issues and hospital legislation.
Before coming to Colorado in 1993, Dinegar served as an executive in the White House Office of National Drug Control Policy. In that capacity, he worked with governors and mayors of all 50 states, assessing their drug policies and programs to help determine policy and federal funding levels for state drug control efforts. Also while in Washington, D.C., Dinegar served in the Office of the Assistant Secretary for Public Affairs at the U.S. Department of Health and Human Services and he was the director of public affairs for the One-to-One Mentoring Partnership, a national organization that works to partner mentors with at-risk youth.
Dinegar, originally from Queens, N.Y., earned his Master of Humanities degree from the University of Colorado Denver and a Bachelor of Arts in Philosophy from The Catholic University of America in Washington, D.C. He and his wife, Christina, have three children (Sarah, Charles and Sandy).
Offices reporting to the senior vice president