Blanketing the community with comfort and kindness
By Cathy Beuten | CU system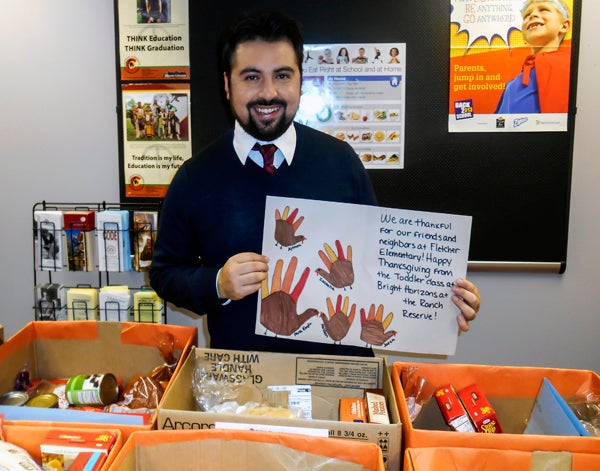 "I always hope to run into him," he says.
Felipe-Morales, data manager in the Barbara Davis Center for Diabetes, initiated DFM Charities in 2008 after heading home from CU Denver and coming across a homeless man sitting on a bench near Cherry Creek. The man was freezing. Felipe-Morales persuaded the lost soul to come with him, purchasing him a meal and hot coffee from Starbucks and then escorting him to the Denver Rescue Mission. What Felipe-Morales saw there changed his life and those of thousands of needy people in Denver: not enough blankets and far too much unfulfilled need. The resulting charity has grown into a grassroots movement to benefit the larger community.
"We don't ask for money, for the most part it's donations and events," he explained.
The past six years, DFM Charities has collected more than 1,200 blankets and over 900 coats socks, gloves and other items. The past two years, volunteers combing the streets doled out 1,600 sandwiches to the homeless in the charity's annual Prepare your Favorite Sandwich for the Homeless event.
"The first year we had about 50 people show up to help. We went right out and gave away 1,000 sandwiches that day," he said. "It was bittersweet: It was awesome we made so many sandwiches, but sad that they were all delivered."
New the past holiday season was the Thanksgiving food drive for Fletcher Community Elementary School in Aurora, where 93 percent of the students qualify for free or reduced-cost lunches.
"Most people donate to DPS, they don't think about the Aurora Schools," he said. Felipe-Morales put the word out and volunteers came through.
"We gave away 50 baskets, which was the majority of families who needed it," he said. "Some of the mother's had tears in their eyes. They said, 'We didn't have the money for food. Please continue this.' We will continue to do it . . . that was wonderful."
A Walmart cashier pitched in, giving the charity a break through her employee discount. She said she had to work on the holiday and wanted to make it better for others, Felipe-Morales said. She didn't believe him when he said he'd come back on Thanksgiving Day with a plate of turkey and all the goods. But, of course, he did.
The more DFM Charities gives, the more Felipe-Morales recognizes needs in the community and devises ways to fulfill them. Most recently, he has connected with agencies and teachers who work with disabled and mentally challenged youth on an event, such as a dance, just for them sometime after fall classes start.
"I've always wanted to do something to help that group," he said, noting the occasion could help parents network and the children feel connected with others. Felipe-Morales' aunt had a mental disability, he said. "She had the biggest heart. She passed away in her 30s."
When he's not opening his heart and opportunities for volunteers in the community, Felipe-Morales is busy coding Web applications and creating database upgrades to help the TEDDY and DAISY study have the best data integrity and technical processes to find preventions for diabetes in children. He's also growing his personal photography business, DFM Photography.
And as Felipe-Morales searches the faces of those around him, whether through his work or extending himself to the people who need it most, he hopes for the best. He prays that the homeless man who started it all is back on his feet and no longer in need. In the meantime, thousands of others will continue to be the beneficiaries of food, comfort and kindness from Danny Felipe-Morales, volunteers from all walks of life, and DFM Charities.