May 10th marked "sine die," the final day of the 2017 state legislative session.
The majority in the legislature was split with Republicans in control of the Senate and Democrats in control of the House. There were 31 new legislators in the General Assembly this session. Many of the bills introduced had major state-wide policy implications which generated complex, passionate, and at times politically charged discussions.
The state relations team actively worked on and tracked many bills of interest to CU and the University of Colorado Hospital stakeholders. We had more legislation to act on this session than we have had during the past 10 years. Several bills were introduced on behalf of CU in our continued efforts to bring more operating efficiency and cost savings to the University. We also fought to stave off or kill pieces of legislation that would have negatively impacted our operations or created unfunded mandates.
Of particular importance this session were several bills aimed at alleviating the significant budget challenges in our state, including transportation, roads and funding for rural hospitals. In coordination with Todd Saliman, Vice President and Chief Financial Officer, we worked strategically throughout the session with leadership in both chambers on a critical bill, SB 17-267: Sustainability of Rural Colorado Act. A provision of this bill will turn the Hospital Provider Fee into an enterprise and help alleviate some of the budget pressures. We would like to send a special thank you to all of the CU Regents, Chancellors, President Benson, and key individuals who worked with us on this endeavor, which has spanned the course of three years.
The state relations team also engaged CU stakeholders in many activities at the capitol including faculty presentations to committees; hosting campus groups for tours and legislator briefings; and holding legislative events including CU Advocacy Day.
Below is the 2017 legislative recap on the major issues impacting CU. For a full list of bills and links to bill text, please go here [3].
Legislation Highlights: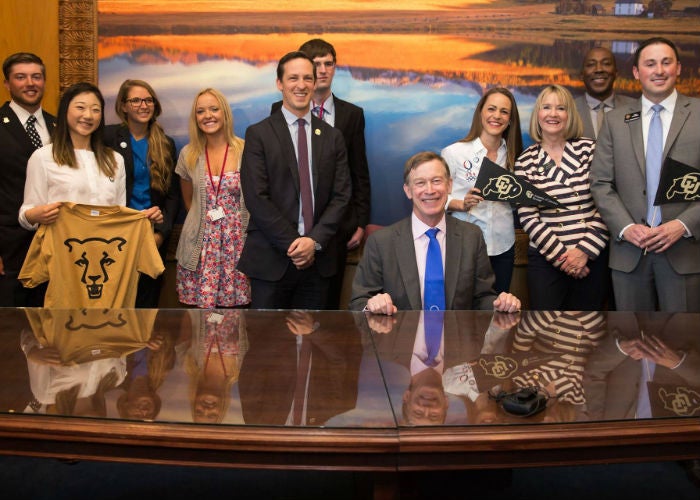 Higher Ed Funding Highlights:
SB 17-254 Long Appropriations Bill [16] (Lambert/Hamner): We worked closely with Todd Saliman, Vice President and Chief Financial Officer, on budget priorities. The final budget (and the budget companion bills) included the following changes for CU:
$16.7 million statewide increase for higher education operations which includes $7.8 million additional funding for CU through the higher education allocation model.
$3.9 million statewide increase for financial aid which includes an anticipated $2.5 million additional funding for eligible CU students based on the CCHE allocation.
$4.1 million for controlled maintenance projects on the CU and AHEC campuses.
The JBC unanimously approved CU's request to implement a federal program called the Upper Payment Limit (UPL) for the CU School of Medicine (CUSOM). If approved by the federal government, the program will enable CUSOM healthcare providers (working with the Colorado Department of Health Care Policy and Financing) to receive an additional $60 million in federal Medicaid funds in order to expand and maintain services for Medicaid patients throughout Colorado.
General Fund Impact Legislation:
SB 17-267 Sustainability of Rural Colorado

[17]

(Guzman, Sonnenberg/Becker, J., Becker, K.): This bill turned the Hospital Provider Fee into an enterprise. The change will significantly reduce pressure on the state budget when Colorado's economy is robust. This is great news for CU and all of higher education. While state budget writers will continue to face difficult choices every year, they will not need to implement budget cuts to pay for TABOR rebates for several years due to the changes in this bill. If the bill had not passed, hospitals throughout Colorado would have been cut by $256 million next year. The bill also lowers the state's revenue cap, protects the senior homestead tax credit, funds schools, provides business personal property tax relief, allocates $120 million for controlled maintenance projects throughout the state ($24.9 million of which are at CU's campuses) and directs $1.9 billion to transportation projects. The bill was sent to the Governor for signature.
HB 17-1242 New Transportation Infrastructure Funding Revenue

[18]

(Duran, Mitsch Bush/Baumgardner, Grantham): House Bill 1242 would have submitted a ballot question to voters in November seeking approval for the state to temporarily increase the rate of the state sales and use tax for 20 years beginning in 2018. The bill was postponed indefinitely by the Senate Finance Committee on a party line vote.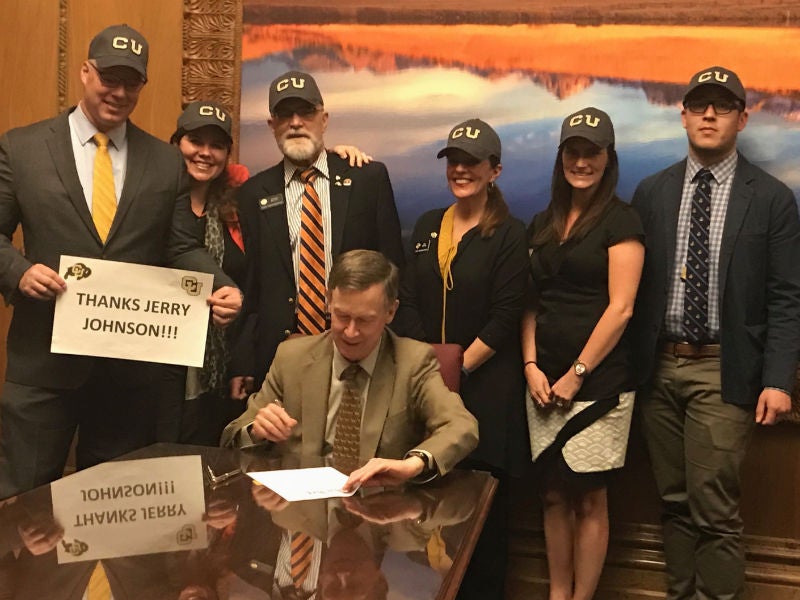 Office of Government Relations
Thank you to everyone at CU who helped provide feedback on bills, testified before committees, and engaged with legislators. Your efforts helped make this a successful session for CU and we appreciate your advocacy. We would particularly like to thank the Regents, President Benson and Campus Leadership who engaged with key legislative contacts and lobbied for CU this session. Also, special thanks to Todd Saliman and his team of Chad Marturano, Celina Duran and Teresa Osborne; Vice President, University Counsel and Secretary of the Board of Regents Pat O'Rourke and his legal team of Jeremy Hueth, Erica Weston, Julie Steeler and Krystal Knutson as well as our campus legislative liaisons, Tamara Cannafax, Tobin Bliss, Neil Krauss and Jia Meeks. We also had a great group of champions at the legislature on both sides of the political aisle and we are grateful for their support.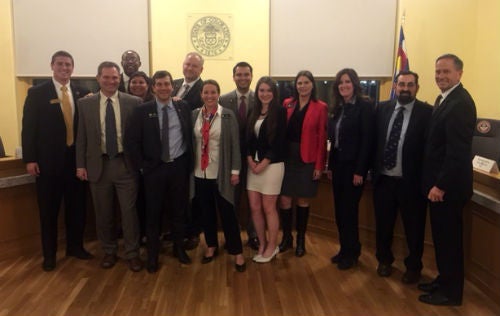 Send email when Published: